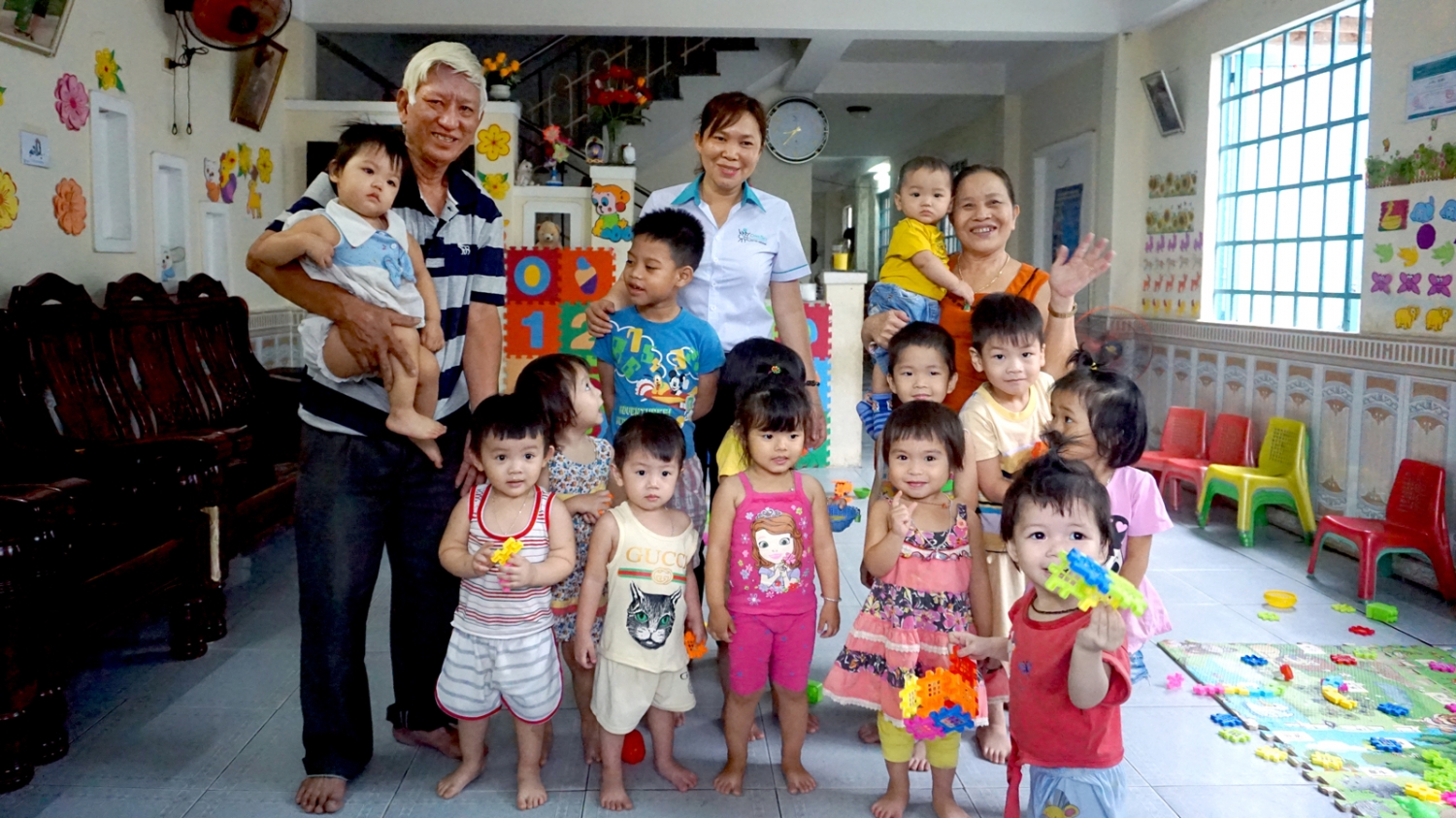 On our 5th Anniversary in Vietnam, OneSky signs a pivotal agreement to train home-based childcare providers across the country 
In 2017, OneSky launched our first program outside of China, in Vietnam – a country where rapid industrialization has created dramatic inequity. Now, just five years later, we have signed a memorandum of understanding (MOU) with the government that will improve the prospects of over 400,000 of the nation's most vulnerable children.
For the millions of low-income migrant factory workers living in Vietnam's industrial zones, access to quality care and education for their young children, aged 0-6, is limited. Migrant families lack the residency status required to qualify their children for public kindergartens and private preschool and daycare center fees cost far more than a factory worker's salary allows. As Vietnam's economy grows, the government has issued a mandate to find solutions to support the children of factory workers.
In September 2017, in collaboration with the Department of Education and Training (DOET), the OneSky Early Learning Center (ELC) opened in Da Nang province to provide daily care to 252 children of migrant factory workers and to serve as a national demonstration center, training early childhood caregivers in the OneSky responsive-care curriculum.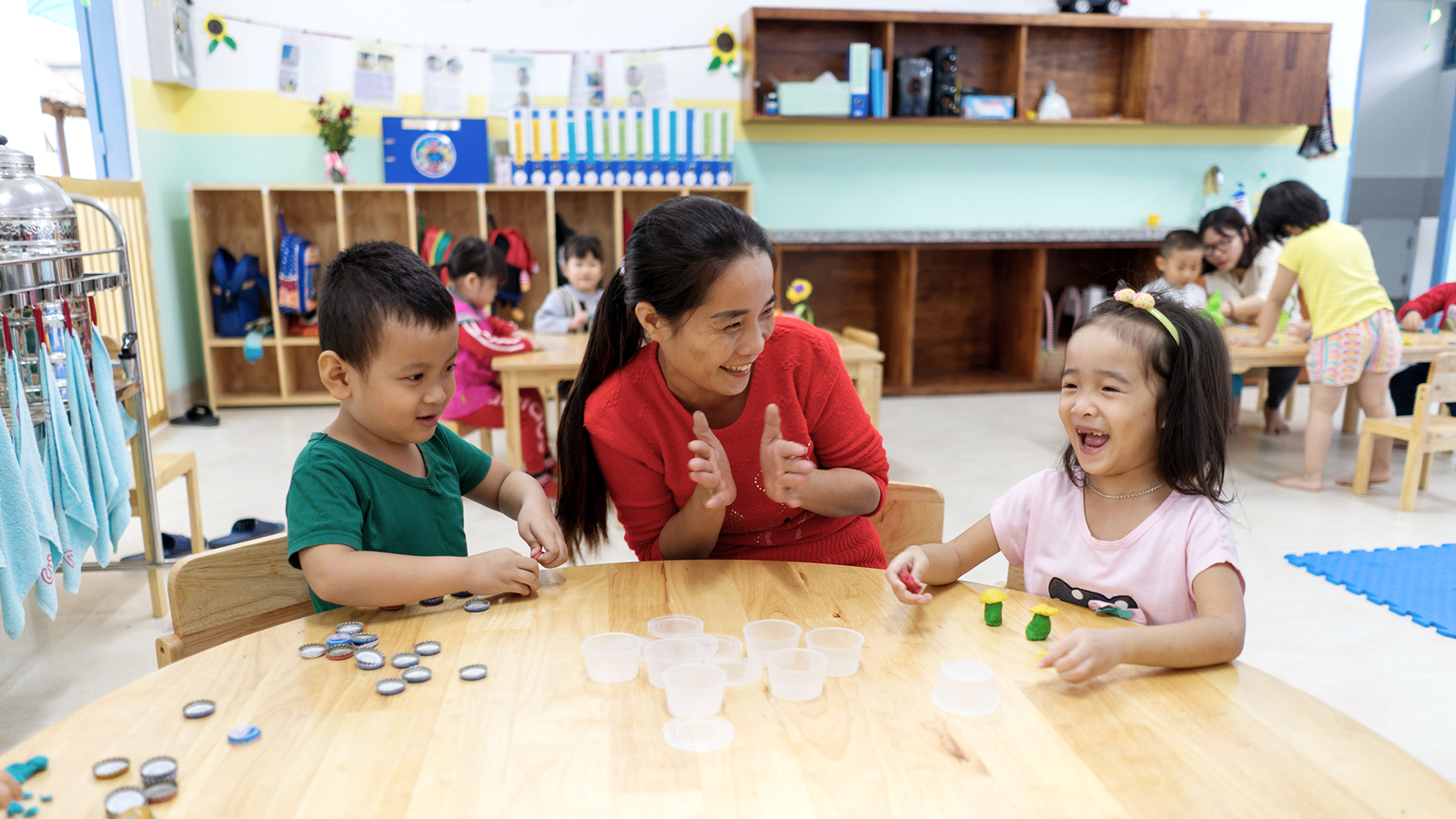 Under the astute leadership of OneSky's Vietnam Program Director, Hien Vo, the ELC has become a model center for quality care and early childhood education, receiving accolades and support from the government, NGOs and the broader community.
To date, 628 children of the lowest-income factory workers have benefited from OneSky's responsive care at the ELC, setting them up to enter government elementary school on par with children of greater means. In August 2022, we graduated with great pride, the first five-year cohort of children who joined when the Center first opened. 
But the OneSky ELC in Da Nang was just the start. 
Our overall goal has always been to reach the more than 400,000 young migrant children being looked after by home-based childcare (HBC) providers in industrial zones across the country.  Many of these childcare providers receive no training and limited support. Though well-meaning, they struggle to provide safe and nurturing care to the many children they look after for up to 14 hours a day.
In 2018, OneSky launched a free training and support program for these home-based childcare providers which has since expanded to four provinces, training 1,280 HBC providers to improve the quality of care and education of over 35,000 marginalized young children.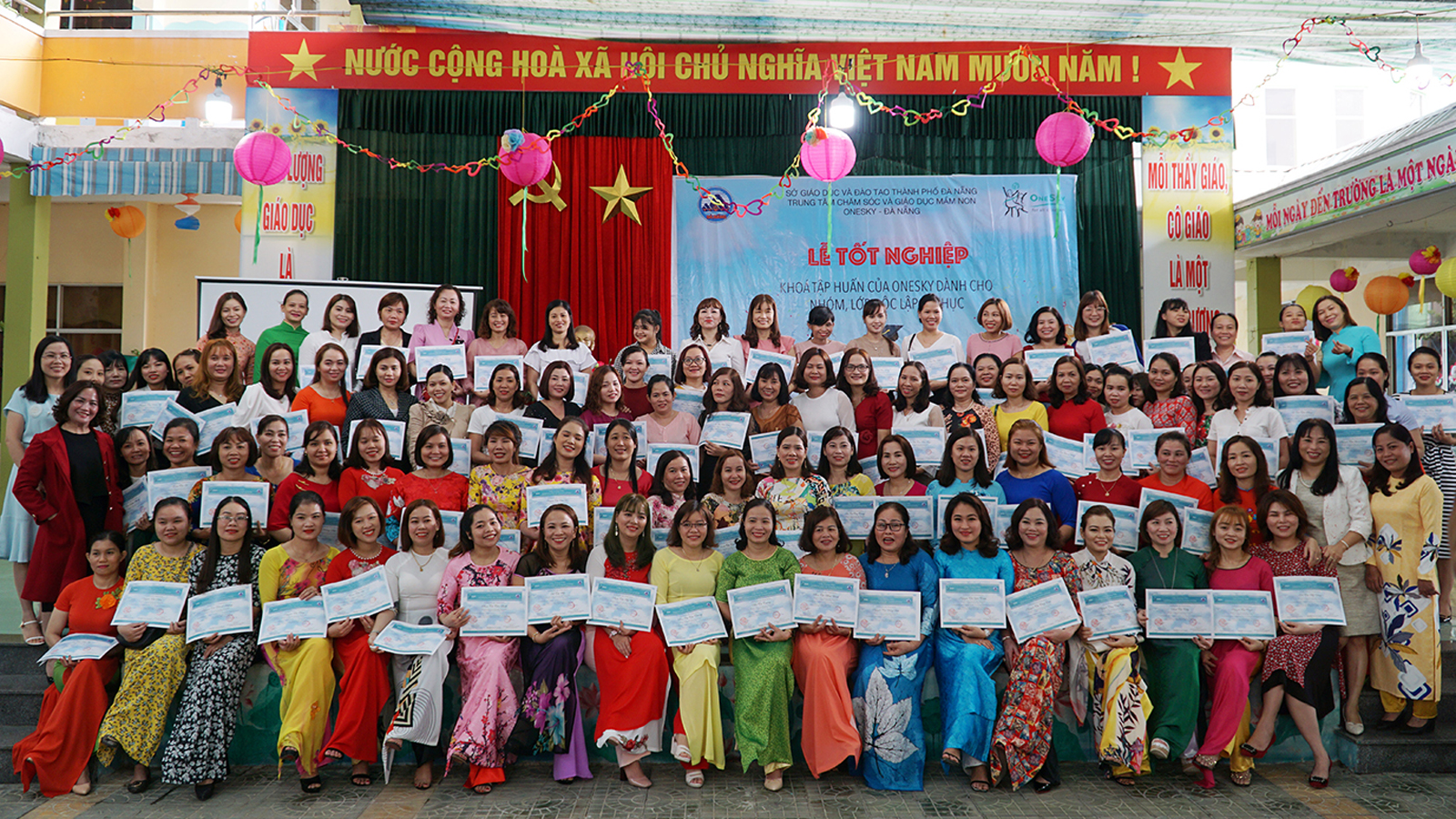 Providers like Dang Thi Nga, a teacher for 30 years who believed that there was not much else to learn about caring for children. Almost ready to retire, Nga enrolled in OneSky's HBC training course out of curiosity, only to discover the importance of the work that she had been doing for decades.
As well as direct training, OneSky is collaborating with international NGO Planet Enfants & Development (PED) to train their trainers and provide technical support, monitoring and coaching to benefit 80 HBC providers in Ho Chi Minh City.  Our first fee-for-service collaboration, this partnership enables us to reach even more HBC providers and children across Vietnam.
The Harvard T.H. Chan School of Public Health completed a pioneering impact evaluation study of our HBC training program in 2020, finding it improves childcare quality and early childhood development outcomes.  Robust evidence of impact led to an invitation from Vietnam's Central Ministry of Education and Training (MOET) to scale nationally.  
On August 31, 2022, OneSky signed an MOU with MOET to design a pilot program where OneSky would train government trainers to implement our program, thus reaching more caregivers, and benefitting many more children than we could on our own.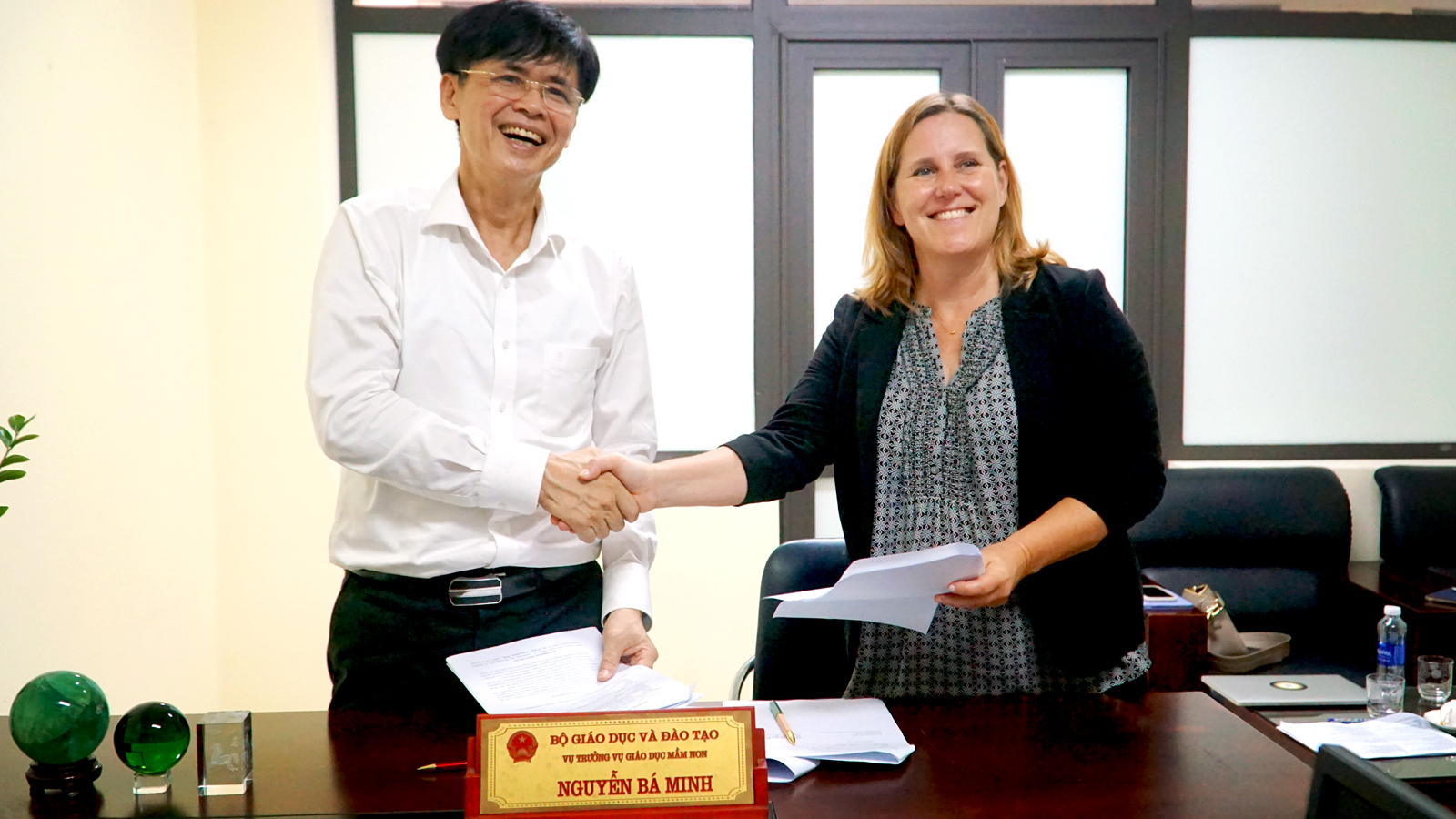 The goal of the pilot program is to reach caregivers in the 18 provinces with the most industrial zones in Vietnam in the next five years.  If the pilot is successful, the program will scale to reach every HBC provider in the country, ensuring a better future for hundreds of thousands of vulnerable children.
OneSky CEO Morgan Lance said the MOU marks a pivotal moment for OneSky's expansion outside of China. 
"Just as we were asked to train every caregiver in China's Welfare Institutions through the Rainbow Training Program, which we co-launched with the Chinese government in 2011, the signing of this agreement signals that the Vietnam government has instilled their trust in OneSky to help vulnerable children across the country to get the best possible care," she said. 
"Achieving this after just five years is a testament to the dedication of our incredible Vietnam team. They have worked tirelessly to advance OneSky's mission to provide quality responsive care and early education training, helping thousands of Vietnamese children living in low-resource settings to thrive."
As part of our agreement with the government, OneSky is co-convening a working group of experts from research centers, academic institutions, and provincial Departments of Education to develop the national guidance and curriculum for quality early childhood education in HBCs across the country.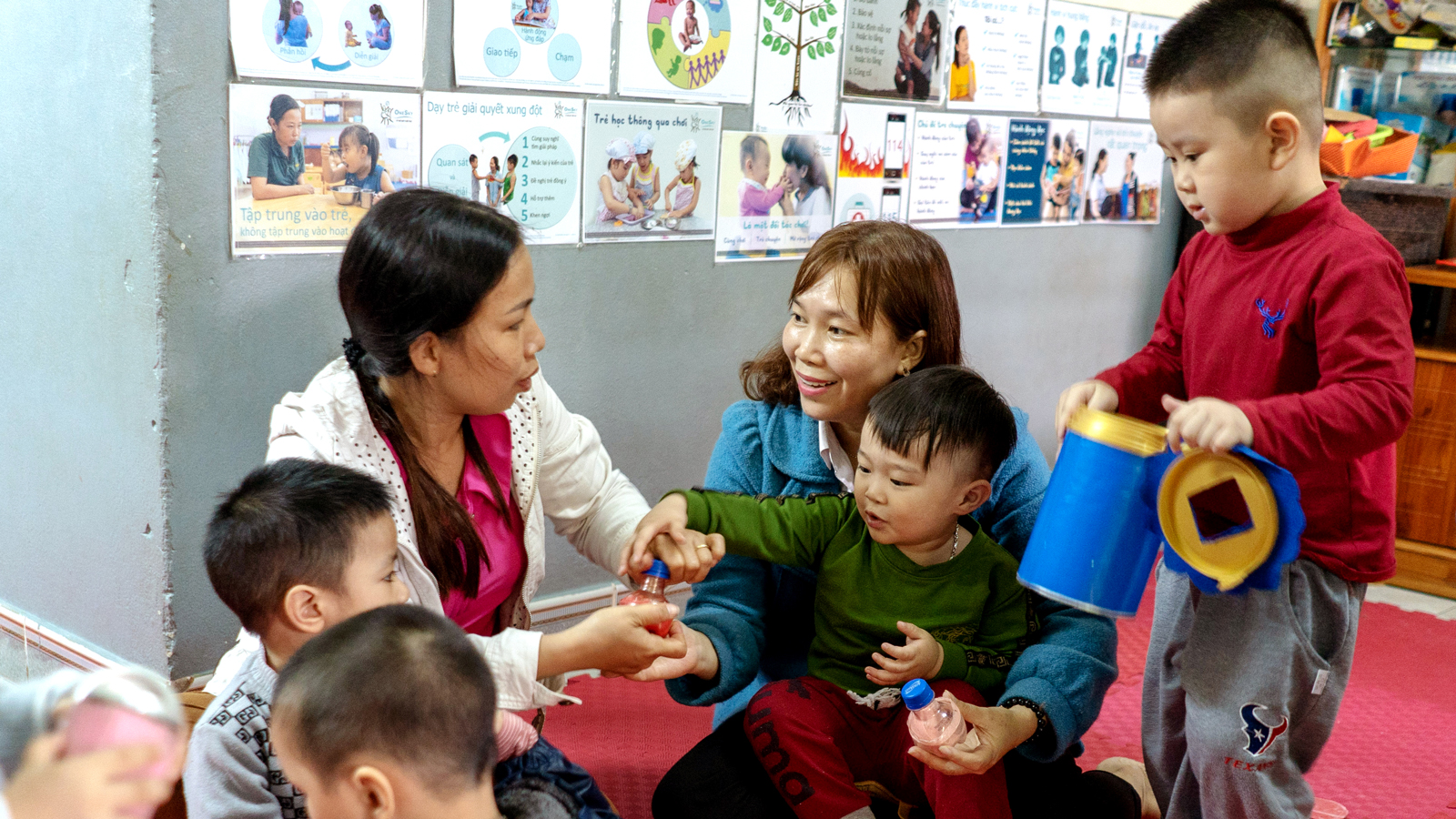 This important step forward in standardizing early childhood care in Vietnam will help to ensure that all children in low-resource communities receive quality early care and are not left behind. Levelling the playing field is an important contributor to education equity across the country.  
The evolution of our work in Vietnam presents a model for OneSky going forward – one focused on building strong government partnerships, just as we did in China, so that we can scale our program nationally to ensure all vulnerable children get access to quality early care and education.
Learn more about our work in Vietnam >
https://onesky.org/wp-content/uploads/2022/09/VietnamHBC2-web.jpg
900
1600
Debbie Cohen
https://onesky.org/wp-content/uploads/2023/01/25th-logo-6.png
Debbie Cohen
2022-09-14 12:13:37
2022-12-19 18:31:36
On our 5th Anniversary in Vietnam, OneSky signs a pivotal agreement to train home-based childcare providers across the country