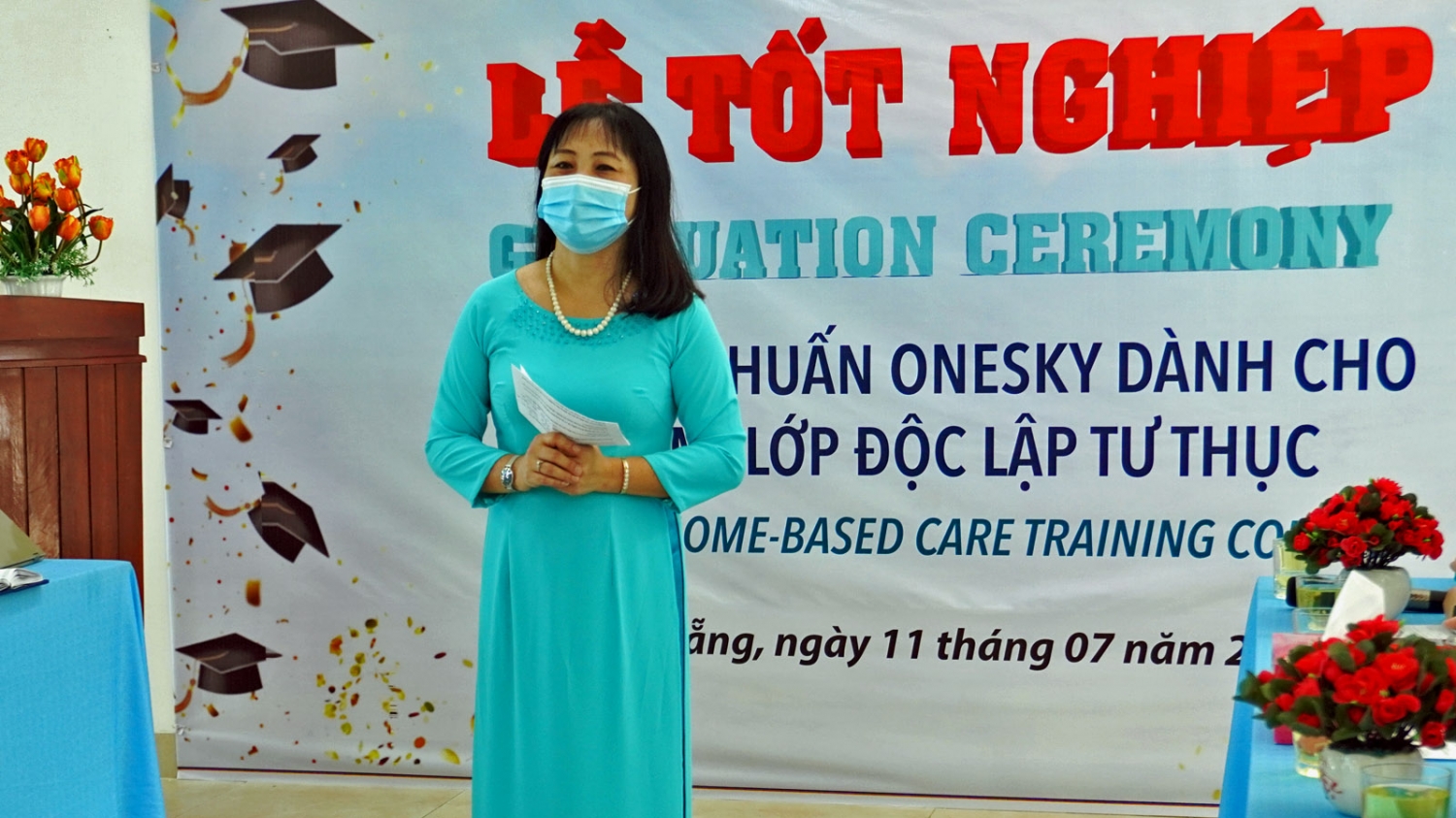 The amazing child caregivers working so hard while striving to be even better
They work long hours with low pay to serve the parents and children of Vietnam's factory workers …but their love for children sees them strive to learn and grow their skills.
They are Vietnam's Home-Based Childcare (HBC) providers. Many started by looking after a child for a friend before finding they had a natural ability or interest in caring for many. One child became two, then three — and before long they were running a small business.
HBC providers are especially vital for rural migrant workers who are away from grandparents or other relatives who might help look after children. In a new city, with no support, they are a crucial service for these working parents.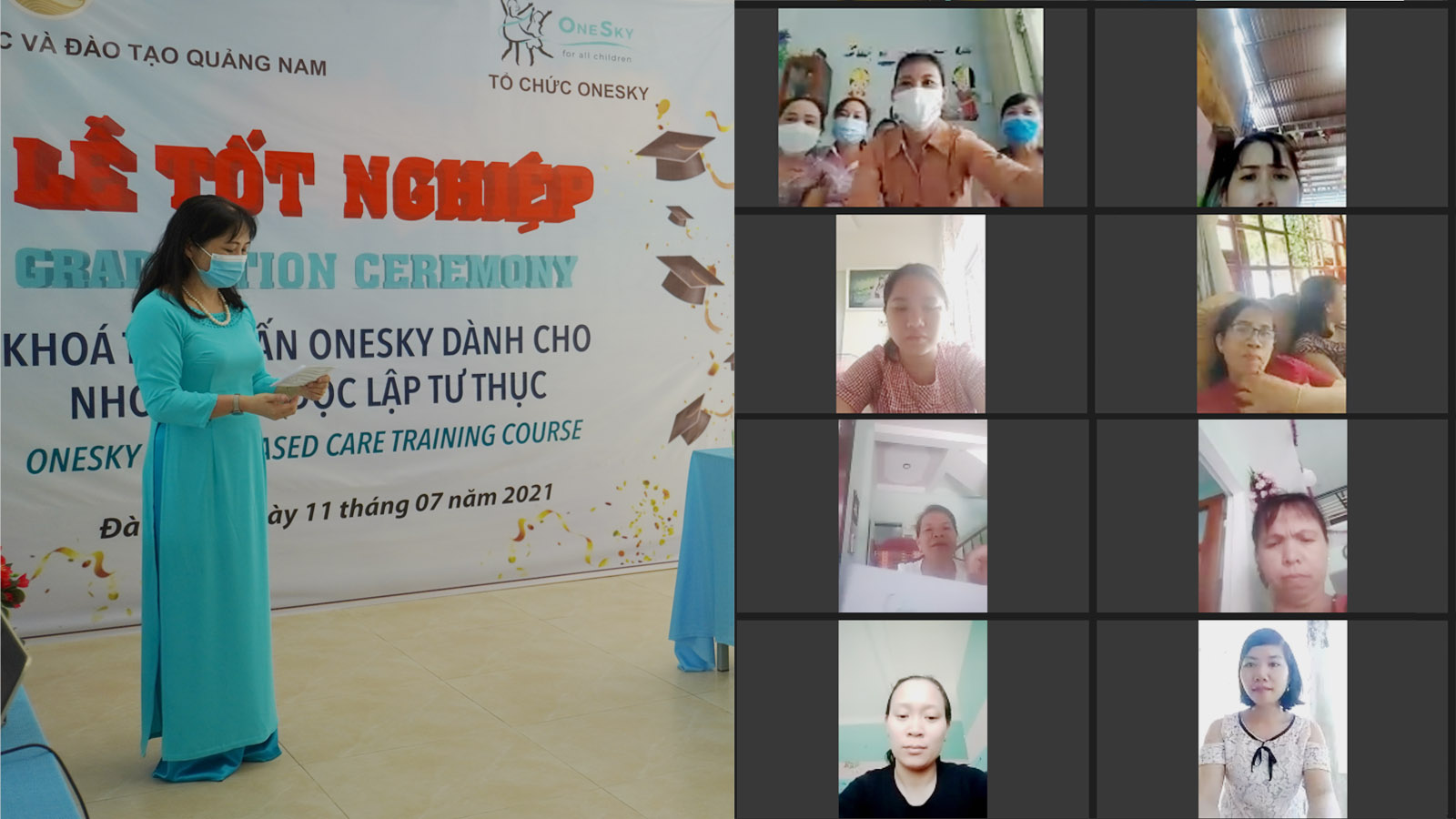 In an emotional online ceremony, 144 caregivers recently graduated from OneSky's HBC training program in Quang Nam province, central Vietnam. Considering many work six days a week and need to study in their spare time, the numbers are remarkable.
"Throughout two lockdowns and the historic typhoon season, there were times when I was worried the trainees would leave the course," recalled OneSky trainer Ho Thi Mong Thu (pictured below).
"But with their love for the children and dedication to their work, in the end, all the trainees are still with us at this closing ceremony today. Thank you for going through these hardships together!"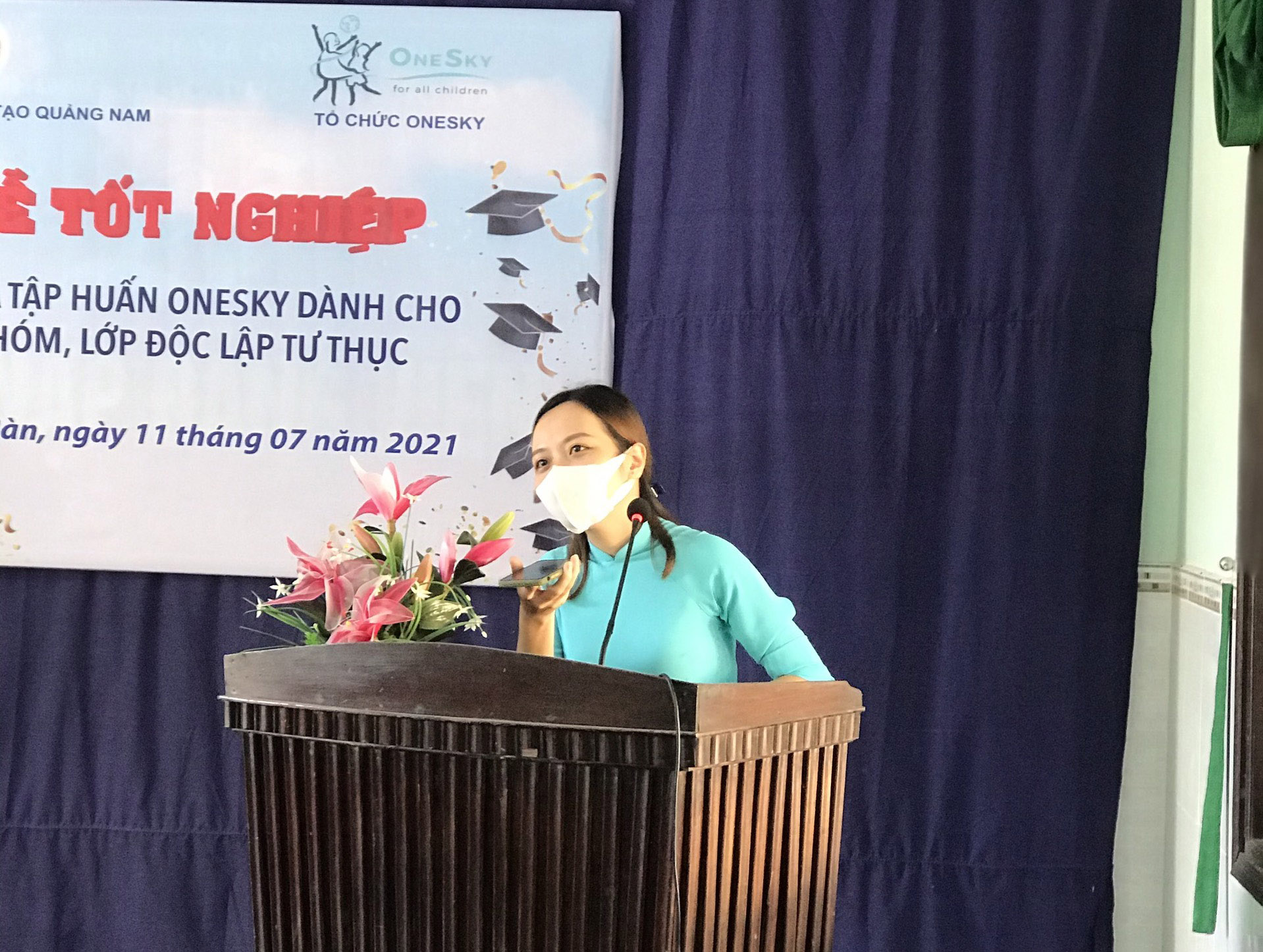 Speaking at the ceremony, the sentiments were echoed by OneSky CEO Morgan Lance.
She told the Graduates: "What you have accomplished over the past year has been extraordinary. You have committed yourself to a rigorous course of study and have done so amid a global pandemic. I am in awe of you, and your commitment to the children and your communities."
The benefits of the training to children were recently validated by Harvard University following an extensive evaluation. The findings were echoed by the carers themselves.
Trainee Mac Thuy Trang explained: "The training course helped me understand young children's brains, and from there I've learned to be patient. Before, I would sometimes shout at the children, but now I restrain myself. It's made me love my job more."
Child caregiver Nguyen Thi Yen Xuan added: "I find myself speaking more positive words, listening to the children more, building a closer relationship with them. In return, I also find children have started to show more confidence and are closer to me."
For Pham Thi Anh Tuyet the training has offered tangible advice that she applies daily in her work as an HBC provider.
She said: "I learned how to solve conflicts between children, I calm them down and I ask them to talk to each other. I explain to them that they need to ask first and not just take, otherwise people get upset."
The closing ceremony included representatives from Quang Nam Department of Education and Training, the Department of Education and Training in Duy Xuyen Commune and Dien Ban Town, OneSky staff, and the 144 caregivers themselves.  
These HBC providers have been together for more than two years to complete the course. They will continue to be supported via OneSky's 1BigFamily online resource. The resource will also help them stay in touch with each other and provide essential HBC mutual support.
To date, OneSky has trained 720 HBC providers in three provinces, benefiting over 18,000 children, with plans in place to increase by 240 more later this year.
https://onesky.org/wp-content/uploads/2021/07/Hien-1-Graduation.jpg
900
1600
Steve Jackson
https://onesky.org/wp-content/uploads/2019/06/Logo1998-250.jpg
Steve Jackson
2021-07-20 11:50:34
2021-10-05 16:39:03
The amazing child caregivers working so hard while striving to be even better