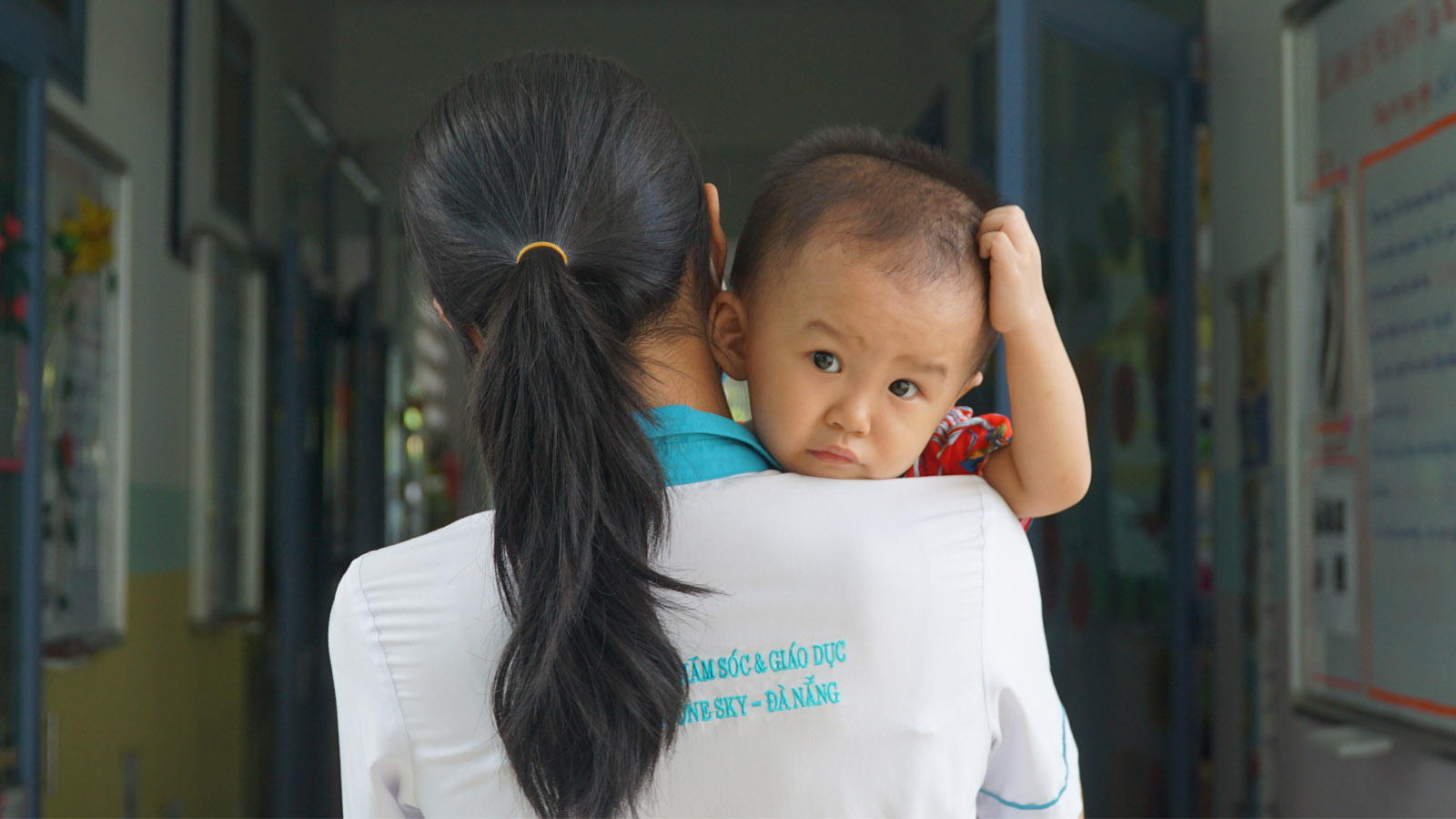 Outbreak reaches the Vietnam factory zone served by OneSky Early Learning Center
Vietnam has reported Covid-19 cases in Da Nang's four industrial parks, including Hoa Khanh where OneSky's Early Learning Center (ELC) is located.
The government has acted quickly to limit the spread of the virus in the province and the industrial parks where around 77,000 people work day and night. Da Nang residents are in lockdown and schools are again closed.
This includes the OneSky ELC, established in 2017 to provide infant nurture care and early education to the children of rural migrant workers. While there is no suggestion of any risk to the ELC students or teachers, working parents are again under extreme pressure.
OneSky Vietnam Program Director Hien Vo explains: "Not only do they face the concern of potential workplace infection and the possibility of factory closures, while they work their children have no one to care for them.
"Migrant workers can little afford to lose work shifts but many are having to stay home to care for their children, increasing their economic burden."
During the previous Covid-19 lockdown, which lasted three months and ended on May 11, over one-third of ELC parents reported having to take children back to countryside homes to stay with grandparents.
As Da Nang plans to contain the spread of the disease, with testing for the entire city planned, OneSky teachers have been offering ongoing support to parents of ELC children.
Using online platforms, teachers have been sharing videos of suggested activities and educational videos. Unlike many workers in Vietnam, OneSky staff continue to be paid throughout lockdown.
Teachers have also asked parents to forward videos of their children doing school activities at home. They plan to share them to keep kids in touch with classmates and to help shield them from the anxiety faced by parents.
"We are a small part of a city-wide effort, to defeat this virus and help keep everyone safe," added Hien. "We are looking after our staff and they in turn are doing everything they can to support parents."
"Our thoughts, of course, are with the children. We are also hoping for a swift containment of this breakout to safeguard their parents and their ongoing employment."
https://onesky.org/wp-content/uploads/2020/08/kidbanner.jpg
900
1600
Steve Jackson
https://onesky.org/wp-content/uploads/2019/06/Logo1998-250.jpg
Steve Jackson
2020-08-05 14:35:27
2020-08-07 03:20:16
Outbreak reaches the Vietnam factory zone served by OneSky Early Learning Center