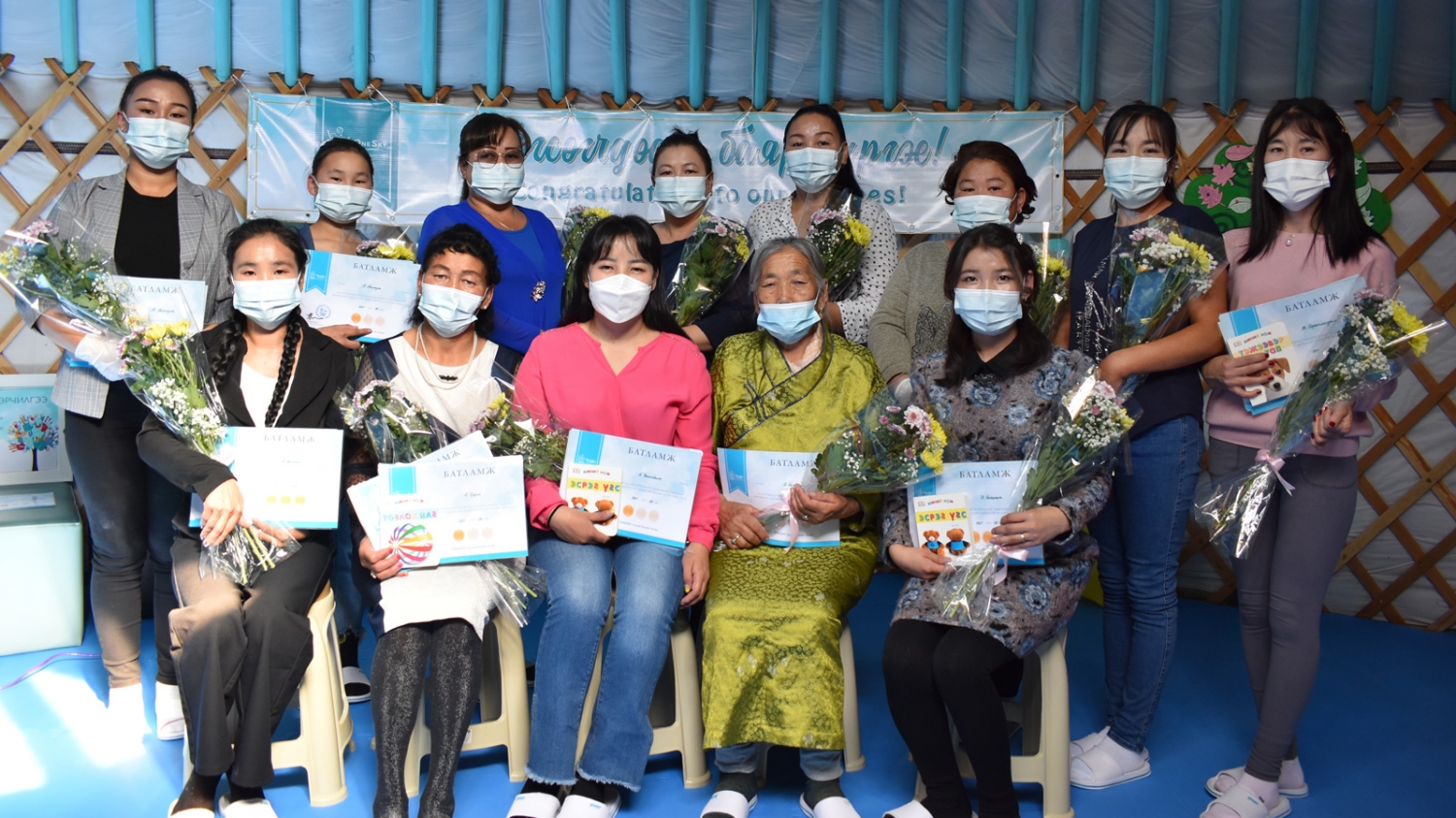 Moving ceremonies for the first graduates of Family Skills Training in Mongolia
Lockdown has been hard on many of the communities in which OneSky works but none more so than in Mongolia.
But that hasn't deterred eager parents from Bayanzurkh District's 21st Khoroo from enrolling in OneSky Family Skills Training, an 18-week course designed to provide parents with experience and knowledge in how to address their children's social and emotional needs.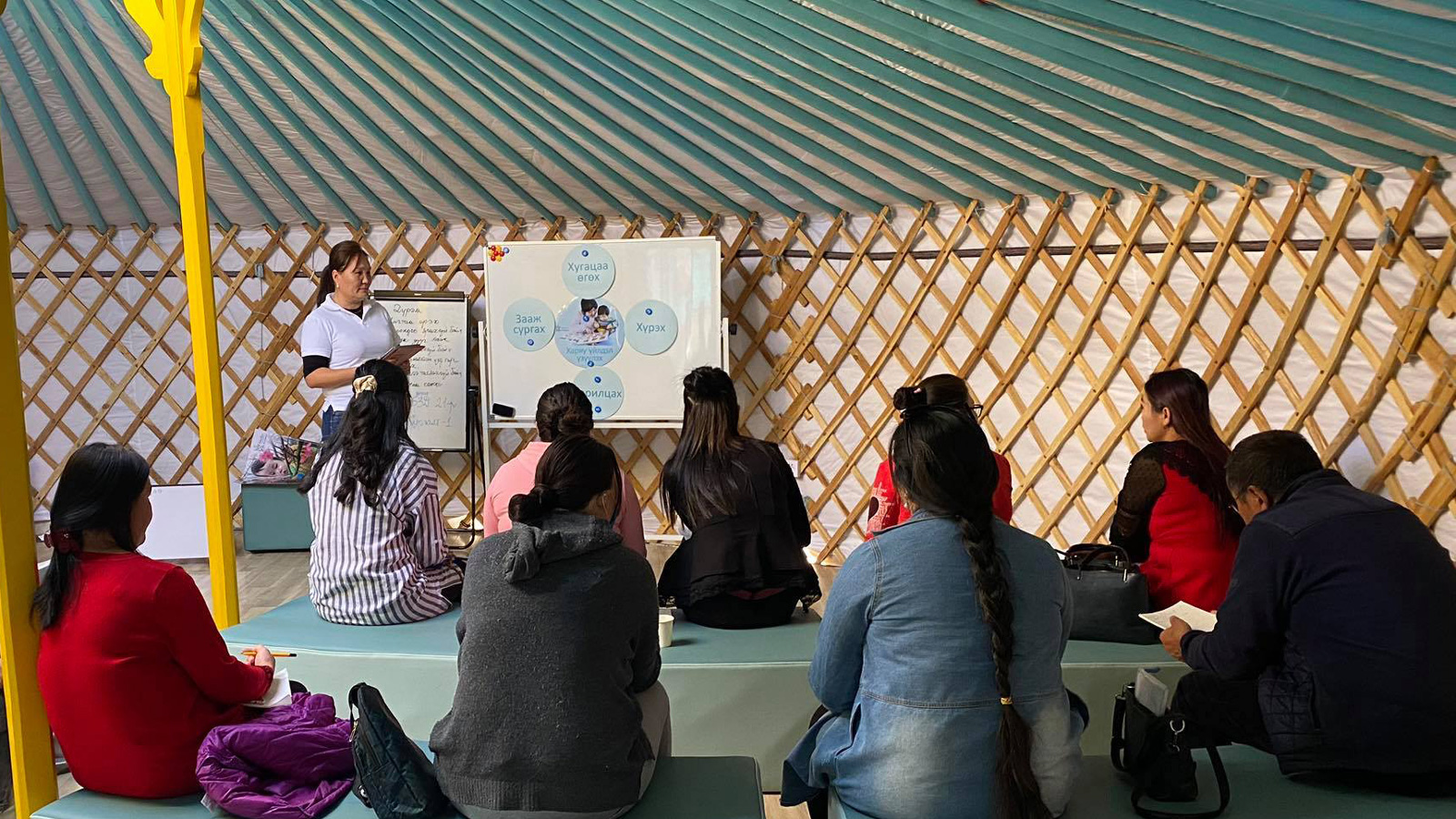 Since opening in late 2020, the OneSky Family Center in Ulaanbaatar has been forced to close twice. Recently, after several delays due to ongoing lockdowns, the first cohort of 51 parents and caregivers graduated in much-anticipated ceremonies, attended in-person by OneSky staff, government officials, and OneSky partners.
OneSky Community Relations Manager, Munkhtuya Badmaavanchin, and Early Childhood Development Specialist, Gereltuya Tsegmid, presided over four ceremonies to honor graduates who, over the past year, had completed the training in full and in part.
"You are the first graduates of parent training in Mongolia; you should be proud of yourself for your dedication and sincere efforts. Congratulations on your graduation!" Gereltuya told the parents, calling their training a "priceless intellectual investment" during their children's crucial developmental period.
Parent-trainee, Narmandakh, who has a 4-year-old daughter, expressed her gratitude to OneSky for the child development training. "In the past, I had limited knowledge and lacked the ability to observe, interpret, respond, listen, and spend time with my child. But now I understand what is a safe and healthy environment for growing up."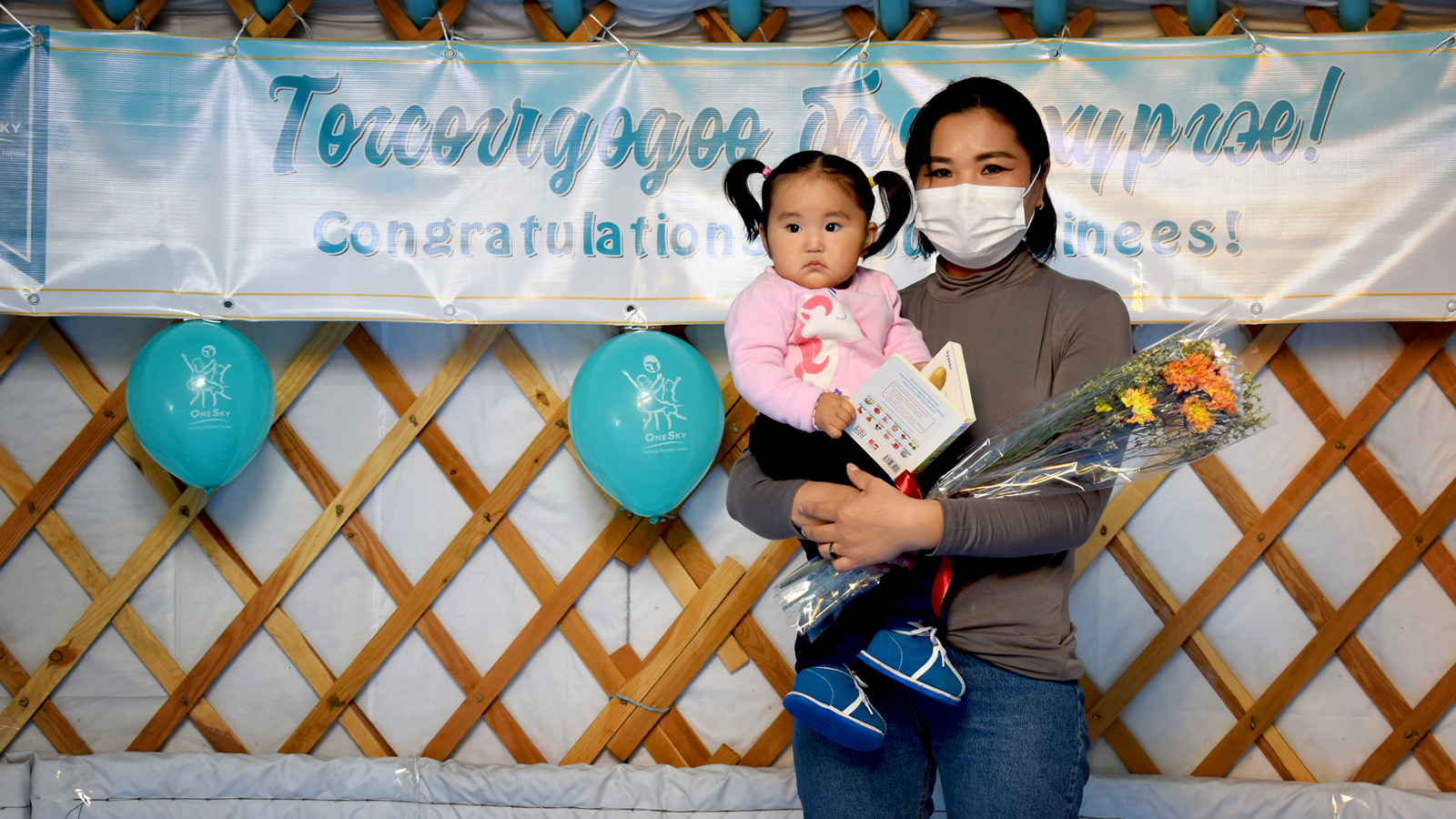 Another parent-trainee Davaajargal, said: "By attending this training, my relationship with my child has improved. I want to have this training for many parents like me to be educated to help the future generations."
Officials from the Ministry of Education and Bayanzurkh district also joined the ceremony and expressed their appreciation for OneSky's trainings to help Mongolian families.
The first ceremony honored 14 graduates who had completed all 18 training sessions. A moving presentation of certificates was followed by several trainees sharing their experiences, including one who read a long poem mentioning OneSky Founder Jenny Bowen.
Special guest Mr. Tamir Batsaikhan of the Lorinet Foundation — which generously supports OneSky's work in Mongolia — concluded the ceremony with a well-received speech.
The second ceremony recognized the efforts of 14 parents who had completed 18 training sessions. Special guest Gantoli Bayarbaatar of the DZ Group, which also supports OneSky in Mongolia, gave an engaging closing speech.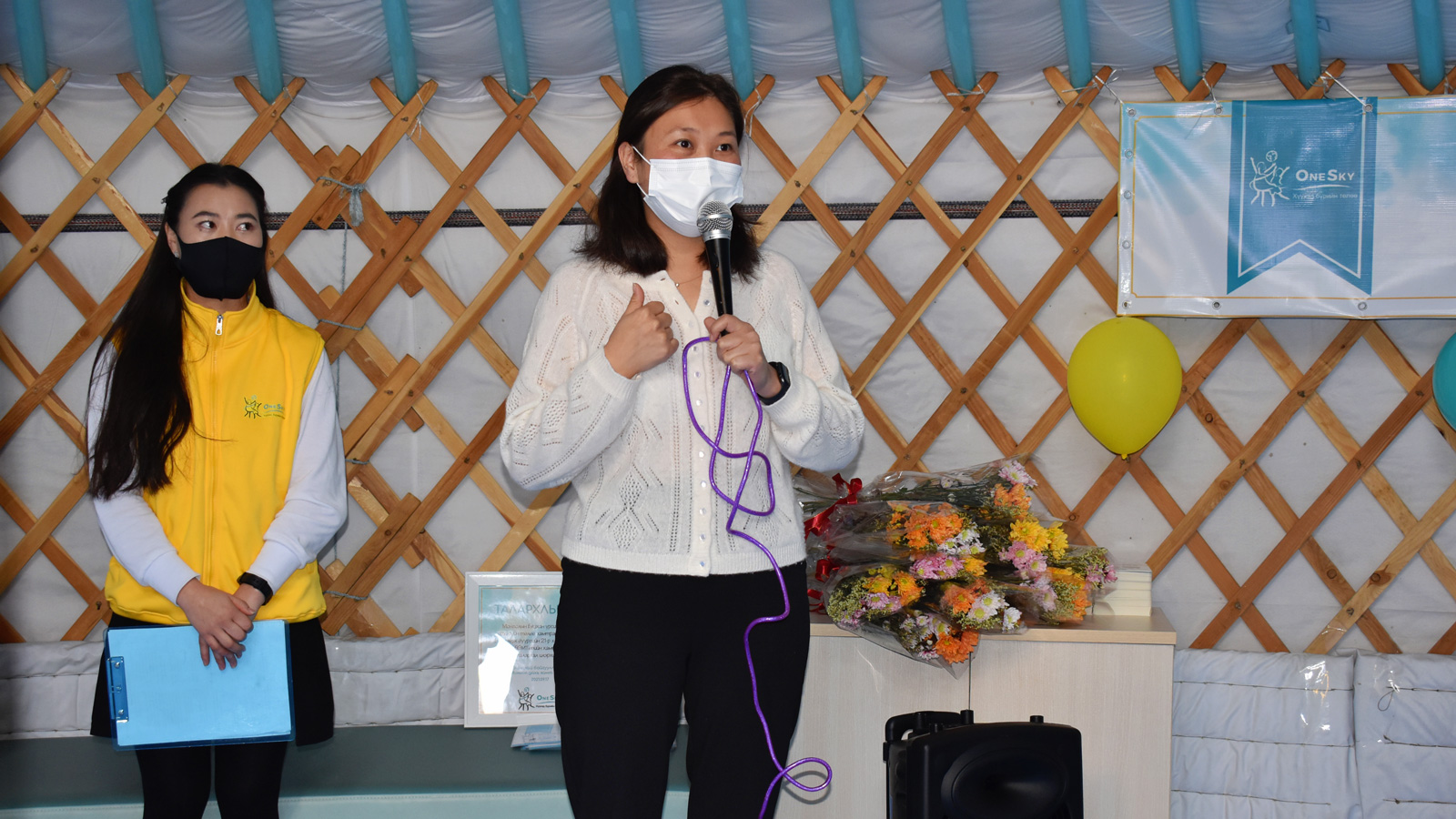 A third ceremony for 12 graduates, was attended by Erdenezaya Nyamsukh, the Bayanzurkh District 21st Khoroo Governor. Meanwhile, a fourth ceremony for 11 graduates was held just this month.
Munkhtuya concluded that these celebrations honored not only the trainees but also OneSky's donors, partners and staff, as well as the children of Mongolia.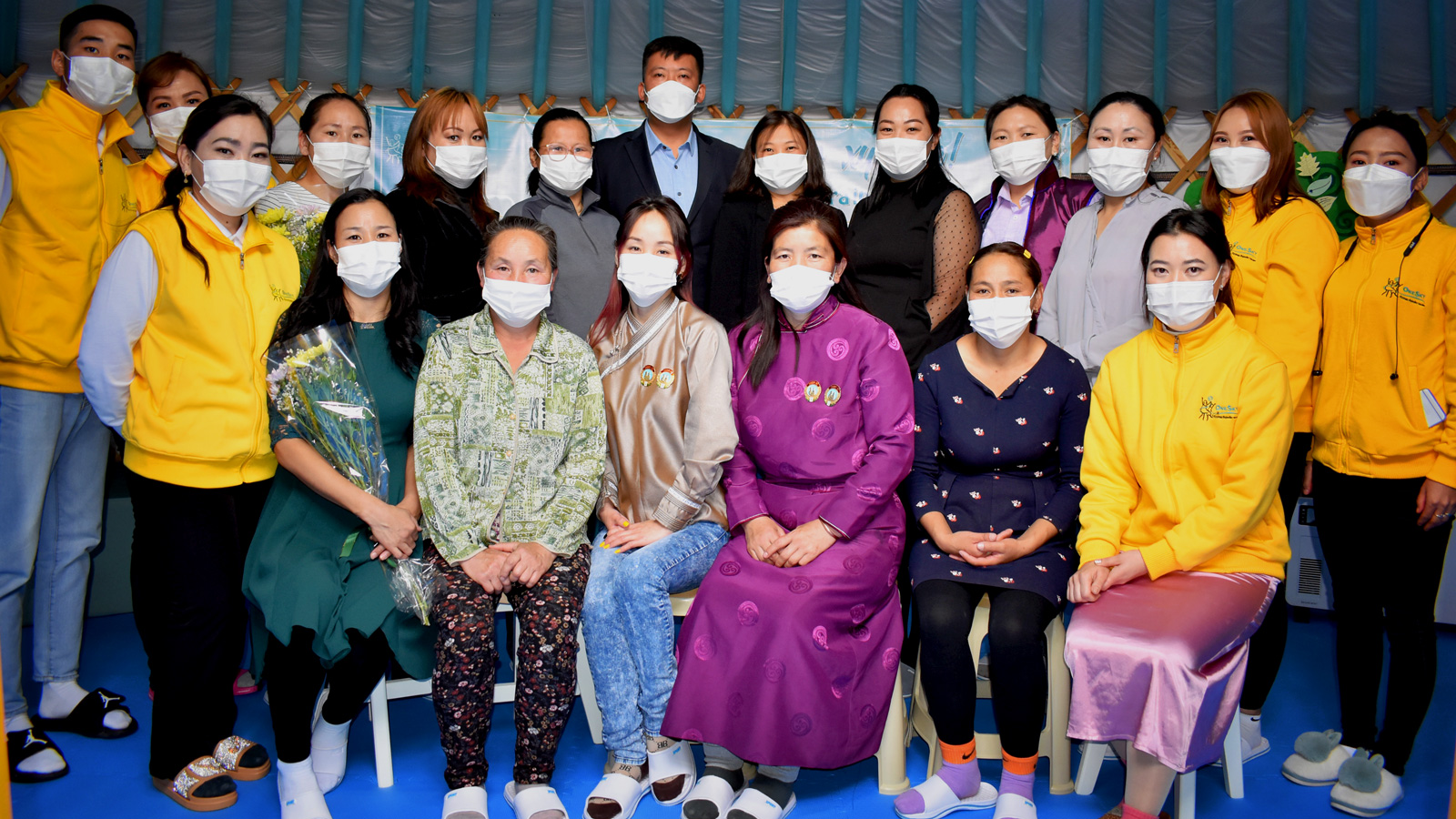 Nearly half the population of Mongolia's capital, Ulaanbaatar live in "ger" districts. Gers are small circular huts that traditionally serve as portable homes for people on the move. Climate change, uncontrolled mining, and a post-Soviet economic collapse have left many thousands of once-proud nomadic herder families now migrants – squatting in massive, permanent ger encampments surrounding the capital city. To learn more about OneSky's work in Mongolia, click here. >.
https://onesky.org/wp-content/uploads/2021/10/MN_Graduation_DSC_0407.jpg
900
1600
Ivy Yu
https://onesky.org/wp-content/uploads/2023/01/25th-logo-6.png
Ivy Yu
2021-10-21 23:58:53
2021-10-25 19:51:17
Moving ceremonies for the first graduates of Family Skills Training in Mongolia