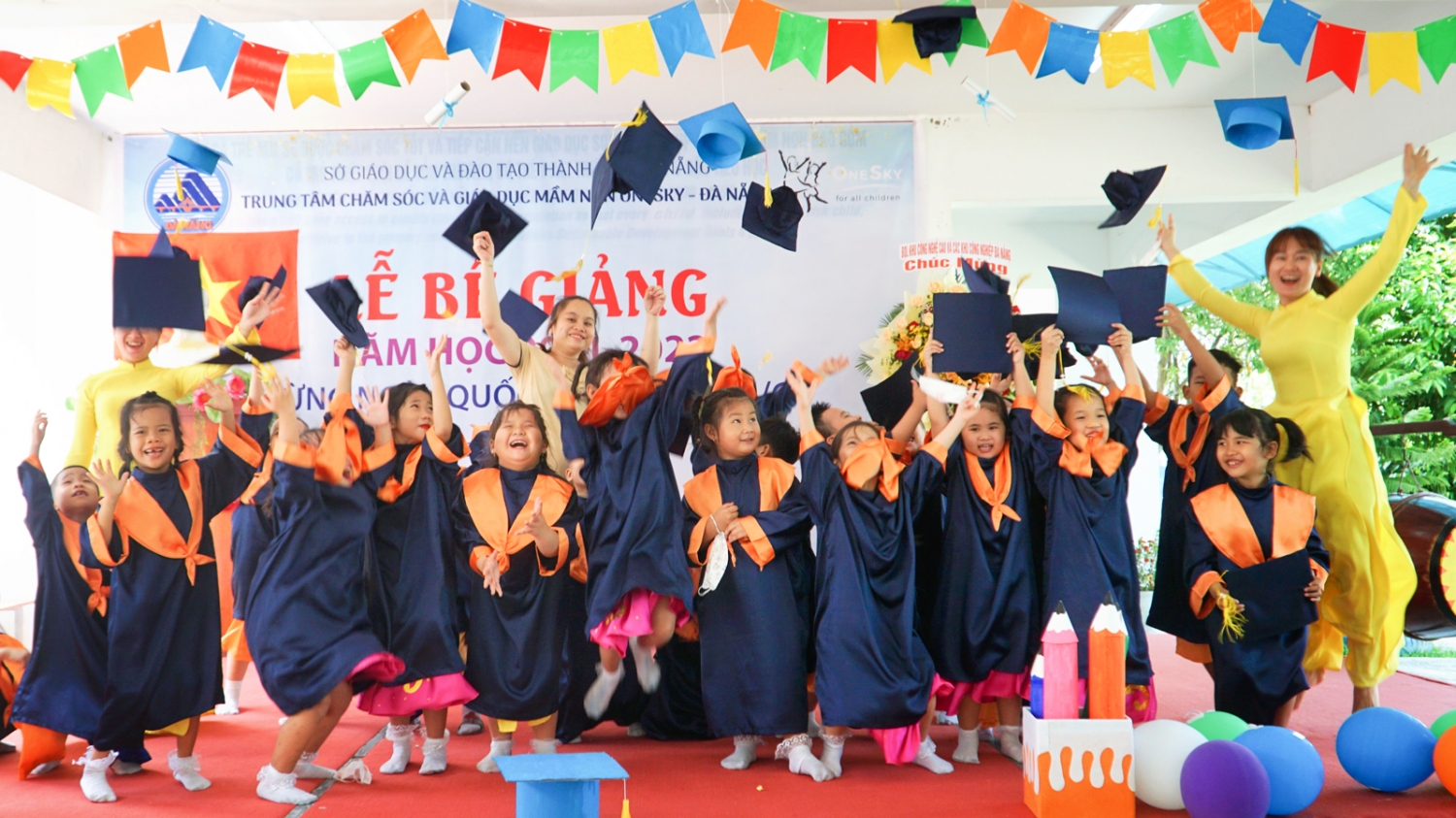 We've cared for them as babies – now they're ready for primary school!
This September we celebrate not only the fifth anniversary of the OneSky Early Learning Center (ELC) in Vietnam but also the graduation of our very first cohort of children who joined the Center when it first opened in 2017. 
Most of these 53 children came to us as babies and have grown up in the daily care of OneSky-trained teachers.  They leave after five years, having received the nurturing care and early education they need to thrive, ready to enter public elementary schools on par with those children of greater means. 
Meet young Quyen, Hai and Phu who have grown up at the ELC and are all smiles as they graduate, confident of their place in the world.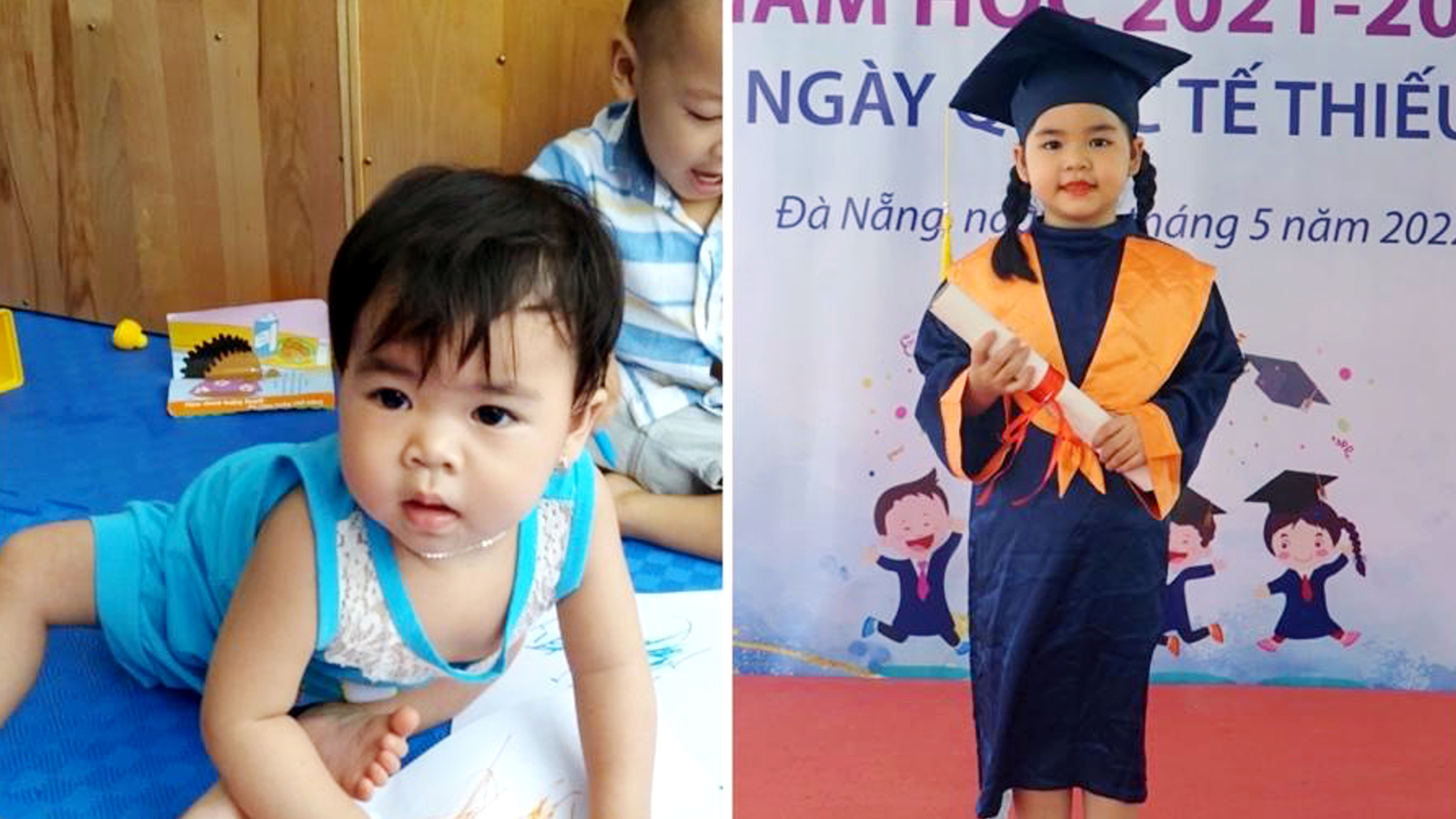 Quyen, whose parents are both factory workers, came to the ELC as a shy baby.  
As a toddler, she would try and hide behind her teachers to avoid meeting other people. Over time, her OneSky-trained nursery teacher noticed that she had an incredible memory for songs and seemed to love singing and dancing. The teacher encouraged her confidence and to sing in front of her friends. And so, since she was 2-years-old, little Quyen has been in countless singing and dancing performances. 
Quyen's mom works day shifts and her dad works night shifts, so finding a safe place for their daughter to be cared for was critical to allow them to continue working.
Initially, her mother was reluctant to submit an application to the ELC because despite being hopeful, she didn't believe her daughter would be so lucky as to be offered a place. 
"It just seemed too good to be true but it turned out to be the best decision I've ever made." 
She recalls the love and care her daughter has received from ELC teachers and staff: "When Quyen was a baby, she used to have allergic reactions to diapers, so her nursery teachers spent time during their lunch breaks making cloth diapers for her. I was so touched.
"Now, Quyen loves telling me about what she learns at school every day and I'm always surprised by how much she knows. She has grown so much, and become much more confident, and full of joy. I know that's a result of the constant love and care that she receives each day."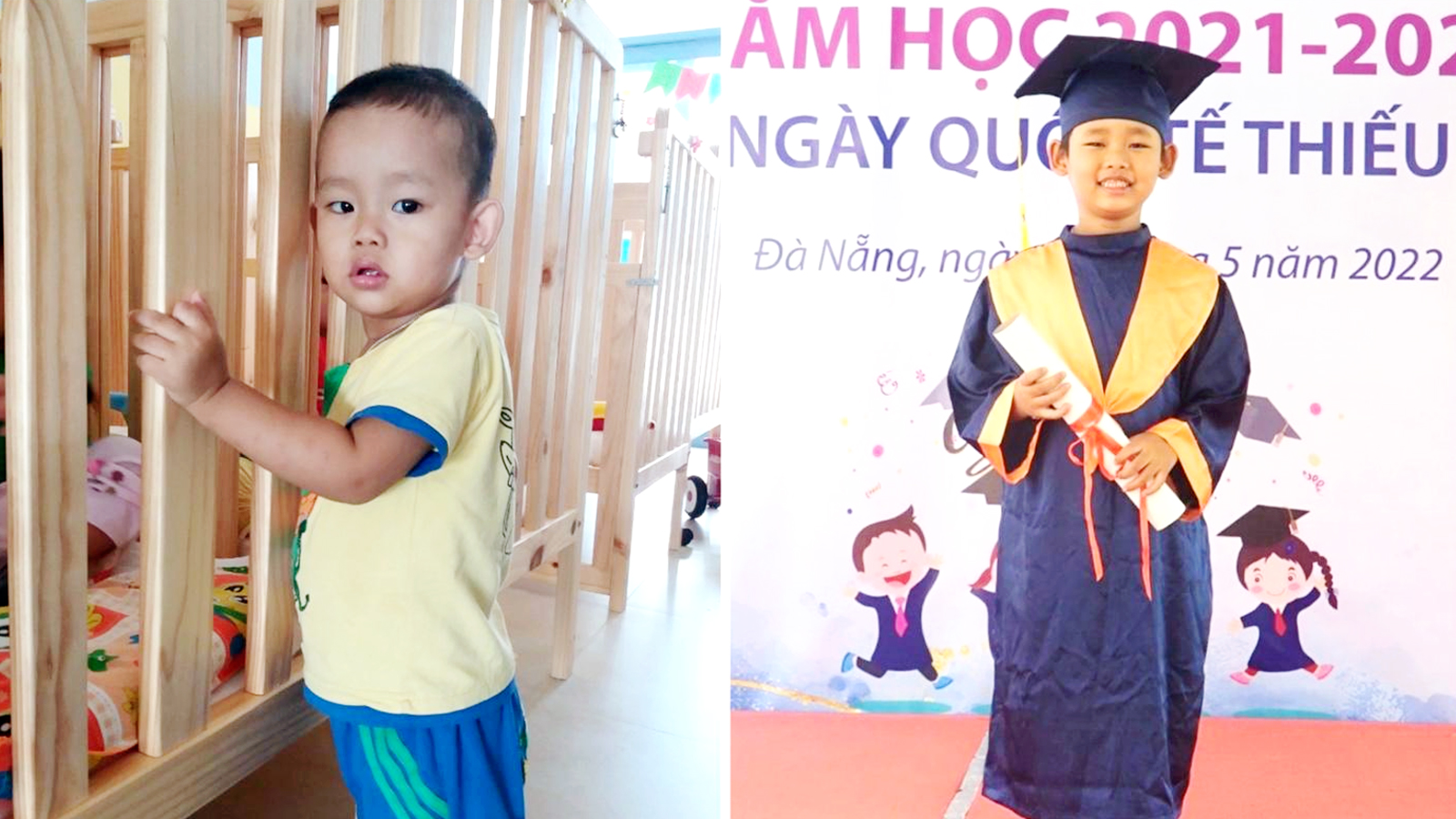 Hai's father works at a paper factory and his mother works as a tailor at a textile factory.  Like all parents, everywhere, they worried how they could afford a good education on their meager salaries.
Hai's acceptance into the ELC was life-changing, reducing their financial burdens and ensuring their son received the best possible care. Over five years they have seen him blossom into a bright and passionate young boy. 
"Hai is the most valuable thing in our lives. I'm so proud that he has become so responsible, full of compassion, and has a love for learning. And OneSky has equipped him more fully than we could ever wish for," Hai's mom said.
At 6 years old, Hai can already read books and has big dreams to study hard so he can have a good job and build a house for his parents. 
Hai said: "We live in a small, rented apartment. Sometimes I wake up in the middle of the night and see my mom at the sewing machine next to my bed making something to get extra money. When I grow up, I'll build a big house for them, and my mom won't need to work at night time anymore."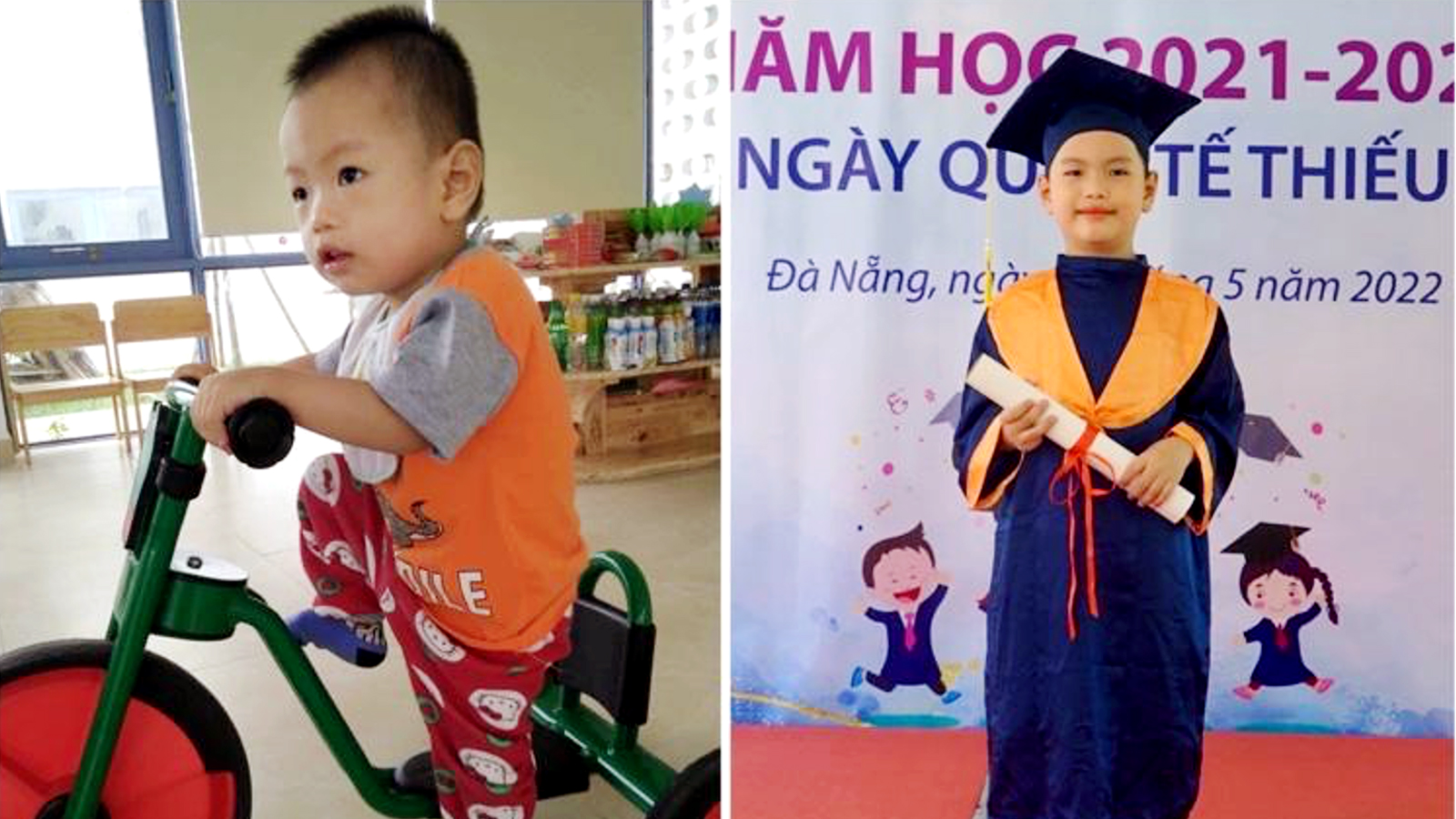 Phu also came to the ELC as a baby in 2017. His mother works for an electronics factory nearby, and his father is a builder. While his father works during the day, his mother usually takes night shifts to earn a bit extra. His parents met one another in Da Nang ten years ago after coming to the city from their hometowns more than 500k away.
An inquisitive child, Phu has excelled at the ELC, where his teachers have encouraged his development. Teacher Tuyen, who has been at the ELC since it opened, says she prepares each lesson by considering what knowledge a child older than five could learn because she knows little Phu will ask lots of tough questions.
"Since he was a baby, he loved asking questions about everything around him. He also has an incredible memory and loves exploring. For example, when we learned about wind, he told the whole class: 'Natural winds have different air motions from winds from a fan, you can feel it too!'"
Phu, who also loves the outdoors, said he misses the teachers and the outdoor space at the ELC: "At home, I'm only allowed to play in the small hallway connecting with other apartments because my home is too small and my parents don't want me to play on the roads. There are so many things to explore at the ELC, I wish I could stay here a bit longer. But I'm excited to go to a big school too because I'll learn big numbers and science. I'll come back and visit OneSky ELC." 
https://onesky.org/wp-content/uploads/2022/09/DSC09562.jpg
900
1600
Debbie Cohen
https://onesky.org/wp-content/uploads/2023/01/25th-logo-6.png
Debbie Cohen
2022-09-14 12:52:08
2022-09-19 18:03:00
We've cared for them as babies – now they're ready for primary school!