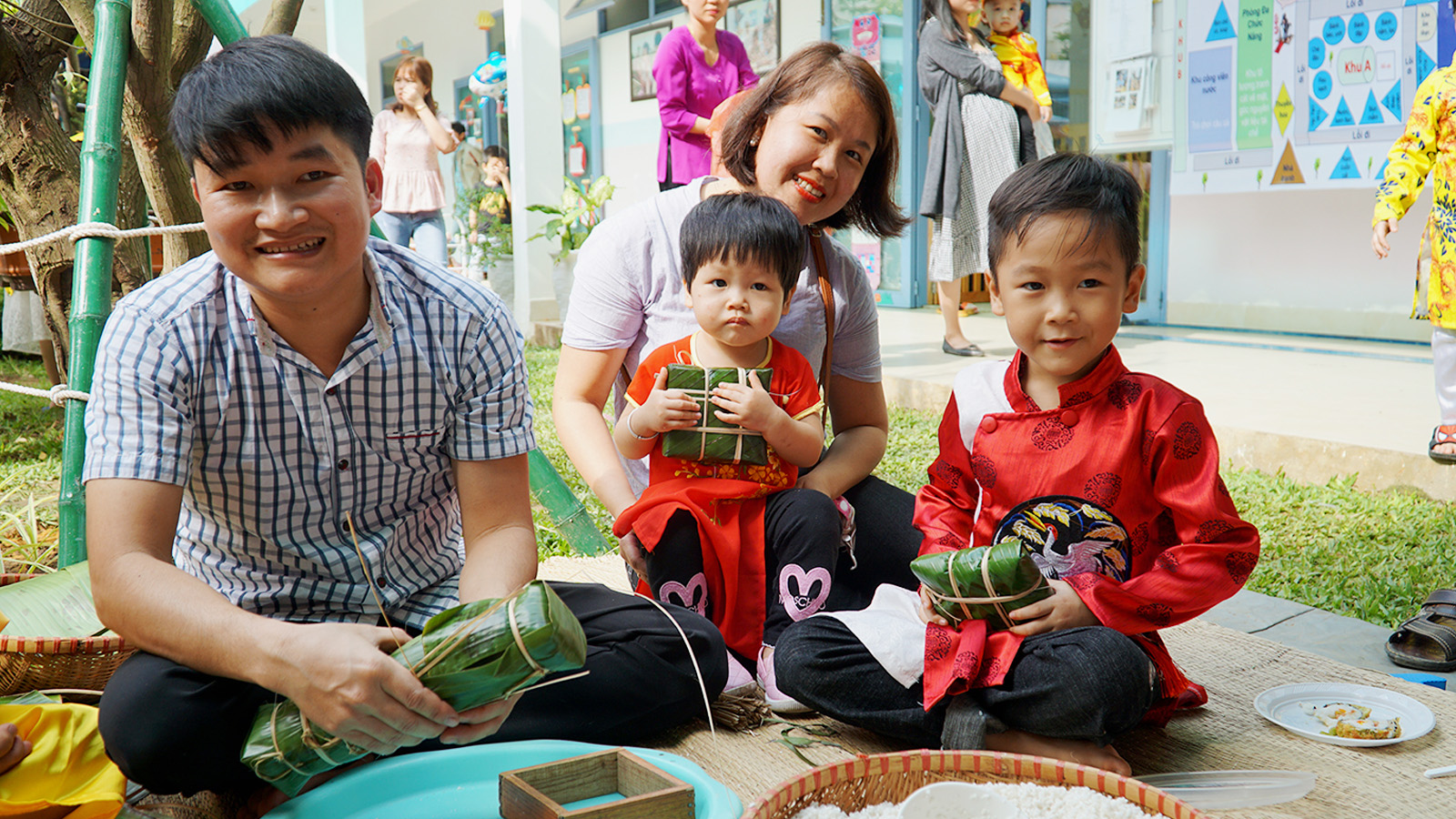 Vietnam's Tet is all about family – for many it's their only chance to be together.
As the Lunar New Year, called Tet in Vietnam, approaches, we share the holiday plans of the parents, children and teachers of OneSky's Early Learning Center (ELC) in Da Nang.
The Center was set up to help the children of rural migrant workers. For most of these families, the New Year is their only chance to travel home to visit their wider family.
Here are their Tet stories.
A time to teach children traditions and values.
Nhi (1-year-old) and Phong (5) (pictured above) both go to the ELC. Their parents are from Quang Nam province, 200 km south of Da Nang. The parents' homes are very near to each other. They'd grown up knowing each other. After they were married, they moved to Da Nang to find jobs in the industrial zone.
Their mom, Lan, works at a factory that makes and exports handbags, while their dad, Tien, works at a flour mill.
Tien works night shifts. He starts at 3am and finishes at 1pm. After his shift, he often goes to the ELC and helps out. As he says: "I owe the ELC so much and I want to give back."
Ahead of the Tet holiday, at the ELC's recent Spring Festival, the whole family was showing people how to make their own banh chung – a traditional food celebrating the Lunar New Year and made from glutinous rice, mung beans,and pork.
Making banh chung is a tradition in Tien's family. Tien learned to make it as a child and his family often sold them at the market for extra income at this time of year.
Because they are both working parents, Tien really values Tet. He sees it as not just a wonderful opportunity for the family to be together, but also a time to teach their children New Year traditions and family values.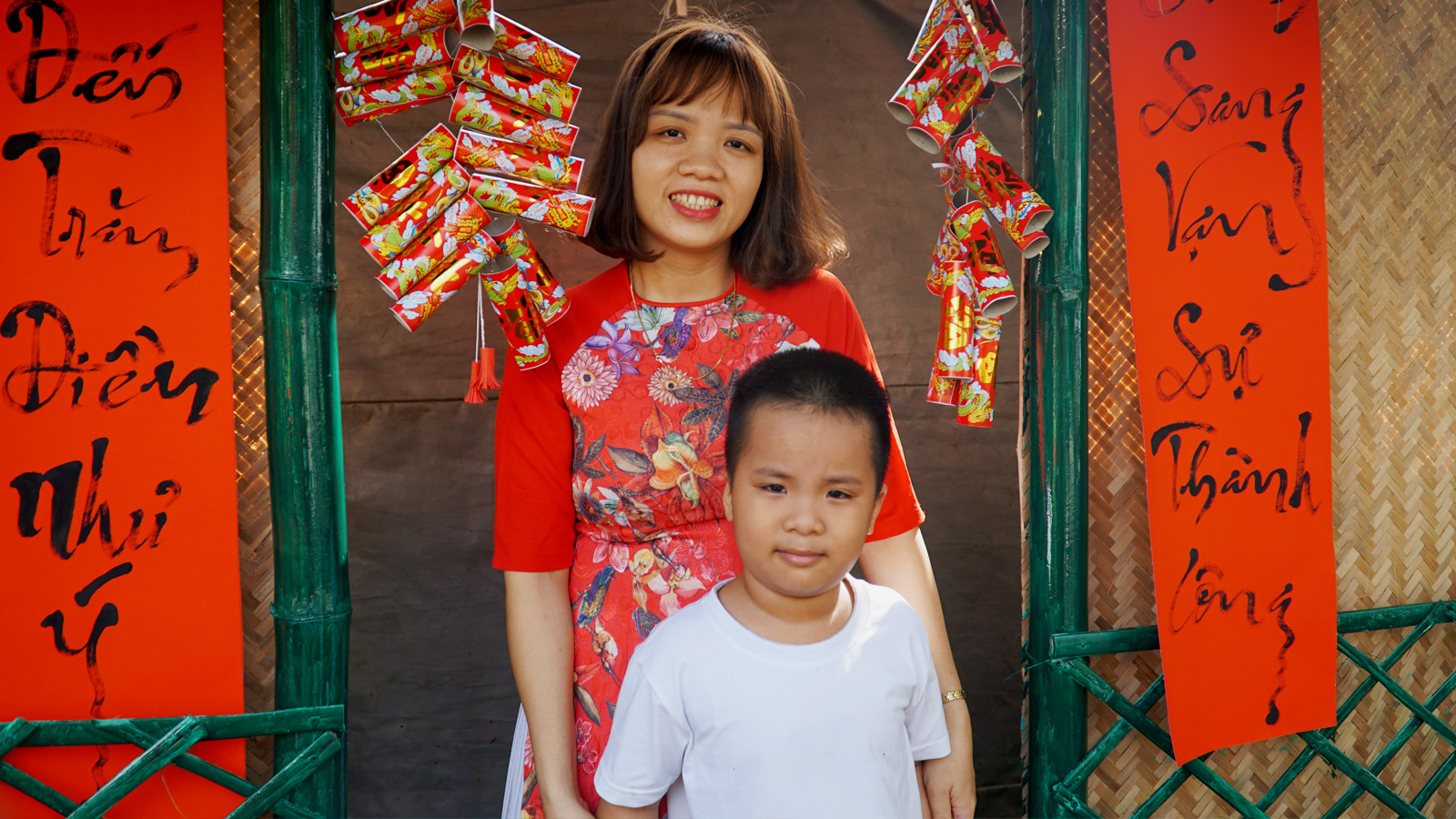 Siblings chose work in the city over farming in the countryside.
Nhan (pictured above) was one of the first teachers to join the ELC when it opened in 2017.
Nhan is from Quang Binh, a town 400 kms away from Da Nang. Like many other young students, she left her hometown to go to university in Da Nang, then settled in the city after graduation. There was only farming work back home.
Her three siblings all work in different cities; she is the closest to home.
The Lunar New Year is the only opportunity for a full family reunion.
A six-hour overnight coach ride to see the whole family again.
Thanh (15 months) is in the youngest in his class at the ELC. His parents are from Quang Trach, Quang Binh, which is over 320 km from Da Nang.
The young couple knew each other from their hometown, but the only available work was farming. They decided to move to Da Nang to find work in factories.
But living so far from wider family support can make life very difficult.
"After my six months maternity leave, I had to go back to work at the factory," explained Thanh's mother, Thuy. "My mother traveled from our home town to Da Nang, to help me look after Thanh, so that I could work. But my father was unwell and she had to return to farming – their only source of income.
"Luckily, I heard about OneSky and got a place for my son. It was such a big relief for my family and my parents."
Despite the long six-hour overnight coach trip to her hometown, Thuy's very excited to return. Tet is the only time when her big family can reunite.
https://onesky.org/wp-content/uploads/2020/01/banh-chung-tet-family.jpg
900
1600
Steve Jackson
https://onesky.org/wp-content/uploads/2023/01/25th-logo-6.png
Steve Jackson
2020-01-23 06:16:04
2020-01-23 06:16:51
Vietnam's Tet is all about family – for many it's their only chance to be together.