Student-Led Group in Singapore Raises Awareness for OneSky
Even Covid-19 couldn't stop students from the United World College South East Asia (UWCSEA), a K-12 school with over 5,600 students, from raising both awareness and funds on behalf of OneSky.
Part of the United World Colleges network, UWCSEA is one of 18 campuses worldwide, connected by a shared mission of "making education a force to unite people, nations, and cultures for peace and a sustainable future."
Since 2006, Students for OneSky has been fortunate to have this independent international school in Singapore as part of the OneSky Family. Through UWCSEA's Global Concernes (GC) Programme, OneSky joins 65 other non-governmental organizations that the college supports.
During the pandemic, many of the OneSky GC activities were curtailed. Despite that, the students reached last year's goal of supporting two children in OneSky's Sponsorship Program. They also recorded short video stories and games in both English and Chinese to keep children entertained during Covid-19 lockdowns. This academic year the club has finally been able to resume in-person meetings.
"The GC group has been busy designing posters informing our community about OneSky's work, as well as building activities into fundraising games so students learn about OneSky in the process," said Martha Harrington, who teaches history at UWCSEA and supervises the school's Students for OneSky club.
At the high school level, students engage in global service to learn leadership skills, engage in world issues and understand how their ideals translate into suitable actions to support the challenges faced by international NGOs and the communities they serve.
"It has been wonderful how our students have raised awareness and fundraised due to their deep commitment to the work of OneSky and the students' desire to help others," said Harrington.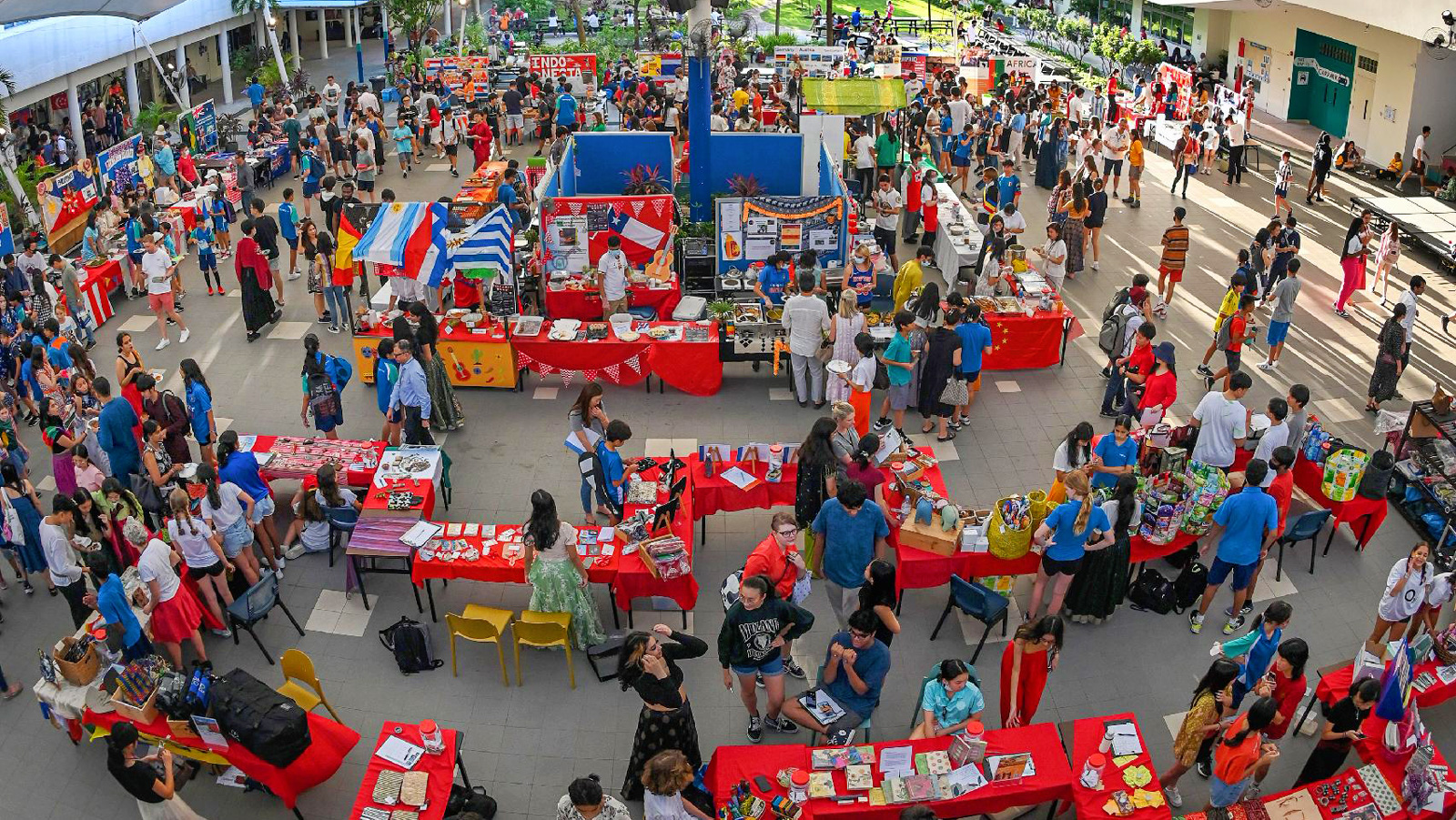 At UWCSEA, students are responsible for leading student groups, and the OneSky GC is no different. For student leaders like Meredith Chang and Rose Xu, both 11th graders at UWCSEA, this means taking responsibility for running advocacy efforts and planning fundraising events on campus. Most importantly, they said, being part of the OneSky GC means giving back and making a difference in the lives of young children.
Club members like Binqi Zhan, a 9th grader at UWCSEA, agreed. "I want to help the children. I believe that every child in the world deserves a good education and access to quality care," he said.
For 10th grader, Christina Ma, being part of the OneSky GC provides the "perfect opportunity for me to continue my journey of helping vulnerable and underprivileged children gain education equality."
In the winter of 2022, UWCSEA resumed its annual United Nations night, a community-wide celebration of its diverse community. With the support of parents, the OneSky GC was able to raise over SG $1,000.
"During UN Night, all of our GC members worked hard to help OneSky. What motivated me was that every hour I devoted to OneSky would help a child in another country to thrive and positively impact society in the future," recalled Binqi.
This year, the students remain equally excited to further their passion for advocacy on behalf of the vulnerable young children served by OneSky.
https://onesky.org/wp-content/uploads/2023/04/UWCSEA_Hero_web.jpg
900
1600
Debbie Cohen
https://onesky.org/wp-content/uploads/2023/01/25th-logo-6.png
Debbie Cohen
2023-04-25 15:07:13
2023-04-27 10:37:32
Student-Led Group in Singapore Raises Awareness for OneSky