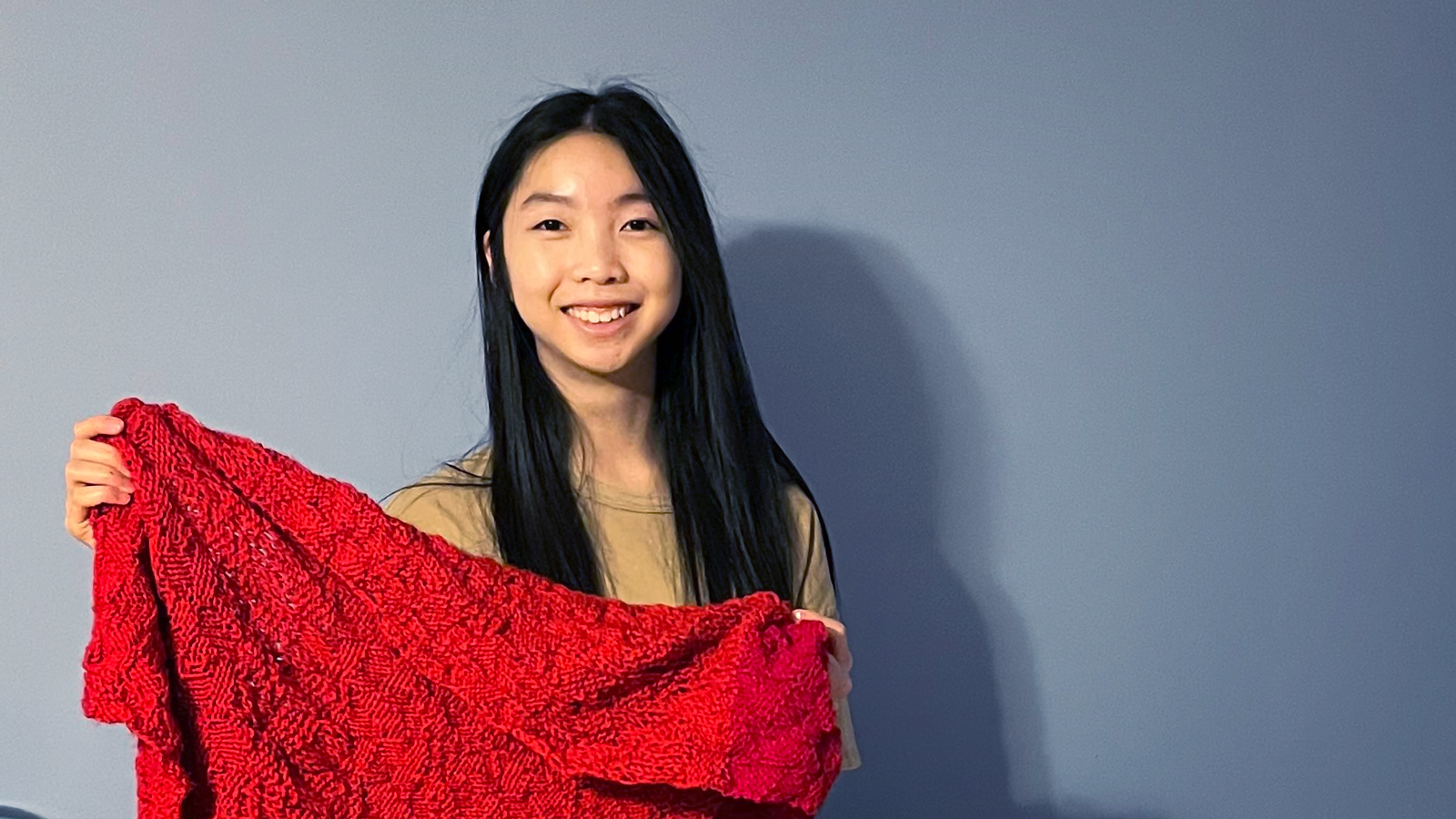 OneSky Hero Liat Browner: Sending Hand Knit Blankets to Children in China and Vietnam
Liat Browner believes there is nothing like a warm, cozy blanket to help make a vulnerable young child feel loved and secure. That special feeling — of being safe and well cared for — is one that Liat, who was adopted from China and moved to the U.S. as a baby in 2005, recently passed on to some of the children being served by OneSky.
Thanks to Liat, a 17-year-old student living in Ohio, 18 hand knit blankets have been delivered to orphans with severe special needs being cared for by OneSky-trained staff at the China Care Home (CCH) for medical rehabilitation in Guangzhou — with another 17 blankets on the way.
A box of 35 blankets was also delivered to the OneSky Early Learning Center in Da Nang, Vietnam, which provides early learning programs for young children whose parents labor in nearby factories.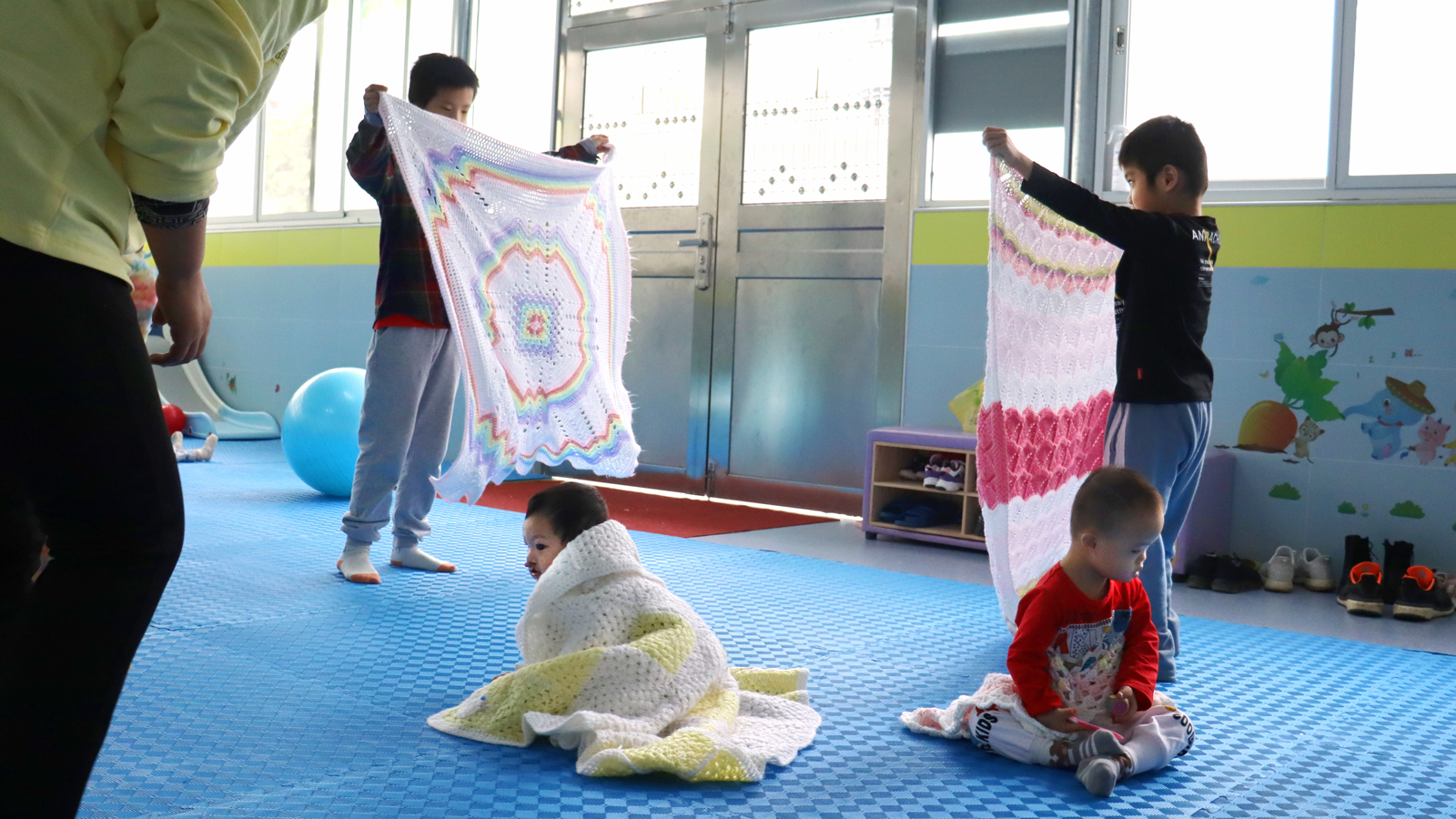 Liat, who was adopted through CCAI Adoption Services, had originally intended to send blanket donations to the adoption agency but had plenty leftover. So, she investigated donating the surplus elsewhere.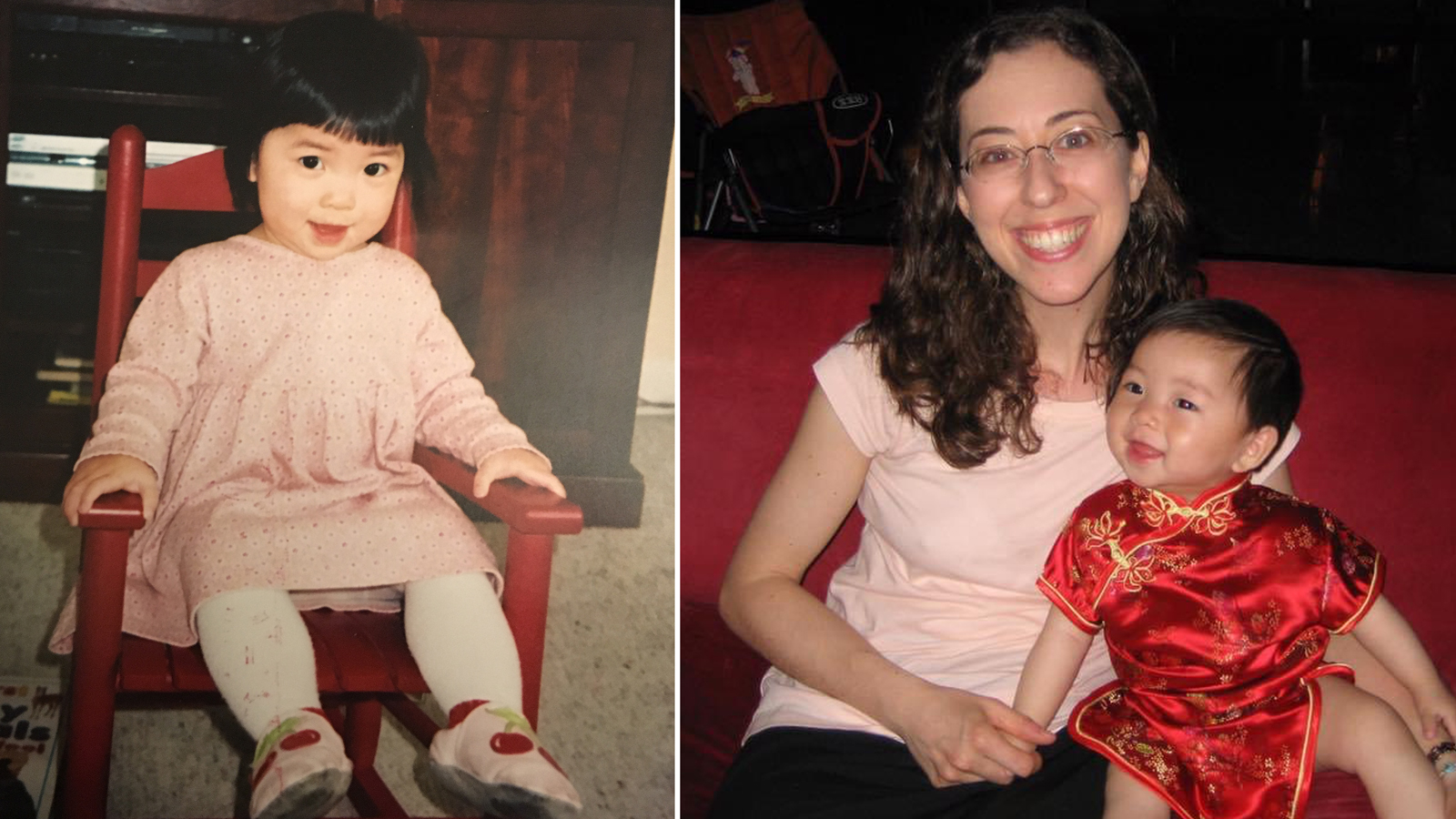 "I started researching other organizations. That's when I found OneSky and thought it was amazing that the organization teaches others to care for and tend to young kids. I thought OneSky's mission and passion for helping underprivileged children was amazing," explained Liat.
Liat said she learned to knit years ago but didn't take it seriously until the pandemic when she suddenly had more free time. After she had the idea for the blanket giveaway, she teamed up with Around the Table Yarns, a local yarn store in Cleveland.
To help her turn her blanket donation idea into reality, the store owners posted about her project in their newsletter, calling out for volunteers to help knit baby/toddler-sized blankets. Soon after, Liat had emails flooding her inbox asking if there was a certain yarn brand or colors they should use. Several of the customers from Around the Table Yarns were adoptive parents as well, so this project was particularly meaningful to them.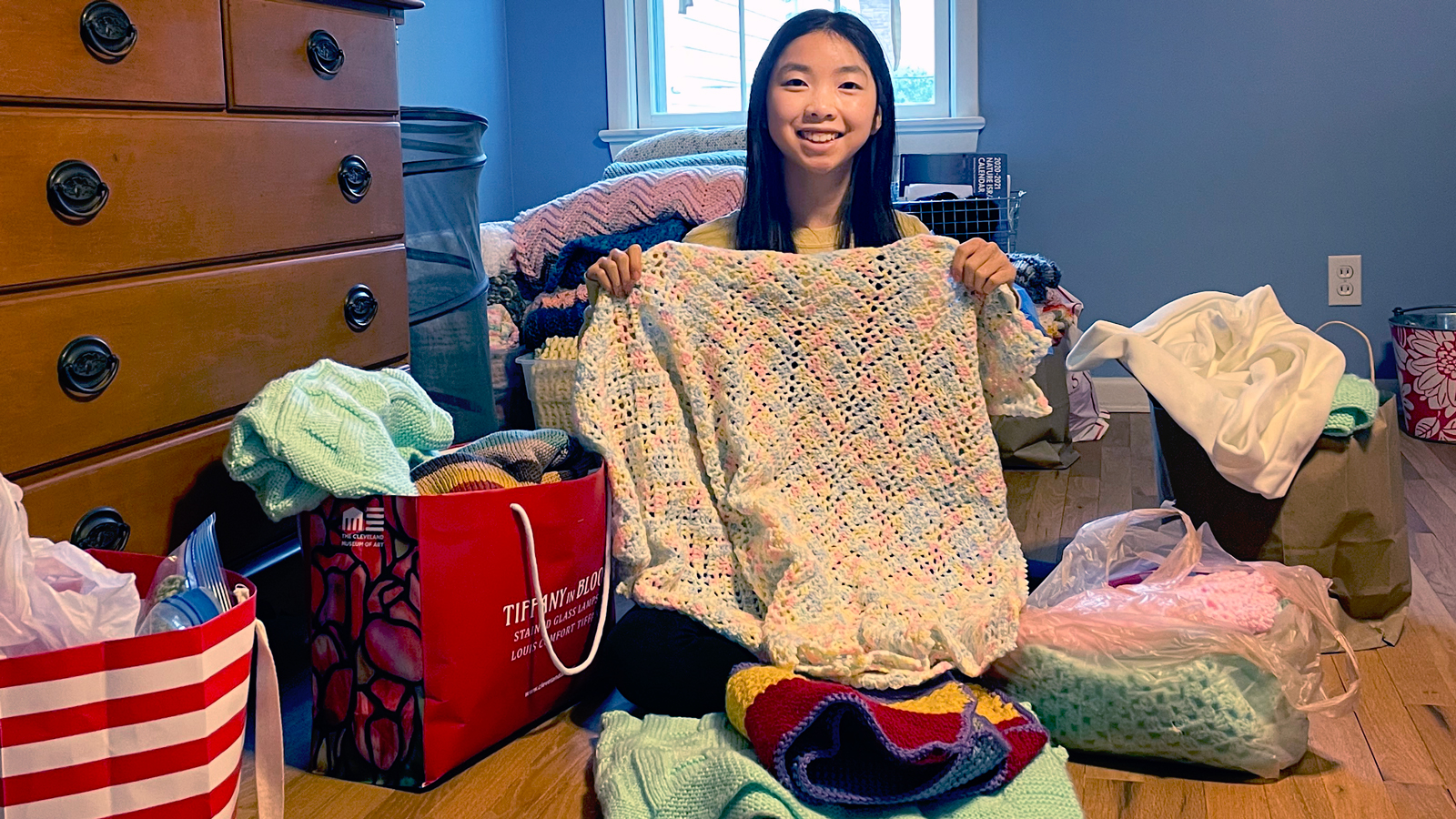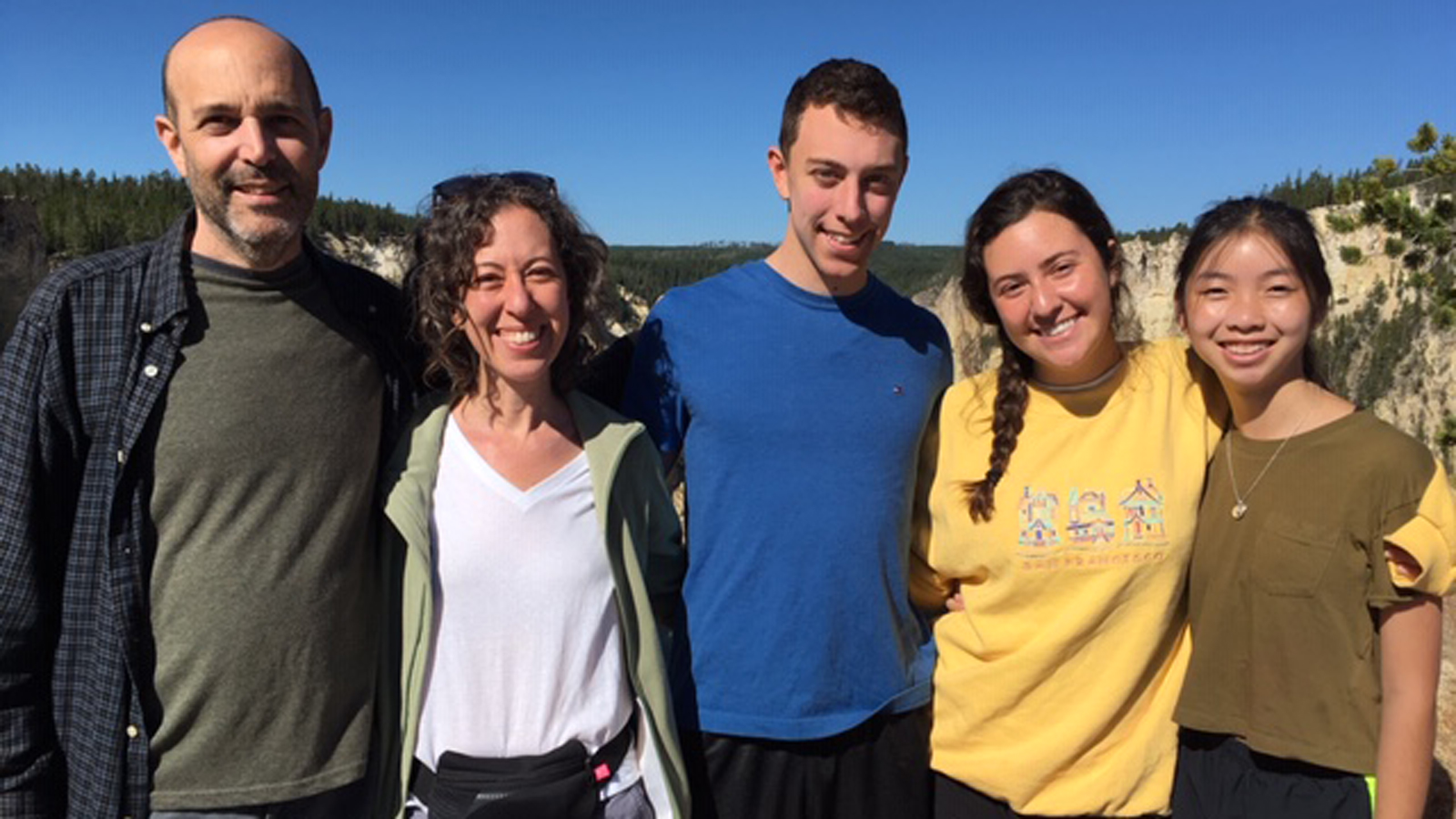 After the blankets were created, Liat's parents assisted with the packing and shipping. Now, Liat is thrilled that all of her and her fellow knitter's efforts have paid off.  OneSky staff at the China Care Home were thrilled and extremely moved by the love shown for the children.
"The blankets are beautiful, soft, and brightly colored … the children love them! When we learned they were handmade by volunteers, we were very touched. During naptimes, we can cover the children with beautiful blankets to accompany them into sweet dreams. And, when we take a child to hospital for an examination, it's convenient to bring along a blanket in case the child falls asleep on the way."
Liat was glad to learn that the cuddly blankets will be put to good use. Although she has not been back to China to visit her former orphanage, she hopes to one day. "When I was adopted from China one of my main caregivers gave my mom her address. This summer I wrote a letter to the caregiver to let her know where I now am; that I'm with a good family and have a good life."
In addition to knitting, Liat enjoys studying Mandarin and playing the violin in the chamber orchestra at her high school. She also said she would like to continue learning more about OneSky's work helping vulnerable young children in Asia.
https://onesky.org/wp-content/uploads/2022/01/Liat-IMG_6416.jpg
900
1600
Debbie Cohen
https://onesky.org/wp-content/uploads/2023/01/25th-logo-6.png
Debbie Cohen
2022-01-15 06:14:35
2022-01-17 14:06:42
OneSky Hero Liat Browner: Sending Hand Knit Blankets to Children in China and Vietnam