My Journey Leading to Yunnan
My journey began at the beginning of 2003 when a friend invited me to visit her grandmother, who was working at the Wuzhou SWI.
When I arrived, a little girl came up to me. She was very timid, but reached out to me for attention. We chatted and I will never forget her little eyes. That night I couldn't sleep. I began to wonder how I could help children like her.
In June of that same year, Half the Sky established its programs at Wuzhou and I saw ads on TV that they needed preschool teachers. I was so excited. My dream was about to come true. After a strict screening process, I was hired and started my training to learn about responsive care, secure attachment, the Reggio Emilia approach, and best childcare concepts.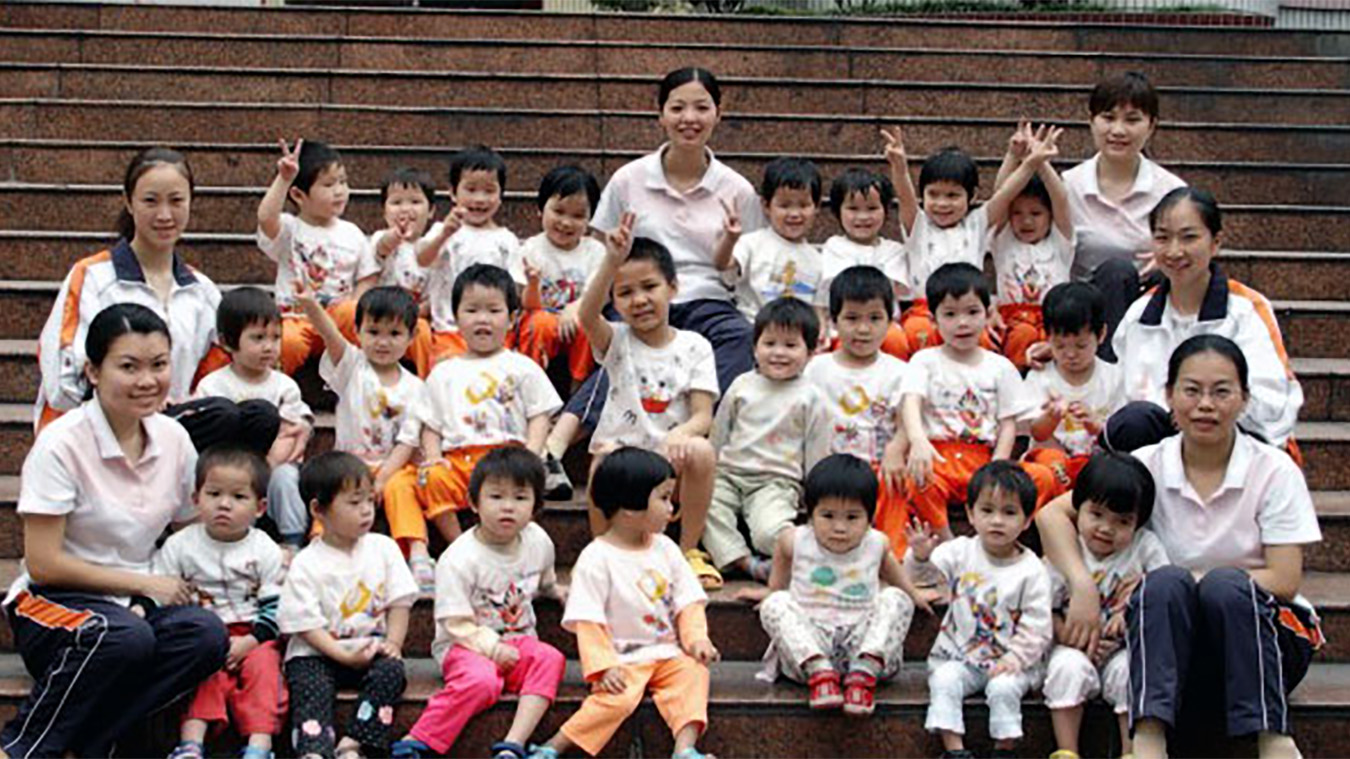 I had worked as a teacher, but in my new job I cared for orphaned children with special needs, which was new to me. I learned to hone in on children's interests and was surprised to see how fast they began to thrive. I felt a true sense of fulfillment and accomplishment! I developed a passion for pedagogy and psychology and was determined to learn as much as I could to help the children.  And the more I learned about the children, the more I grew myself.
The child who had the biggest impact on me in those early years was Xinxin. At almost three years of age, he was not able to walk, did not make eye contact, and could not talk and express his needs. Worst of all, he kept banging his head on the rails of his bed and walls. He had bruises all over his head. When I first met him, a lump formed in my throat and I felt like I could not breathe.
I did everything in my power to help him. I gave him big hugs when I saw him in the morning and said goodbye to him before I left. Two weeks later, I noticed that he was anticipating my arrival. This was good! His caregiver also told me that he looked at the door often and turned around each time someone entered.
One day, two months later, I went to his room and when I entered, I saw Xinxin barefoot, trying to walk across a wet floor to get to me. He almost fell a few times, but he kept walking, one step at a time. Tears came to my eyes and I ran to him, to pick him up. He was bonding with me!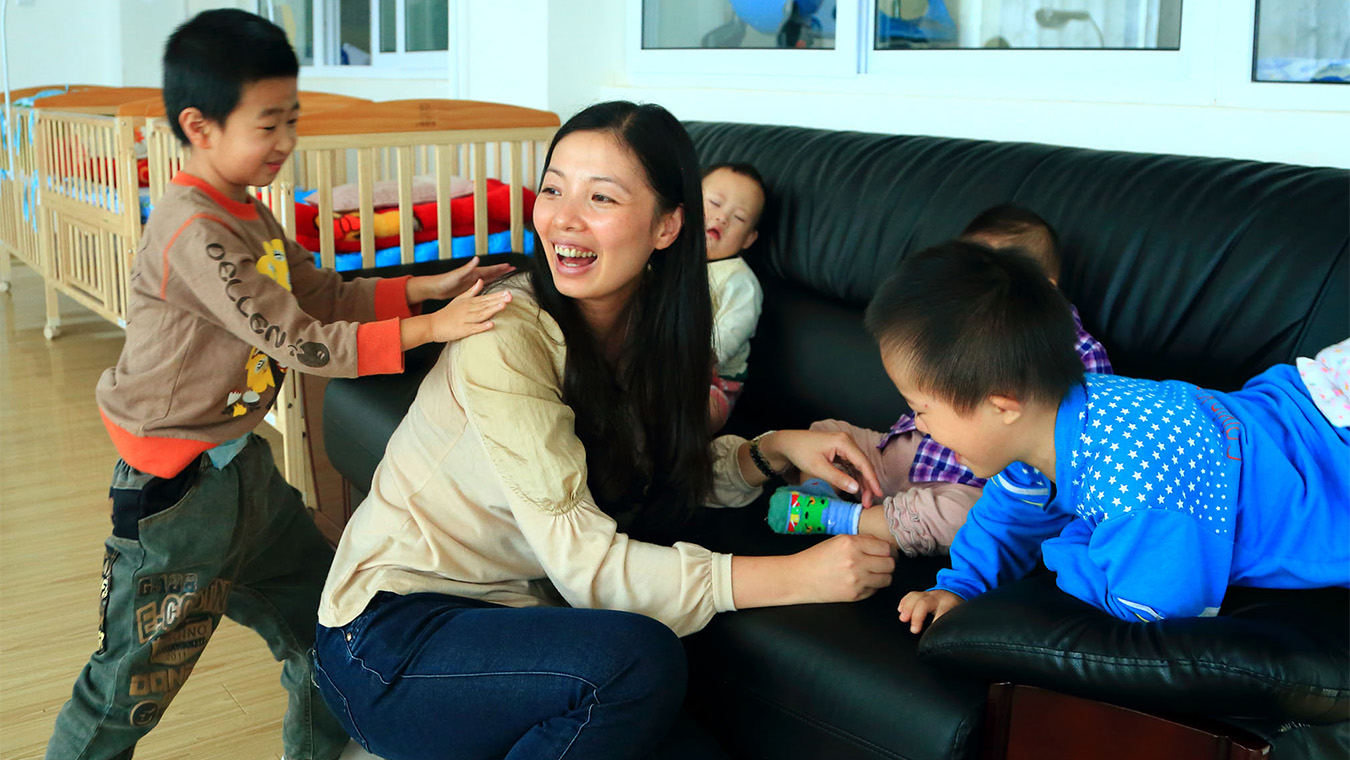 After six years, I was promoted to field trainer and started to travel throughout Guangxi Province. I worried…would I be a good trainer?
The first training I did was at the Guiyang CWI. I arrived early to prepare everything: print the documents, set up the room, decorate, familiarize myself with the child files. I realized how important and difficult each detail is. That day, I started a new habit of carrying a notebook with me. Every time I learned something new, no matter how small, I wrote it down. For example, at that first training in Guiyang, I learned that putting the tables in a U shape is ideal for promoting good communication among the participants, and I wrote that down!
In 2012, I was honored to be promoted to Child Development Expert (CDE) for the province of Yunnan, which meant that I could now spread Half the Sky's philosophy of childcare to every welfare institution in that province. But it was a bittersweet honor because I had to leave my family (and piano!) behind to relocate to Kunming, a city I did not know very well.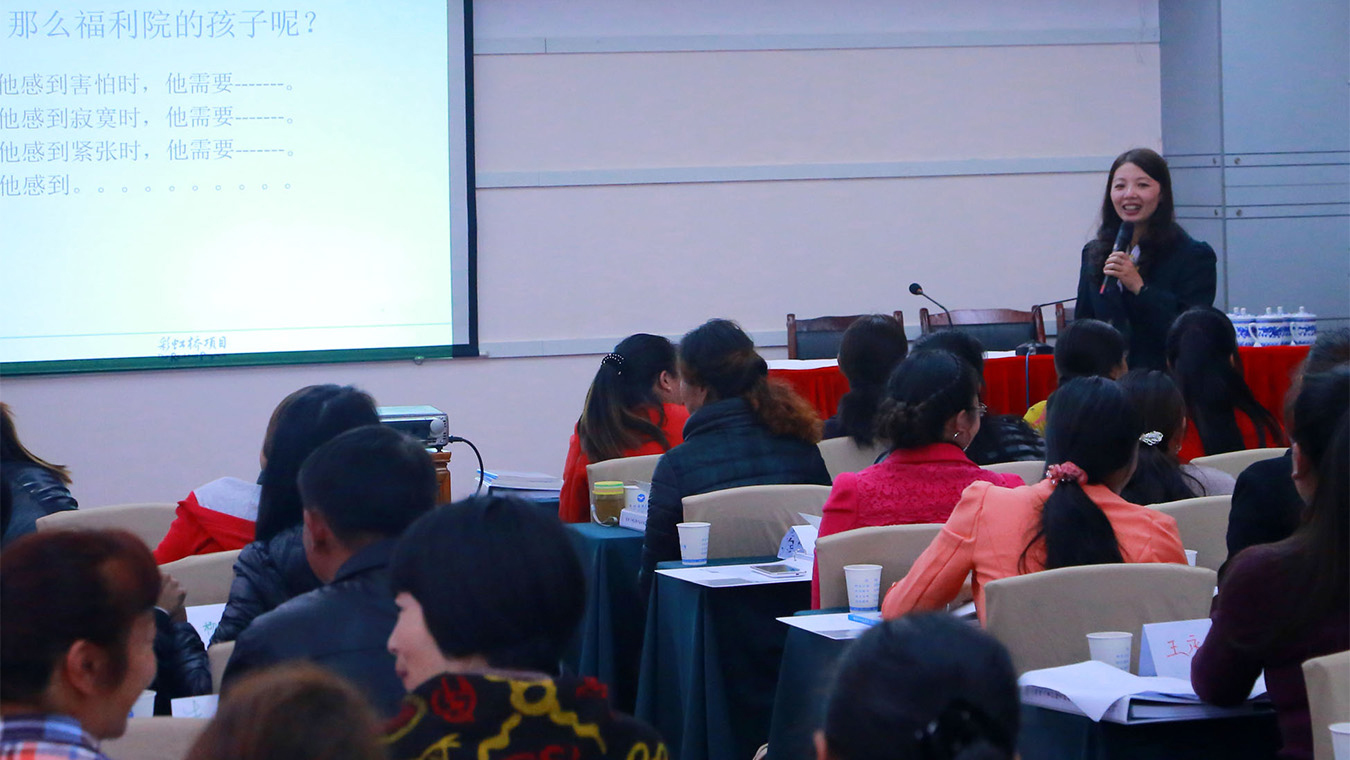 Happily, I quickly fell in love with Kunming, an exotic and picturesque city with delicious new foods thanks to the many ethnic minorities who live in the province. But it also challenged me. The Yunnan dialect was at first hard for me to understand, which made communication difficult. I worked hard to fix this. I listened to the radio and the vendors in the market very closely to learn their tones, and I practiced often with staff members at the Yunnan CWI. Over time, I got better. This showed me that adults, just like children, have the potential to learn!
As a CDE, my relationship with the children has become the most important thing in my daily life. For example, I grew close to Ling and Yun, biological sisters who became orphans after their parents died. When I first arrived at their institution, they spoke fluent Mandarin, so they were among the few people I could understand perfectly. They loved to share their stories and secrets with me: Ling was proud she could jump extremely high, and Yun took pride in showing me her artwork. When it was time for me to leave, we took a group photo. I asked them: "Why do you like me so much?" and they answered, "Because you are always smiling and your smile is charming!"  I realized that I was smiling not because it is my job to smile, but because I love my job.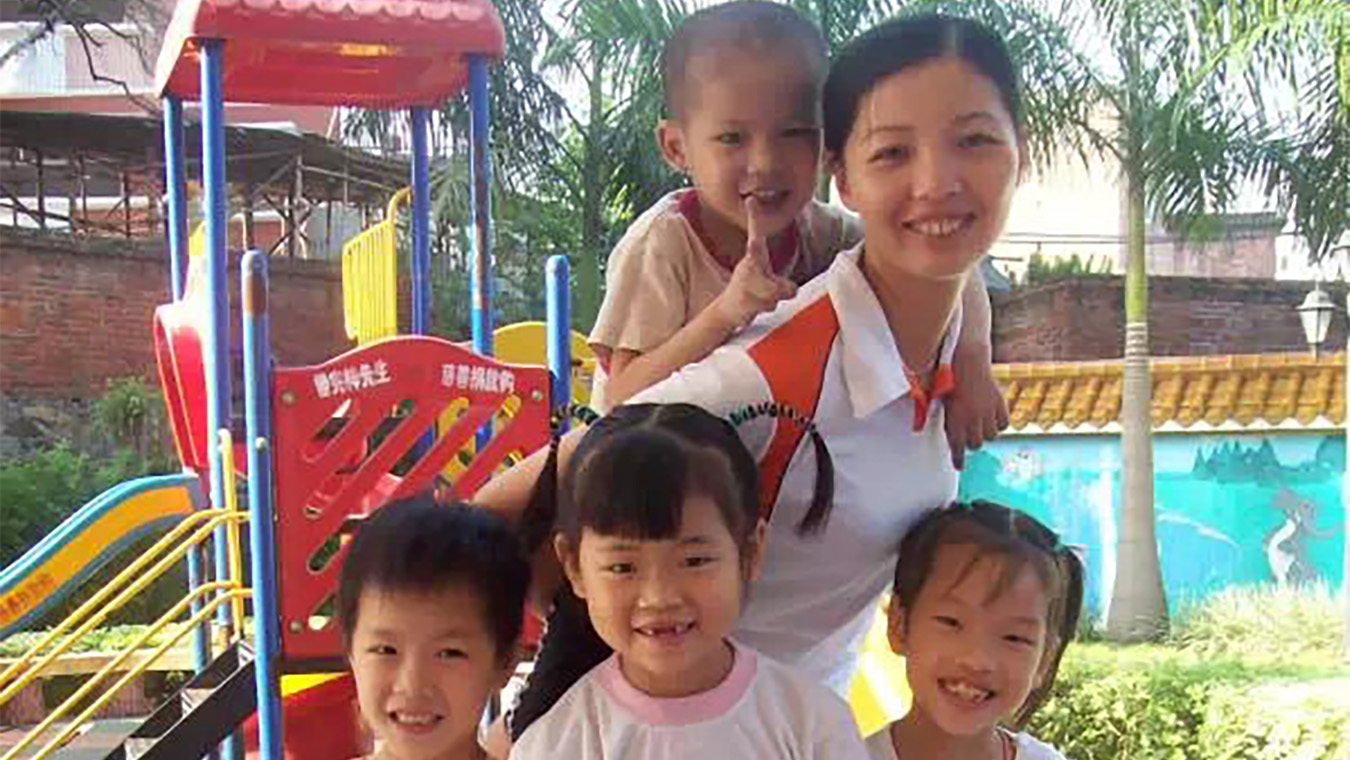 Yunnan is my home now. One year after my promotion, my husband was finally able to relocate to Kunming to join me. He is an amazing photographer and often captures special moments I have with the children whose lives I am impacting at the different institutions I visit.
Recently, I went to a high school reunion. While chatting with old classmates, I told them about my work with children in social welfare institutions and they all felt a little jealous because they could see how passionate I am about my job. This job means more than anything to me, and I am so grateful that, thanks to Half the Sky Australia, the programs were made possible for the children of Yunnan.
https://onesky.org/wp-content/uploads/2017/12/My-Journey-Leading-to-Yunnan-1.jpg
760
1350
Maya Bowen
https://onesky.org/wp-content/uploads/2023/01/25th-logo-6.png
Maya Bowen
2015-02-23 14:23:00
2018-05-10 03:40:55
My Journey Leading to Yunnan