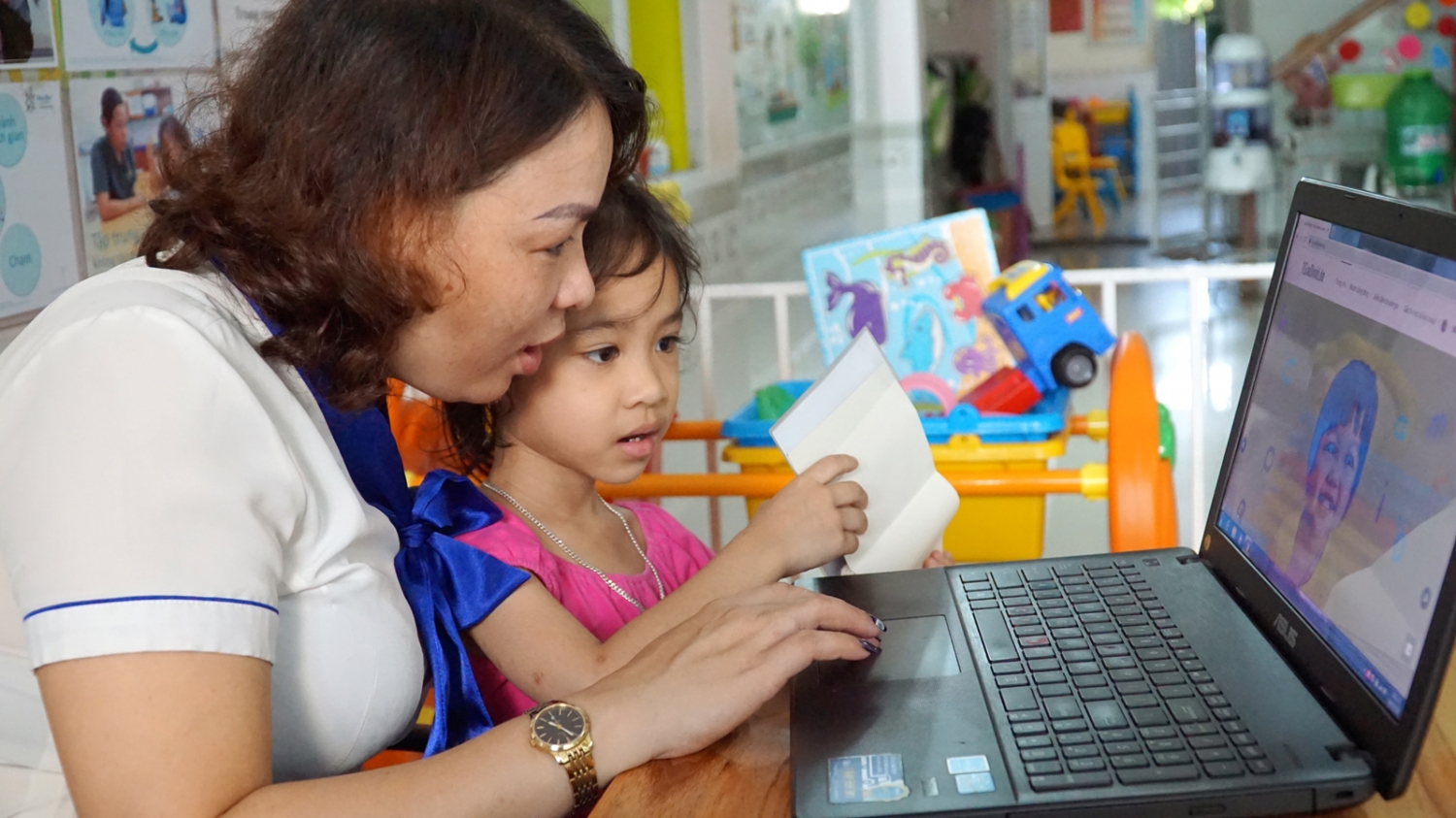 Home-based childcare training program resumes in new online format
After being on hold for nearly four months due to strict Covid-19 lockdowns in Vietnam, OneSky's home-based care training course recently resumed using a new online format, training 80 caregivers in Hai Duong Province and 160 caregivers in Da Nang.
Launched in 2018, the Home-based Childcare (HBC) Training Program aims to improve the knowledge and skills of HBC providers, advancing the quality of early childcare and education in Vietnam's industrial zones. The 11-month training course consists of 20 classroom lessons, coaching visits from OneSky trainers to caregiving providers, and usage of the 1BigFamily online platform which supports ongoing learning and community during Covid-19 lockdowns.
Since 2018, the course has trained 720 home-based care providers in Da Nang, Hai Duong, and Quang Nam. This has improved the quality of early childhood care and education for over 20,000 young migrant children of factory workers. A recent evaluation of the program by researchers from Harvard's T.H. Chan School of Public Health showed that the program leads to positive improvements in both childcare quality and early childhood development outcomes.
To keep the program relevant during the pandemic, trainers designed and integrated videos showing "real life" situations for students to discuss ideas and solutions, as well as fun warm-up games. Throughout the lessons trainees were divided into small groups for in-depth discussion, then subsequently each group gave a presentation to the whole class. Guidance and support were also available in each lesson from OneSky's Early Childhood Specialist, and representatives from the city's Department of Education and Training.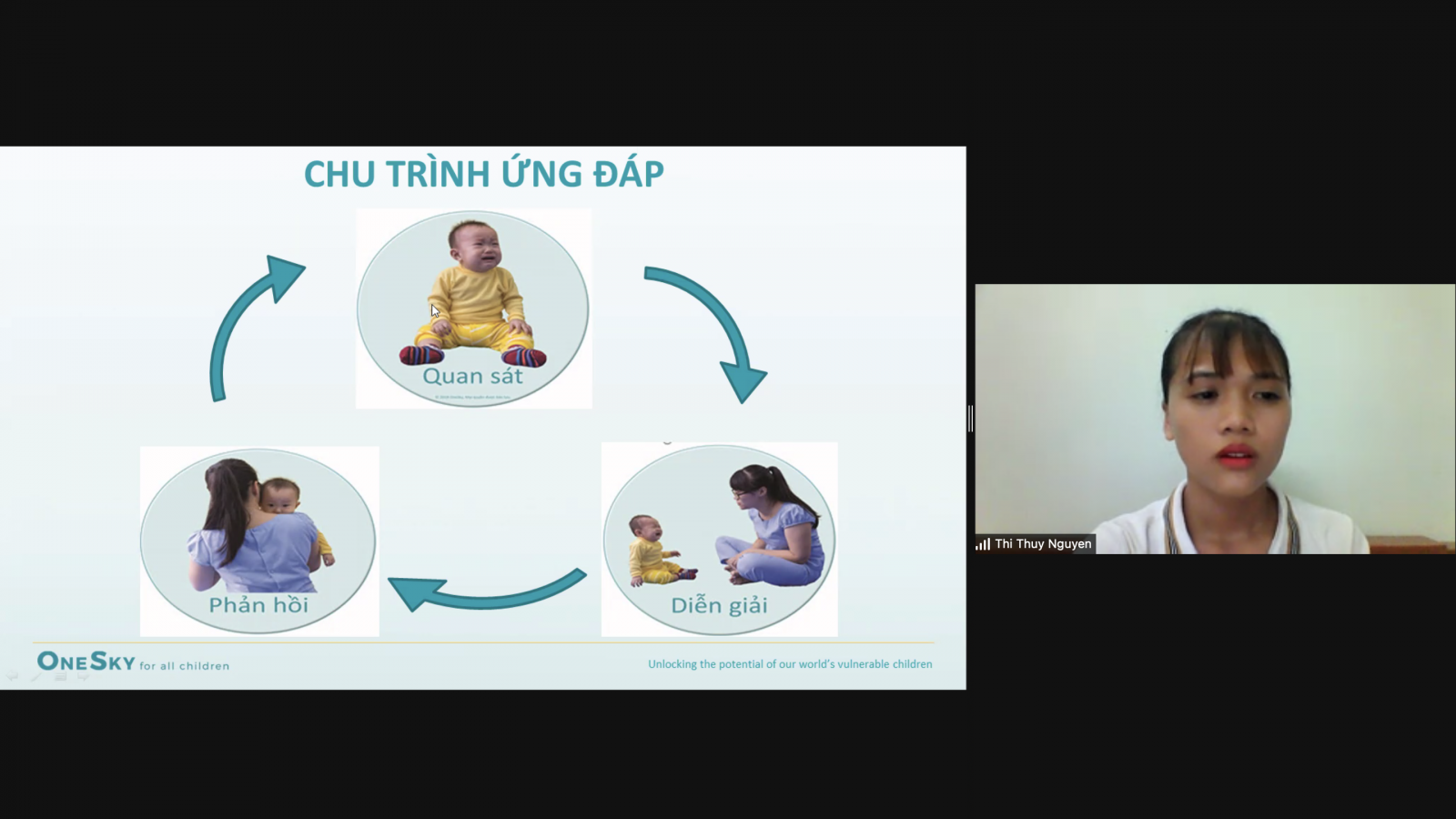 OneSky's training course is tailored for everyone — from college graduates to retirement-aged trainees who have spent more than half their lives caring for children without access to childcare training.
Doan Thi Tinh, a student in the training program, shared: "For someone over 50 years old, with no official training in childcare, I was a little hesitant with an online course. However, thanks to the guidance of our trainers, I've quickly got familiar with this new form of learning and realized that there is not much difference in quality between online and face-to-face learning. It encourages me even more, especially now during the lockdown, when I could still meet my colleagues and trainers onscreen. That is my motivation to keep learning, with the hope that the day we can reopen my home-based class is very near, and what I've learned will mean I can care for the children better."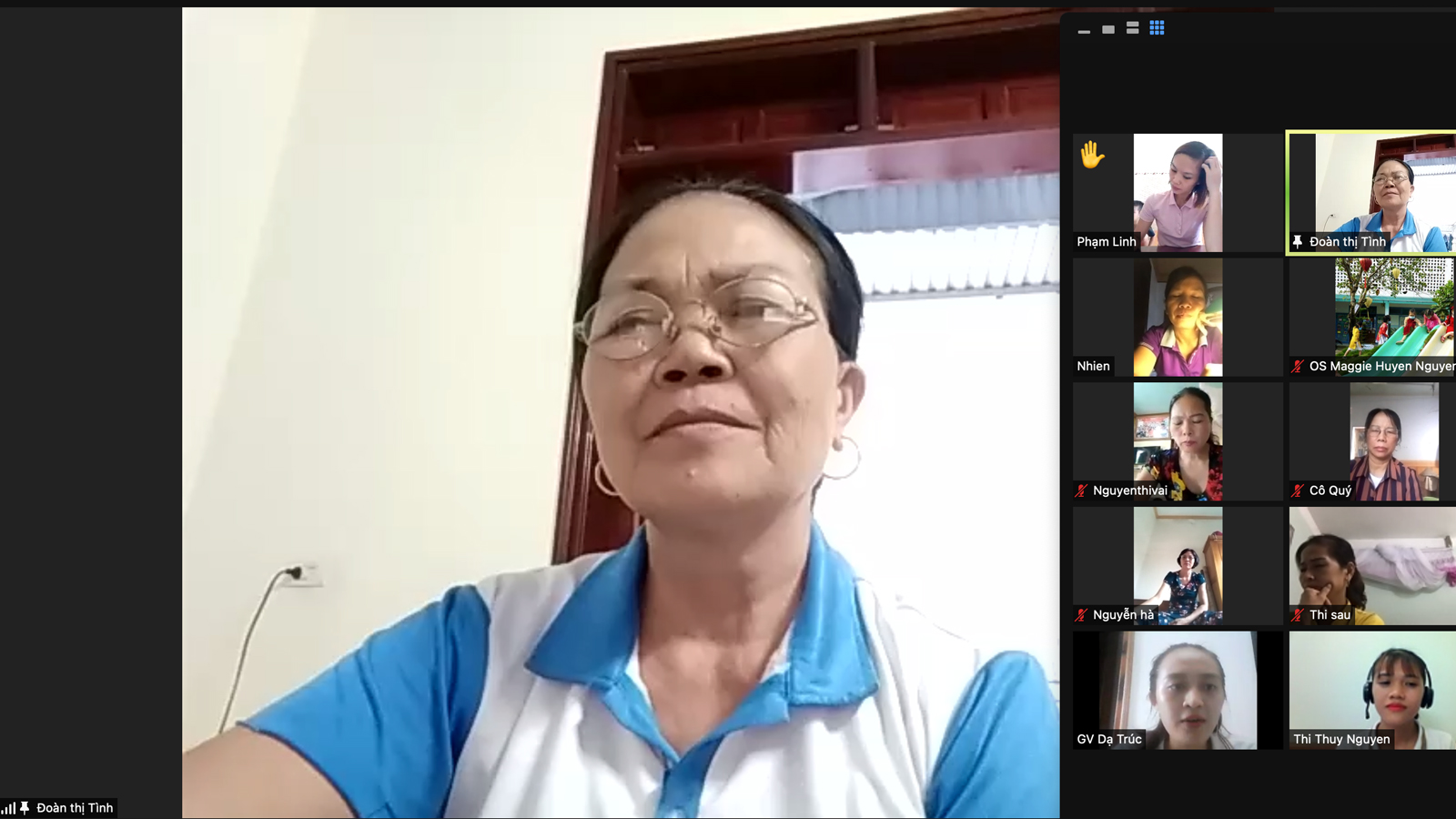 Nguyen Thi Mien, another student participating in the program, shared that even though she has attended a similar training previously, the OneSky course helped raise her levels of knowledge and experience. "Besides the practical and easy-to-understand lessons, I also love the support and energy from our trainers. Whether it's a face-to-face or online lesson, they always bring to the classrooms their love and passion for children. I know who to turn to whenever I have a question, a problem, or a concern. What's more, OneSky also helps us connect with the wider community of caregivers across the country. I still remember, when our city was the epidemic center a few months ago, I cried with emotion when I watched the video that OneSky trainers and caregivers sent to me on International Women's Day. Being part of that supportive community means we're not alone getting through the pandemic," she said.
Nguyen Thi Thuy, a OneSky trainer, shared her feelings after the training session: "Before the first online class, I was also worried that it could be difficult for some trainees to get used to the virtual training. However, seeing them all attending on time and being so passionate and open, I was overjoyed. Perhaps the lockdown has not hindered their passion, instead, it made the desire to learn and to connect stronger."
https://onesky.org/wp-content/uploads/2021/09/DSC07130.jpg
900
1600
Debbie Cohen
https://onesky.org/wp-content/uploads/2023/01/25th-logo-6.png
Debbie Cohen
2021-09-14 21:43:12
2021-11-19 21:09:53
Home-based childcare training program resumes in new online format