Women of Influence: Non-Profit Leader of the Year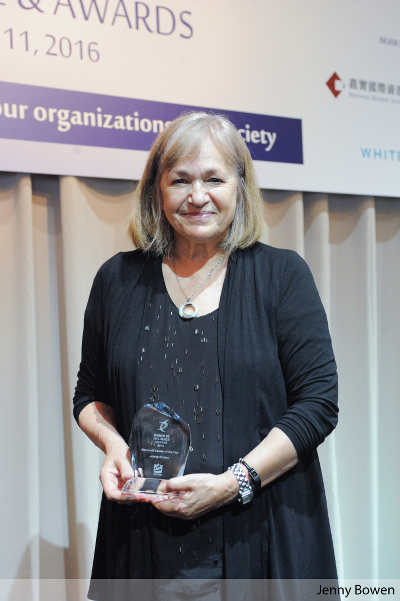 Having saved the lives of over 130,000 orphan children, Jenny Bowen is undoubtedly the most inspirational social entrepreneur working in China today. Her initiatives have moved local officials because of her selfless, sustained dedication over the years and have changed the culture of China's social problem of institutionalized children. In fact, her achievement is simply "unprecedented" and has proved that "one woman can change the world."
Bowen founded Half the Sky in 1998 to help abandoned little girls left behind in China's orphanage. In less than a decade, a dream that was Half the Sky became OneSky, growing into a global NGO that has transformed the lives of many thousands of marginalized children and expanding into other developing countries for the welfare of all children – a journey reflected in her memoir, Wish You Happy Forever: What China's Orphans Taught Me About Moving Mountains.
Before her endeavor with OneSky, Bowen was an independent filmmaker and screenwriter living in southern California with her husband Richard, a cinematographer. "Though I had always been drawn to social issues in my films, I never thought about leaving my career to do something more than talking about the need for social change until we adopted our daughter Maya from a Chinese orphanage in 1997."
"We adopted Maya when she was 20 months old and, even though I thought of myself as a seasoned parent, I was shaken when I became aware of the many ill effects of institutionalization she suffered: malnutrition, dysentery, parasites, severe delays and, most worrisome, she was emotionally vacant. But happily, we witnessed a miracle: after just one year of loving attention and care, Maya was transformed."
"In one life-changing moment, through my kitchen window, I watched my little girl romping around in the garden with the confidence and joy of a child who'd been adored from birth. And I realized that the simple gift of loving care had changed her life. Right then I resolved to find a way to give children still languishing behind institutional walls the same second chance at childhood."
Today, in addition to OneSky, Bowen serves on China's National Committee for Orphans and Disabled Children and on the Expert Consultative Committee for Beijing Normal University's Philanthropy Research Institute. She has been honored with the Skoll Award for Social Entrepreneurship, the Jefferson Award, the Purpose Prize, and AmCham's WOI Entrepreneur of the Year Award.
"In some ways, being foreign and a woman, unable to speak a word of Chinese, made my job easier. Nobody saw me as a threat – just a strange foreign mommy with a big heart. I had the great fortune of meeting Zhang Zhirong, a woman just as passionate about children, and we started some pilot programs. Even officials saw how the children were transformed by nurturing care and stimulation."
Along with China's economic growth is an emerging Chinese philanthropy sector which has empowered local partners to fund and operate programs for the benefit of children. An increasing number of Chinese citizens are indeed helping through Chunhui Children, an all-Chinese sister organization of OneSky, and are enabling the shift towards training, mentoring, and creating low-cost, scalable model programs for children who have once been forgotten.
"Without a doubt, it is most rewarding to witness the children in our programs blossom just as my own precious Chinese daughters have done. Tens of thousands of them. I wish I realized sooner how important it is for all of us to invest in the world's most vulnerable children so we can bring about a better world. Had I realized that, OneSky would have been my first, not second, career."
Already, OneSky's programs are making life better for orphaned and abandoned children living in institutions and left-behind children in rural villages. Next year, it will reach children living in tenements of Vietnam's industrial zone where their parents work. In the following year, OneSky plans to open a training base and an early learning center for marginalized children in Hong Kong.
"Everyone can make a difference. My advice is to start small, listen to your heart and your intuition, and don't be intimidated. Both Maya and Anya, my second Chinese daughter, are college students now; as I look forward to celebrating their graduations in a few years, I am just as committed to ensuring that OneSky reaches as many children as we can as I was that day I watched Maya romp in our garden."
Source: https://amchamhkpublications.wordpress.com/2016/12/19/women-of-influence-non-profit-leader-of-the-year-2/
Save
https://onesky.org/wp-content/uploads/2017/01/amchamhk.jpeg
800
1400
Winnie Sun
https://onesky.org/wp-content/uploads/2023/01/25th-logo-6.png
Winnie Sun
2016-12-19 23:48:00
2018-05-11 03:54:59
Women of Influence: Non-Profit Leader of the Year