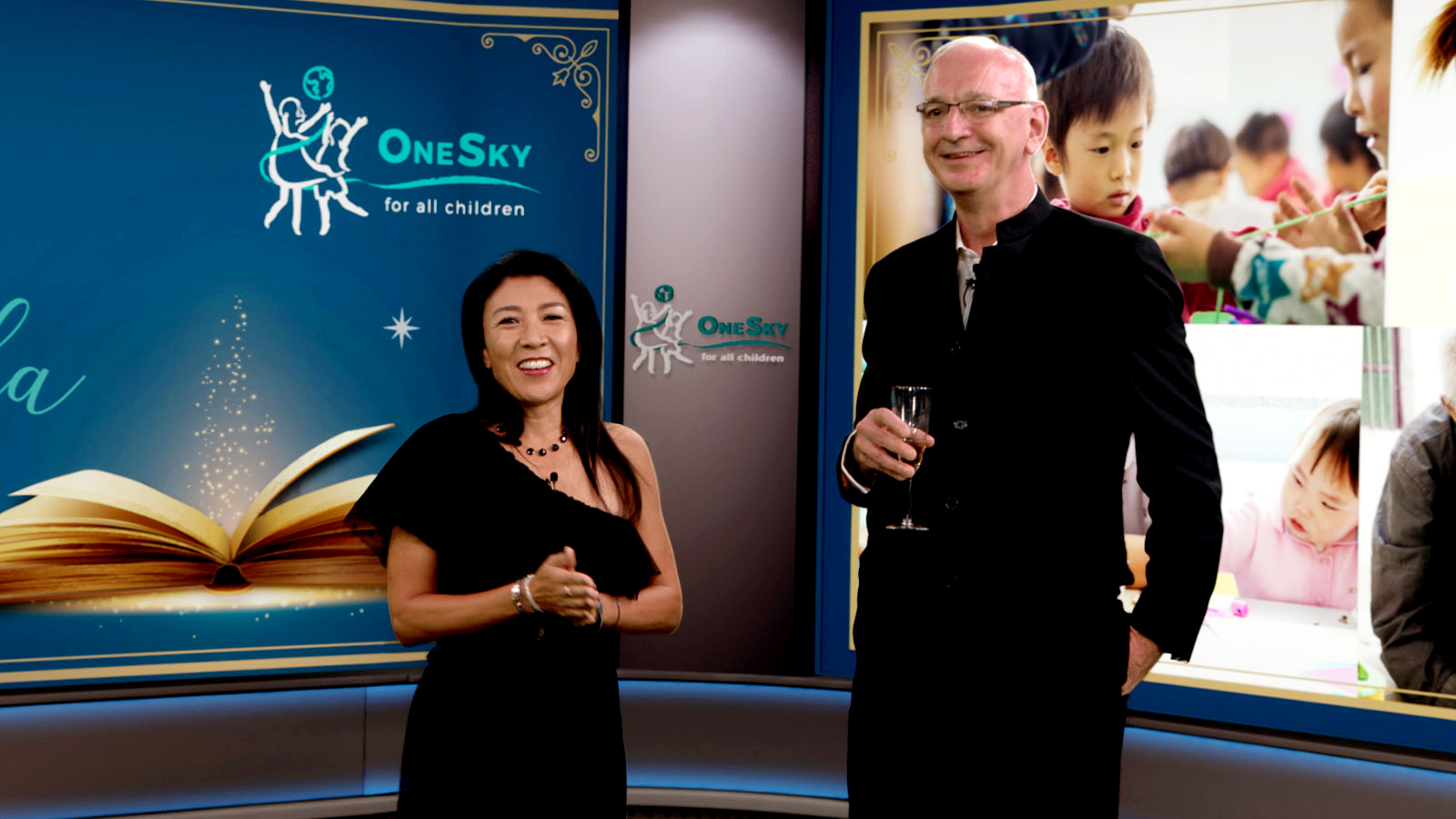 In a year like no other, OneSky's Hong Kong Gala raised vital funds
Supporters from across the world united online to celebrate the achievements of OneSky's frontline staff – who work so hard on behalf of the children we serve – at our very first virtual gala.
OneSky owes an enormous debt of gratitude to all who made the event such a success. It was a special night, expertly MCed by Karen Koh (pictured above), when supporters, sponsors and committee members proudly stood shoulder-to-shoulder with OneSky colleagues and caregivers.
Below are some of our favorite gala quotes recognizing our challenges, achievements and thanking our heroes:
Morgan Lance, OneSky Chief Development Officer and Acting Chief Executive Officer
"This year more than ever is a phrase we've been saying a lot at OneSky …This year, our programs are needed more than ever. This year, your support is needed more than ever. And this year, we are grateful for all of you that stand by us – more than ever!"
Camille, OneSky Supporter (aged 10)
"In 2013 my parents adopted me from China. I am lucky for many, many reasons, but I am so thankful that when I was a baby, I received love and nurturing care from a OneSky nanny in the orphanage. OneSky's orphanage program made my start in life more equal. Somebody cared to help, and now I care and help too. Because of OneSky's programs, other young children who start out like me will be nurtured with the same care. It means they can have a bright future too."
Alice Wong, OneSky Chief Programs Officer
"OneSky's training curriculums are delivered in the classroom and online. Fortunately, we established an interactive online learning platform around 10 years ago. During the Covid lockdown, we were able to continue to engage our trainers and help them support and train other caregivers, many of whom live remotely."
Virginia Wilson, OneSky Chief Operating Officer
"We are focused on changing systems, not merely providing a solution to any one ongoing problem. OneSky is about changing the system and so in Hong Kong, our goal is to work with the government to enhance the quality of early childhood education and the capacity. Our goal is to secure funding that will enable us to care for 120 children per day, five days per week. But we need financial support to enable us to provide this care."
Susanna Lee, OneSky Director of Development, Hong Kong
"Thanks to your support, and the resilience of our frontline staff, we are managing, even through these tough times, to stay connected to the children and families we serve, making sure they are not forgotten. But this is just the beginning – we ask all of you, the caring Hong Kong community, to support our next chapter, to help us continue with our innovative programs to address the needs of hundreds and thousands of children right here in Hong Kong."
Cillin O'Flynn, Generali Chief Executive Officer, Hong Kong
"Three years ago, Generali launched The Human Safety Net. It is our way of giving something back to our communities. The idea is simple, whatever happens in life no one should be held back from meeting their full potential. In a short time, by leveraging the support of all Generali colleagues globally, we have started an initiative in at least 23 countries, with 47 NGO partners to bring this idea to life.
"In Hong Kong, our team chose the theme of helping families, and when we sought out a partner OneSky stood out for us. Your mission really resonated with us and particularly with me, a parent of four beautiful children and one of nine siblings born in Ireland when our country was poor. Your dedication to families in vulnerable circumstances was really an inspiration to us all. Your focus on helping parents to be better caregivers. Your commitment to nurturing children, building their curiosity and protecting their development is vital. Generali is all in with you on this."
Guy Russo, OneSky Board Chairman
"Children can transform this world, but we need happy, healthy, children who know they are valued. OneSky's programs in China, Mongolia and Vietnam have impacted more than 200,000 children over the past 20 years. We have seen the results, and we know the OneSky Approach changes lives. Over the next decade, we want to change many more lives, millions more lives."
Tim Huxley, Board Secretary
"We thank you for your tremendous support for this, our most vital work. More than 200,000 children have been impacted by OneSky's programs but with a goal to reach five million in the next decade, there is so much more work to do."
Thank you to everyone who made this incredible event happen.
https://onesky.org/wp-content/uploads/2020/10/bannerpic1.jpg
900
1600
Steve Jackson
https://onesky.org/wp-content/uploads/2023/01/25th-logo-6.png
Steve Jackson
2020-10-27 06:14:18
2020-11-09 04:24:07
In a year like no other, OneSky's Hong Kong Gala raised vital funds