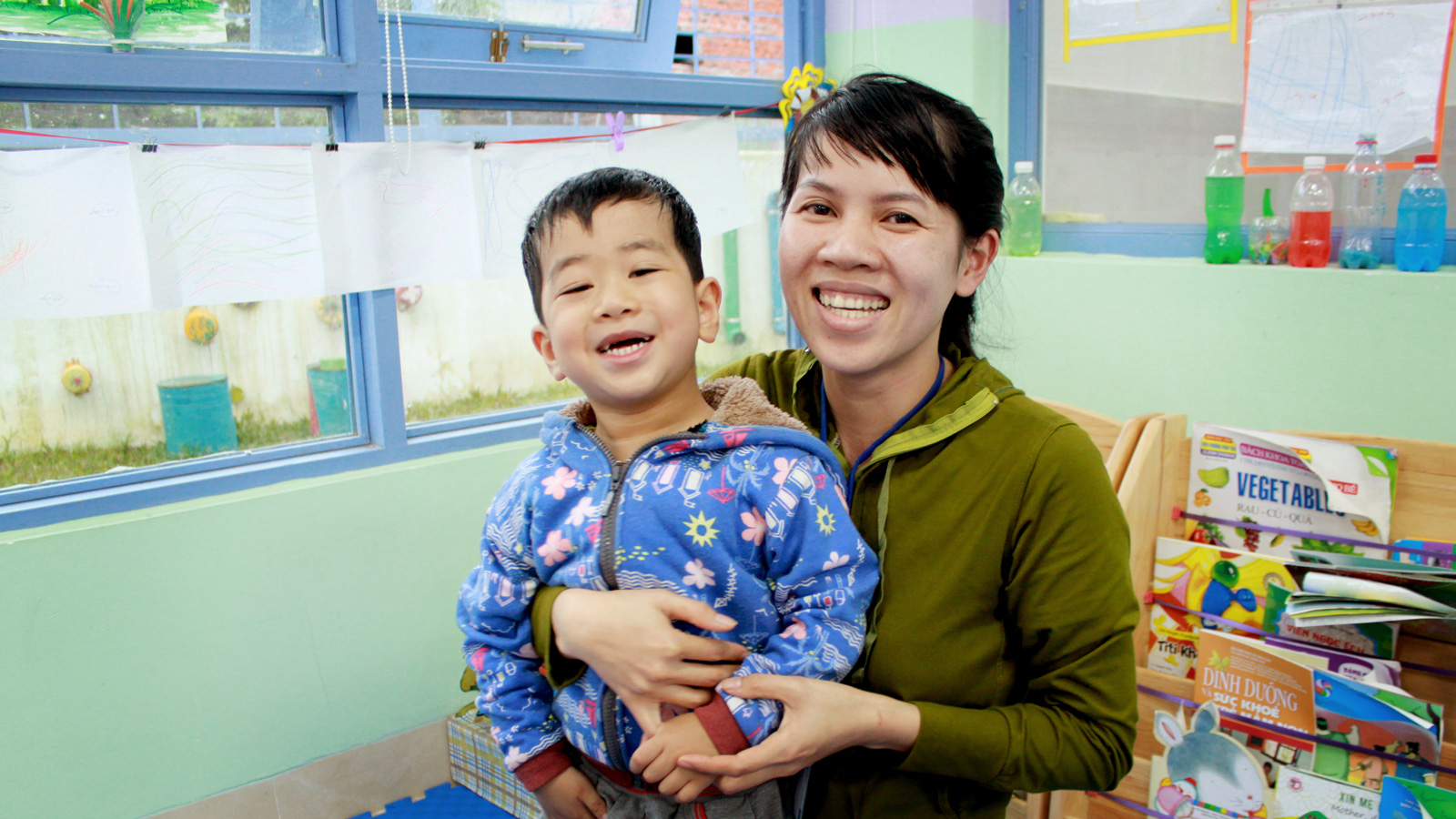 I Have Never Felt So Proud of My Son!
When Nguyen Nhat was born, his dad was away working in Da Nang to earn a living, leaving him in his hometown with his mom and his grandparents.
Nhat needed extra care because he had congenital ptosis — his drooping eyelids covered a large part of his pupils, which caused vision problems. He was also born with a chest wall deformity that resulted in breathing difficulties and hindered his ability to learn to speak.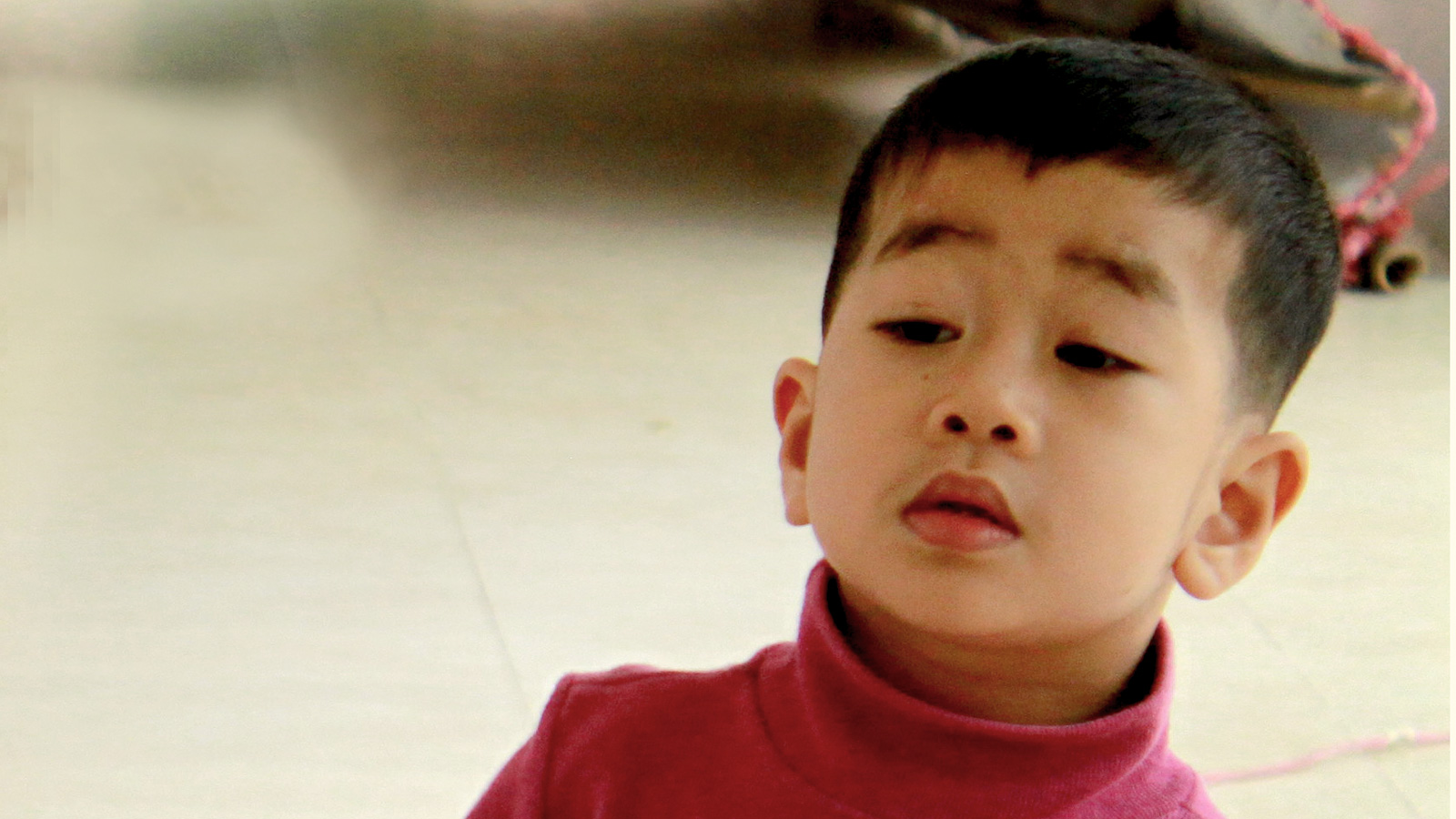 After eight months in his village, his mom Hoa decided to take Nhat back to Da Nang, so she could try to find a job in a factory to help support the young family. Unfortunately, as soon as Hoa found a job in a clothing factory, his dad Doan lost his job at the computer factory where he had been working for eight years.
Doan loved staying at home with Nhat for six months because it gave him the time to bond with his son. But the time at home also meant that the whole family was relying on Hoa's slim income, so Doan couldn't stop worrying about the future. When Nhat was 14 months old, Doan finally found a new job that meant the couple had to send him to a daycare center.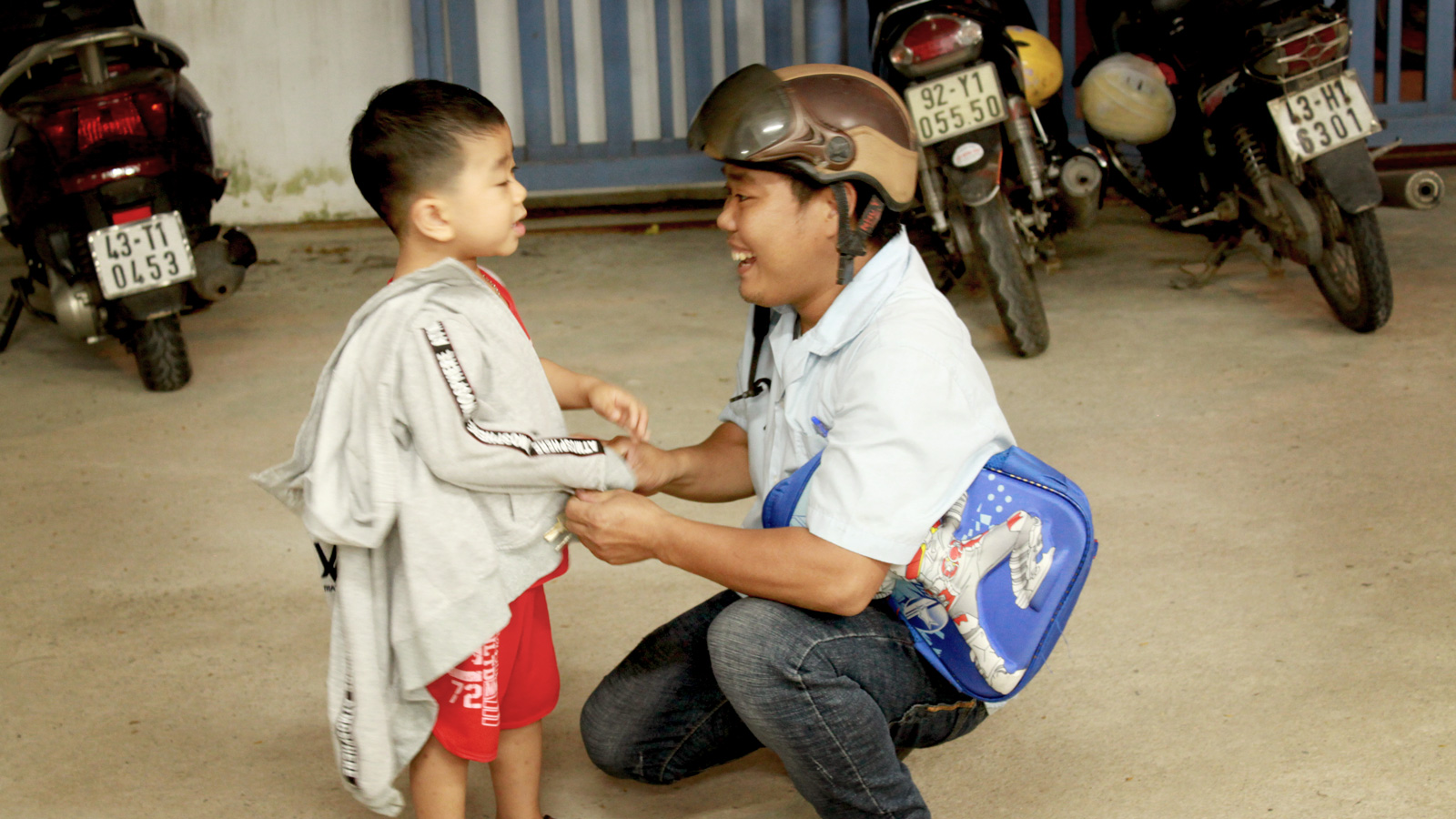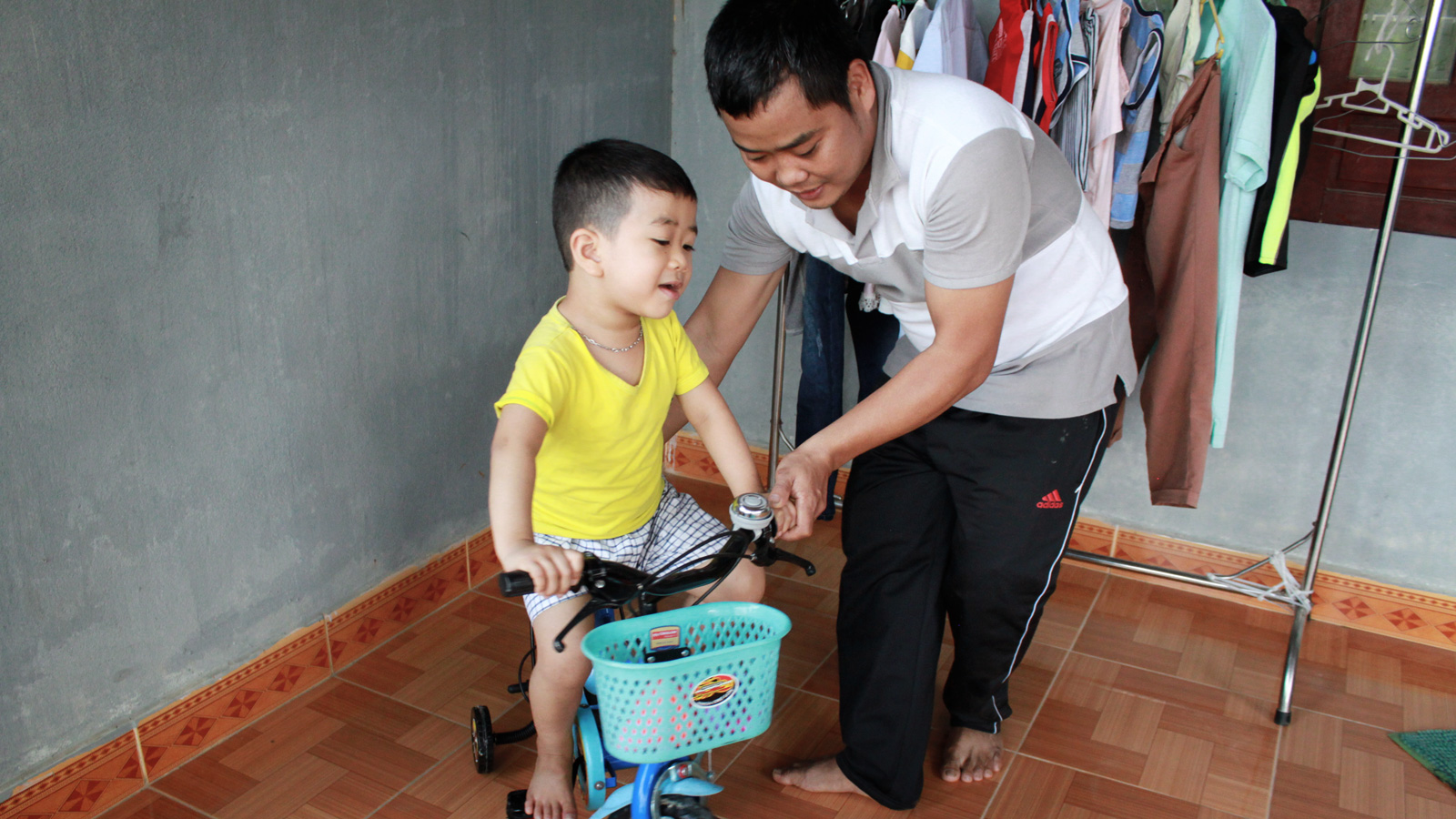 At the home-based childcare they chose, 30 children sat on little stools in front of a small TV all day in a 30-meter square room with minimal outdoor space. The two untrained caregivers who looked after the children could not pay enough attention to any individual child. The only feedback Nhat's parents received from the caregivers was how much he ate every day — nothing about his physical, language or social development.
Because the quality of Nhat's home-based care was typical for Da Nang, it never occurred to his parents that he needed more stimulation, love and responsive care to thrive. Though it seemed normal at the time, thinking back, they realize, "It was more like a place to keep a child alive, rather than a place to nurture and raise a child."
During the 20 months he stayed at the daycare center, Nhat made minimal progress. At the age of 15 months old he couldn't crawl. At two and half years old he could barely say any words. Even when he started speaking a few words at the age of three, his pronunciation problems meant it was difficult to understand what he said. He was so shy and introverted, he would cry and scream whenever he met new people.
Because he was falling behind both physically and cognitively, people would often think that Nhat had learning disabilities, which made Hoa uncomfortable taking him out. "Looking at other parents proudly sharing their children's photos on Facebook, I thought their children seemed to be doing so much better than mine." Feeling self-pity, Hoa shut herself down, avoided meeting other parents, and never shared photos of her own son.
That all changed when Nhat's parents decided to enroll him at OneSky's Early Learning Center (ELC).  At the beginning, Nhat was very quiet, passive, and lacked confidence. Riding a bicycle, standing in the sandpit, or even having other children coming near him would make him cry.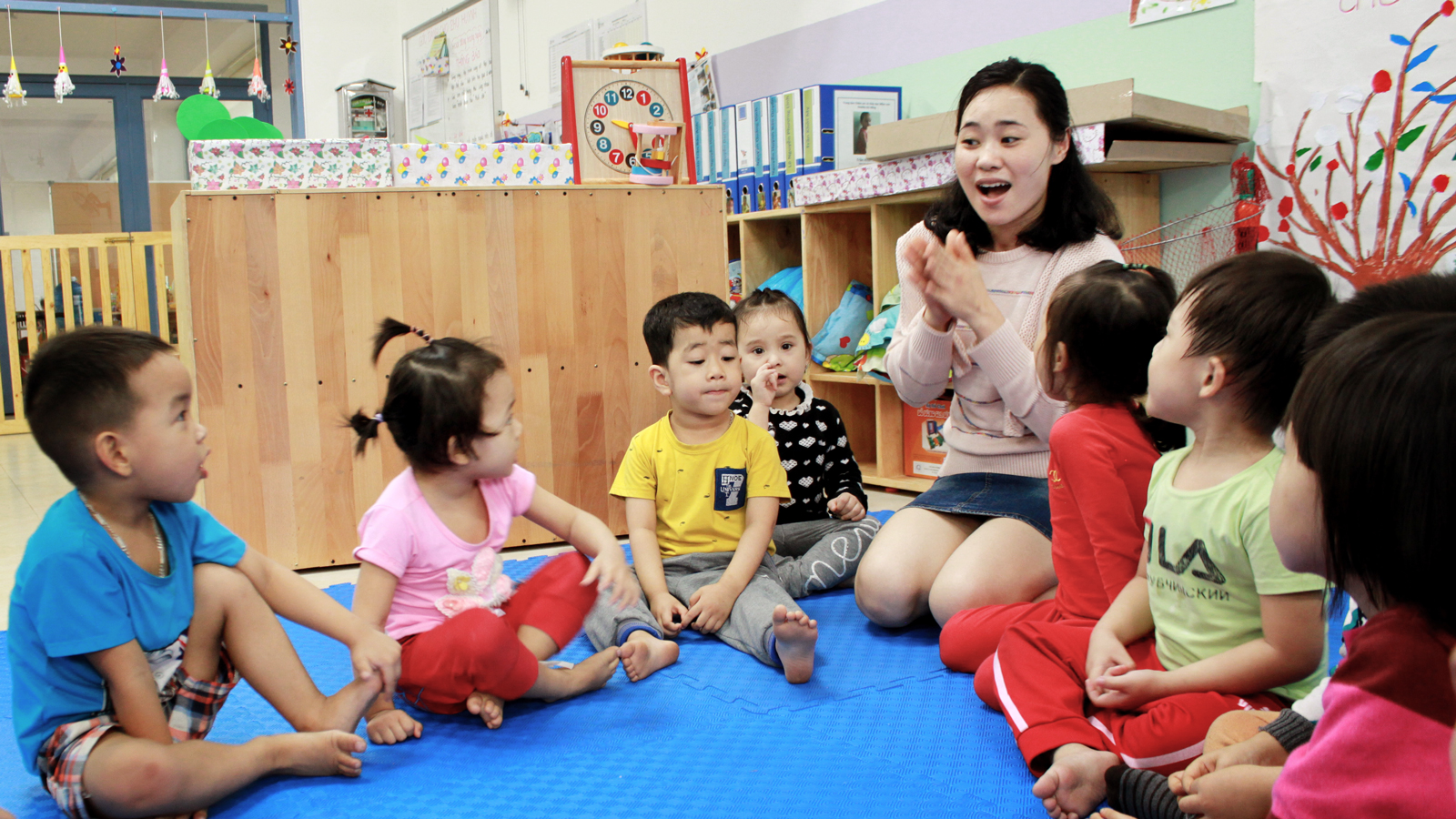 However, Nhat's teachers carefully observed him and noticed the one thing that made him smile: he could spend hours looking at picture books. His face lit up and he became excited when flipping through the images, especially when they were of animals. The teachers started spending a lot of time sitting with him, reading him picture books and telling him stories.  When his teacher Nguyen Sa read the names of the animals, his little fingers followed each picture and he tried to repeat each animal's name.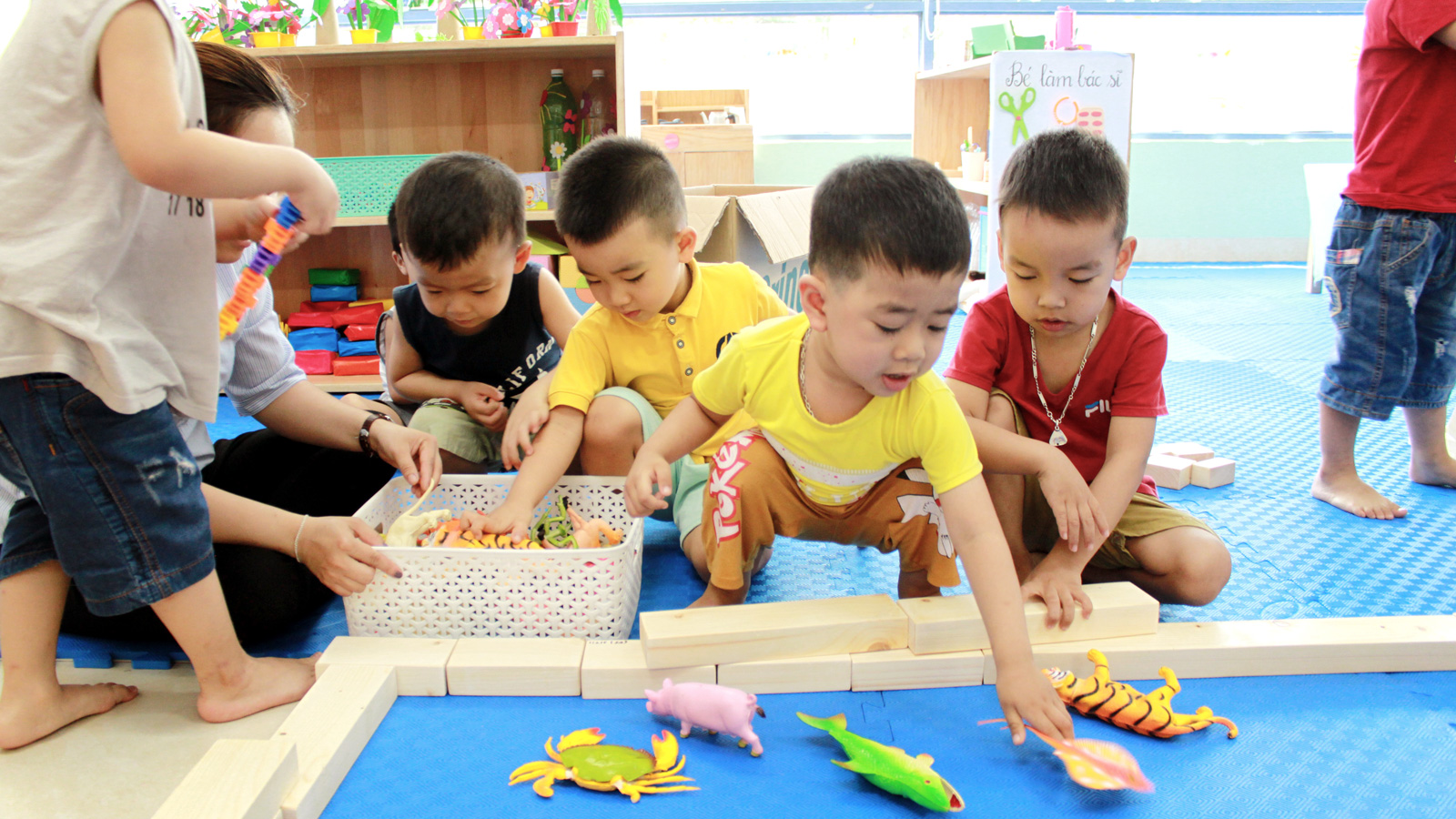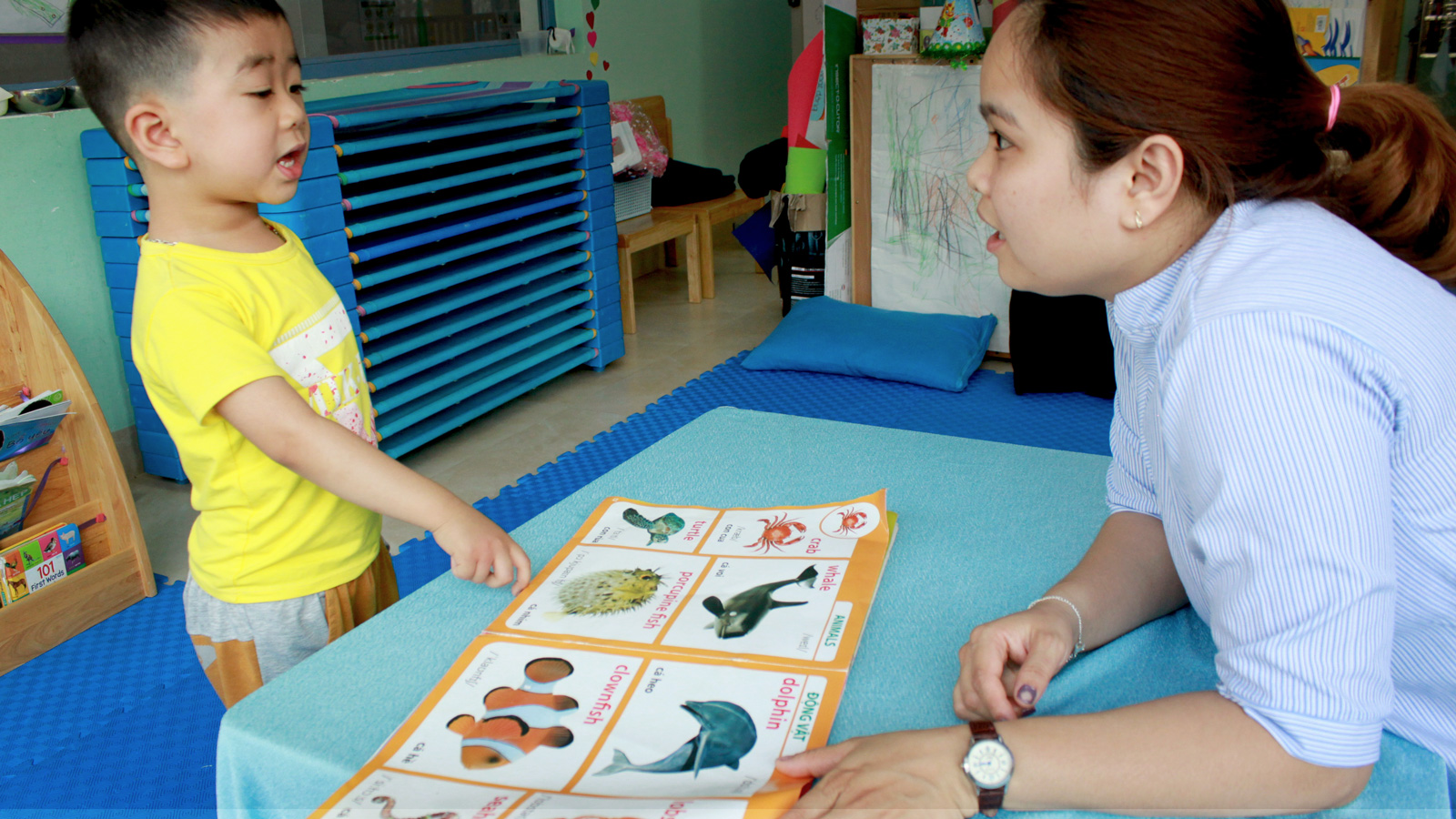 Slowly, Nhat also started to open up and express his emotions verbally. Although his speech is still hard to understand, Nhat loves telling stories about animals. Sa listens patiently to his stories and never forgets to say words of encouragement. Soon Sa discovered another surprise: Nhat has an incredible memory! From a boy who could barely talk, he now knows more numbers, letters and names of animals than any other child in the classroom.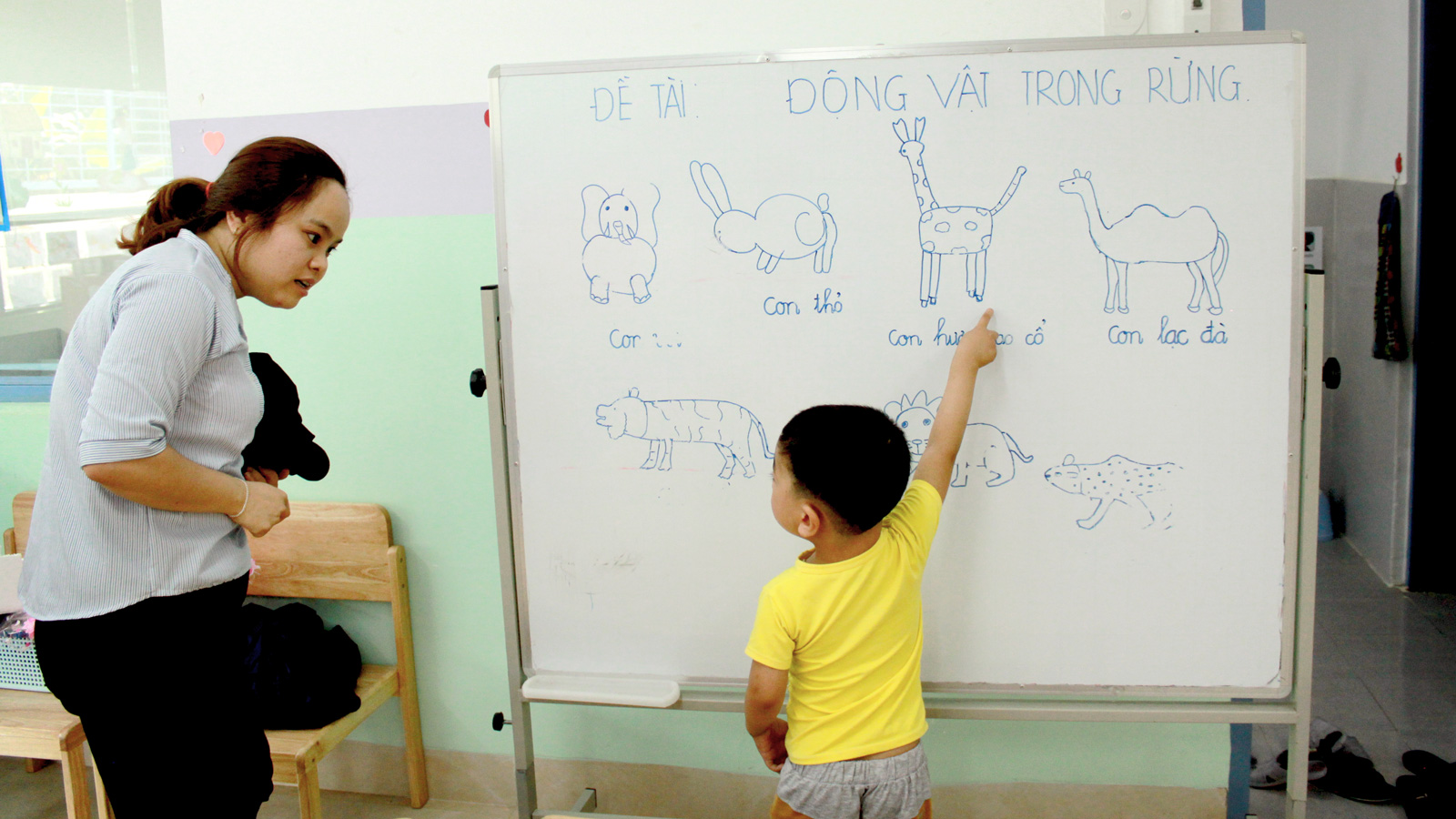 Nhat's love for letters and numbers doesn't stop at school. Every day when Hoa picks him up, Nhat asks her to read loudly every single letter and number on the sign of the ELC at the front gate. "He will not go home until I have read all the letters and numbers to him," boasts Hoa.  His dad excitedly interjects: "Even in the evening when he's at home, his only wish is for us to learn letters with him." Doan brought home a set of alphabet letters from his factory that has become Nhat's favorite toy.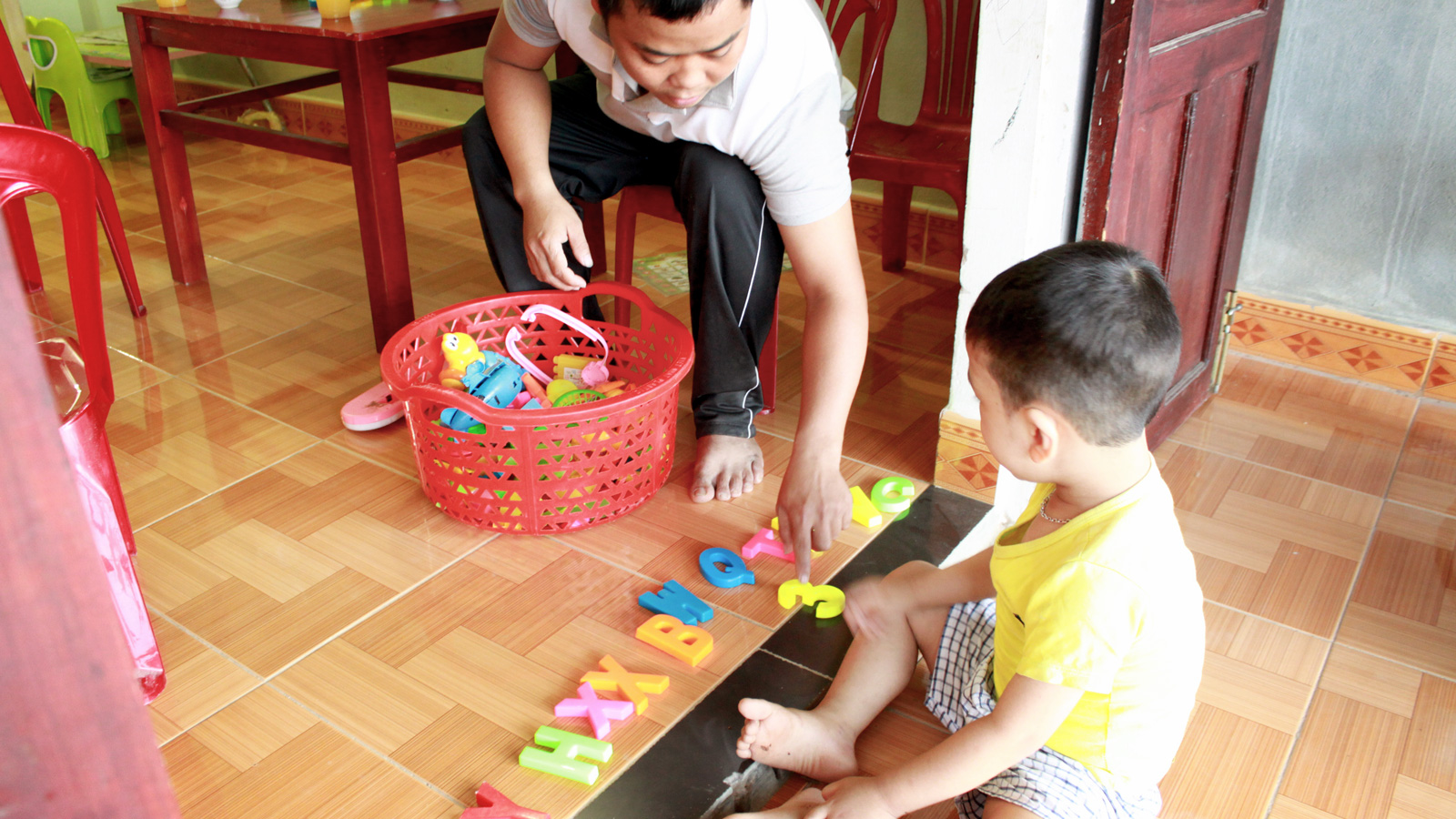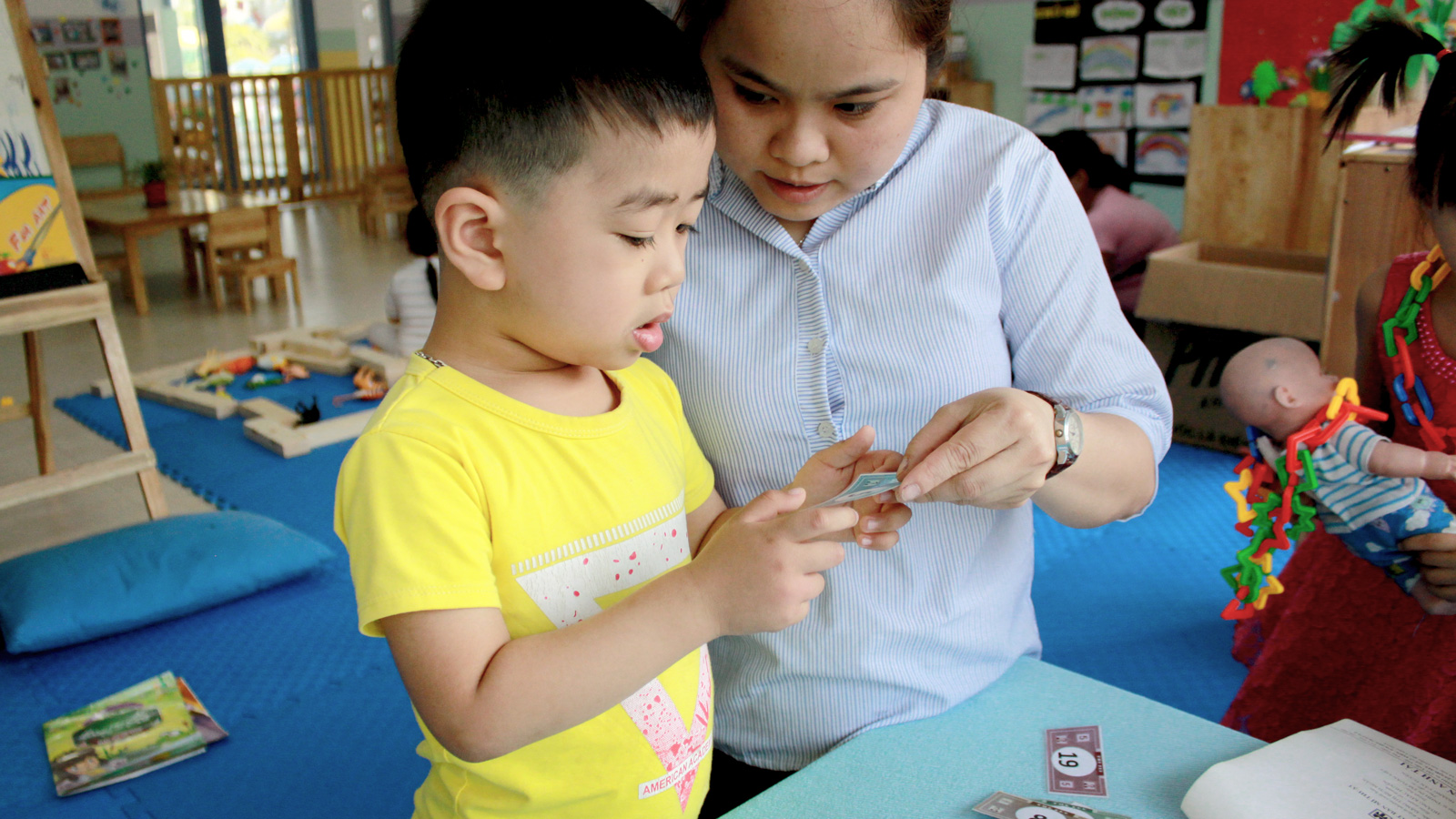 Nhat has also shown a keen interest in learning English, so his parents are trying to learn English so they can teach him. "Each English word we learn, we try to learn it correctly so we can teach Nha," says Hoa. One day Hoa mistakenly called a watermelon "waterlemon." Now every time Nhat sees a watermelon, he cheekily calls it waterlemon just to tease his mother. "We won't make another English mistake again," jokes Doan.
To help make ends meet, Doan often takes night shifts from 6pm to 6am at a factory that makes electronics and Hoa sells rice wrapping papers during her 30-minute lunch breaks.  While his parents work hard to save for a brighter future, Nhat's parents know their son is in good care at the ELC, which is open 12 hours a day, six days a week. After just seven months, Nhat has aleady made an incredible turnaround. The shy little boy not only makes his parents proud, but everyone who sees him happily playing with his friends and greeting visitors confidently. "Seven months ago, I dared not dream that I would ever see him playing and dancing with his friends so confidently. I have never felt so proud of my son," says Doan.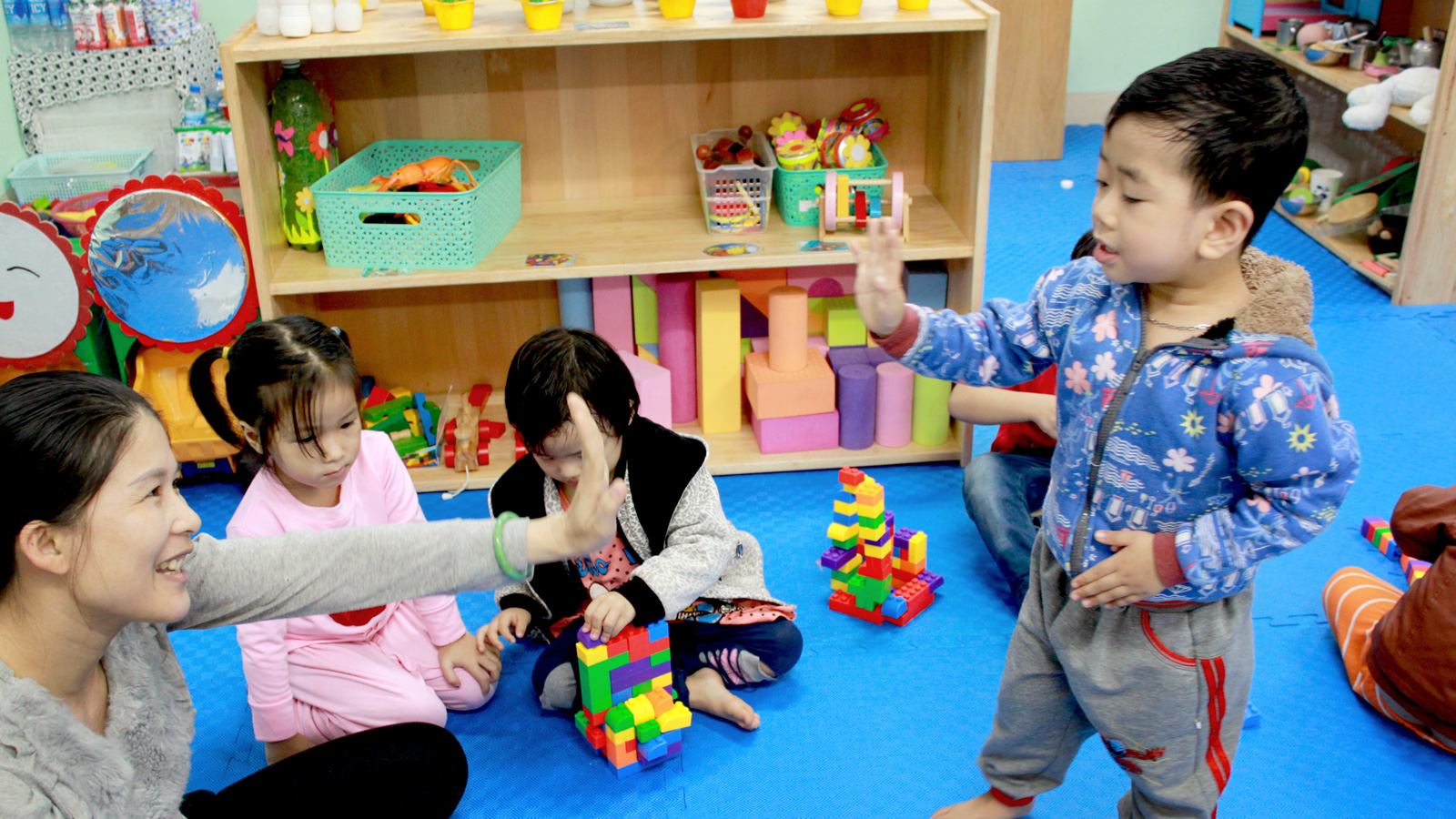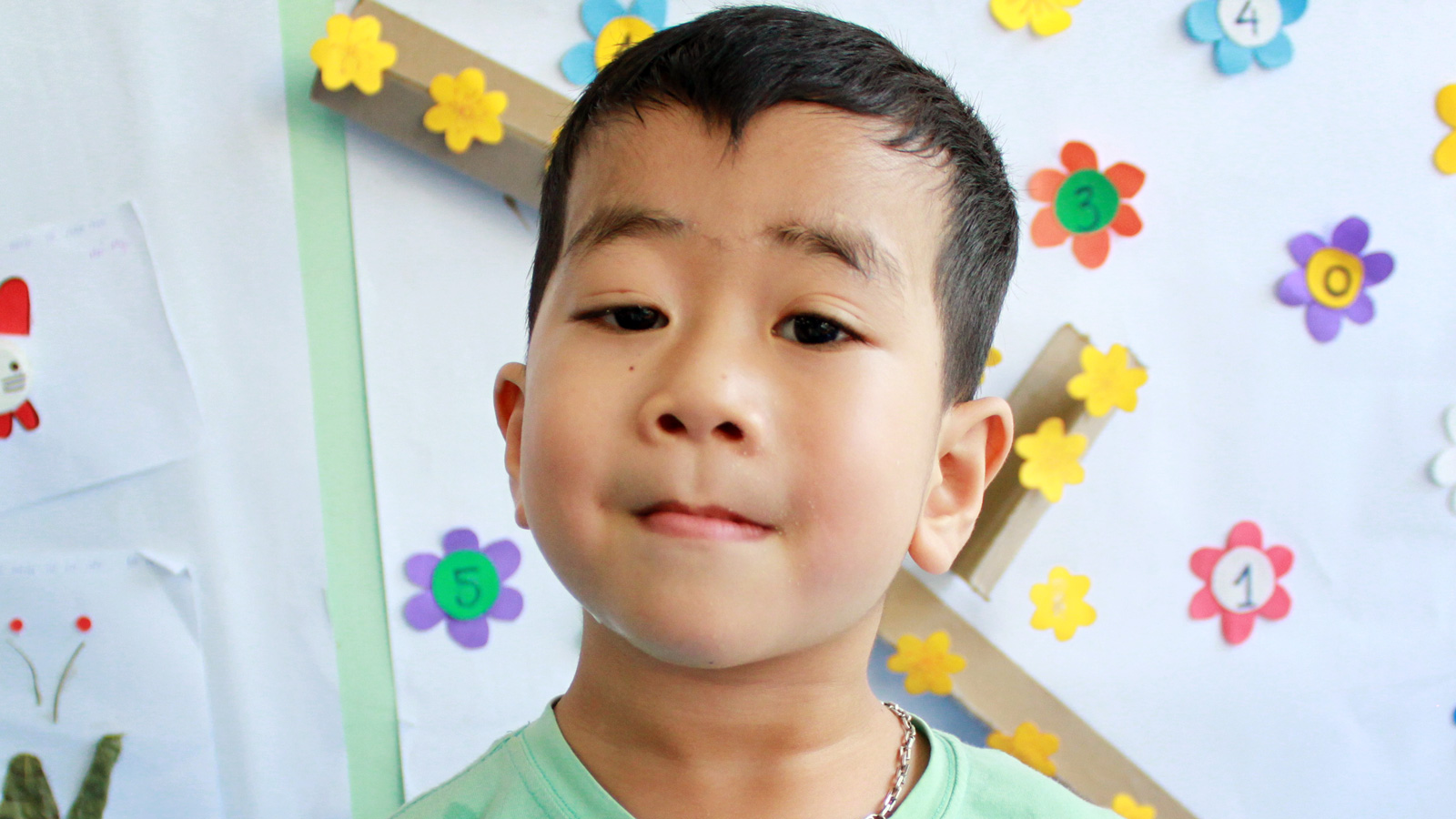 By Maggie Huyen Nguyen
Communications Manager, Vietnam
https://onesky.org/wp-content/uploads/2017/07/IMG_1727.jpg
900
1600
Debbie Cohen
https://onesky.org/wp-content/uploads/2023/01/25th-logo-6.png
Debbie Cohen
2018-07-16 21:55:36
2019-08-09 19:12:54
I Have Never Felt So Proud of My Son!