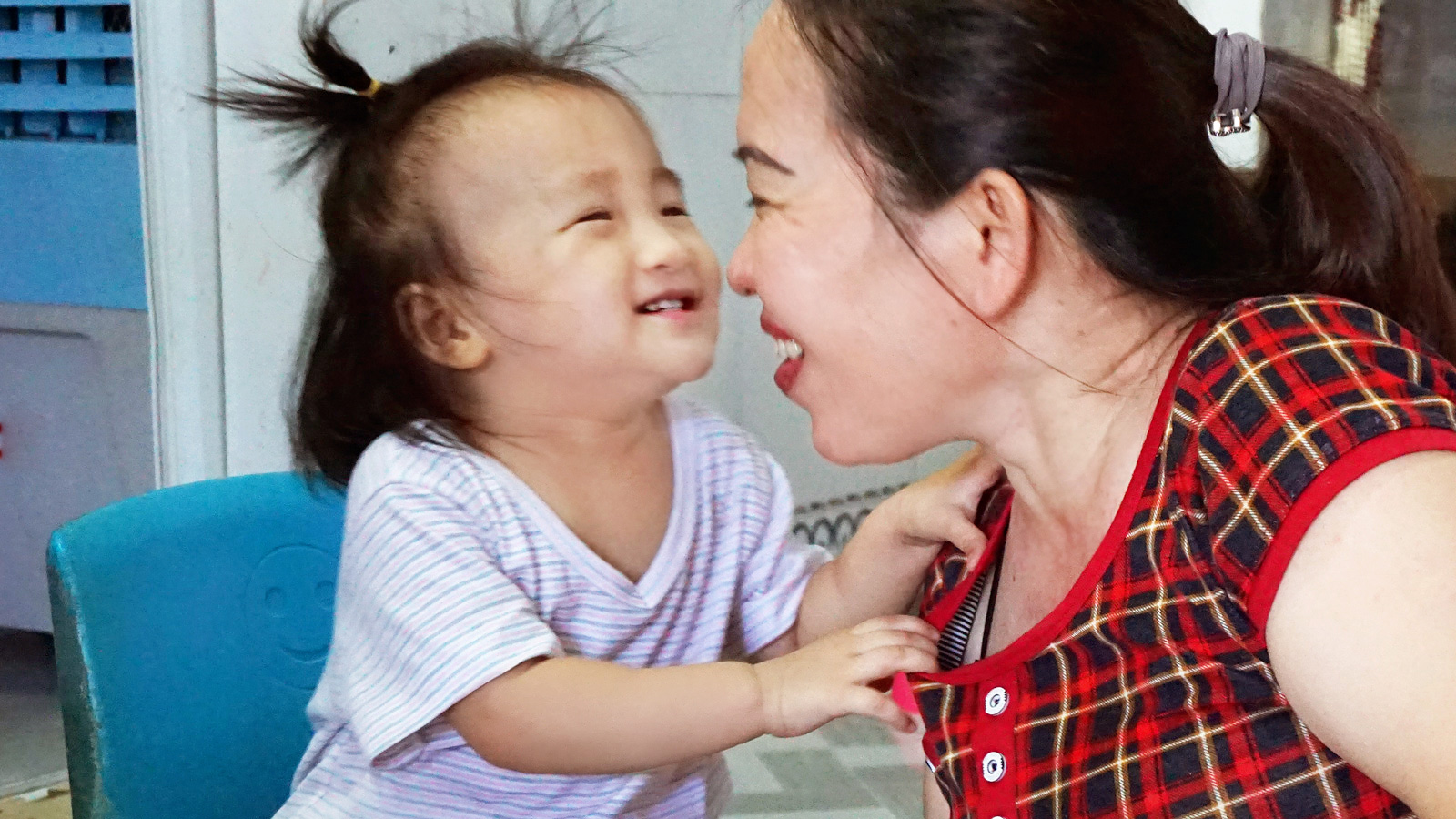 For the Love of Children: Hoa's Caregiving Journey
All of OneSky's trained home-based caregivers share something in common: their love of working with children.
Each has their own unique story to tell of how they began their career. But Hoa's journey of following her passion and working with kids has been harder than most …
Hoa, now 48, was born into a life filled with challenges.
She came from a family of five children living in Vietnam. Her father died when she was just a toddler and her youngest sibling was a baby. When she was only 7 years old she left her impoverished, crowded home and began babysitting for other families in exchange for food and a place to sleep.
She had experience as a babysitter from looking after her own sisters. That was how she grew up 41 years ago, after the Vietnam War had just ended and the country was struggling with extreme poverty.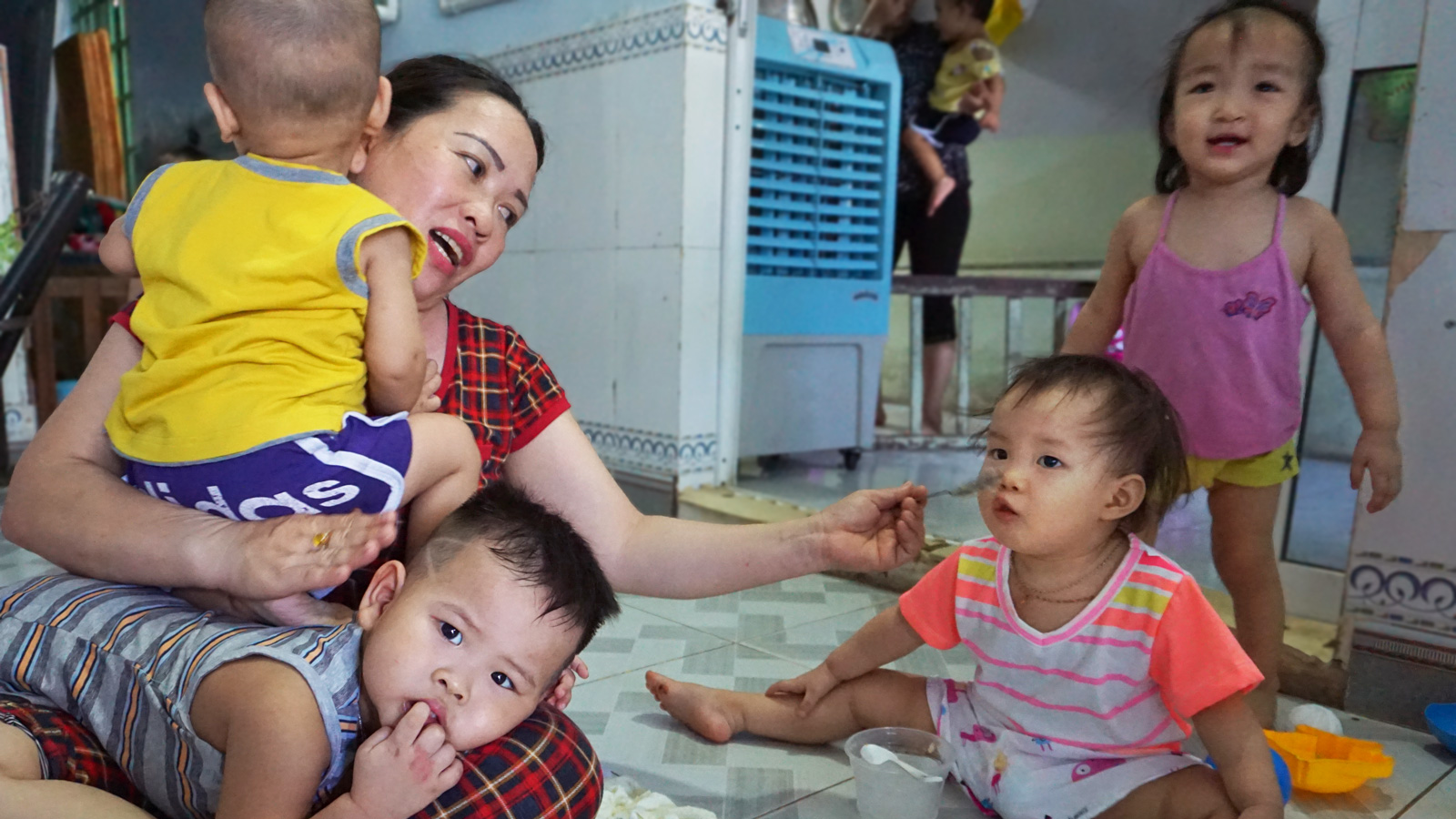 She can't even remember how many families she had lived with. She recalled that her mother was always vaguely aware of where she was, but, as a single working mom raising five children, she didn't have the energy to care for her more.
Hoa worked at the market buying and selling clothes or fruit. At 15 she had been doing this for almost five years when she met the couple who would later become her foster parents. They wanted to foster her since they had no children of their own. That was the first time she had a real family.
DONATE TODAY: I want to help caregivers like Hoa help children.
She still remembers when her foster parents had their first baby. While they were overjoyed, Hoa became insecure, thinking that her foster parents would no longer love her. She even made a plan — to escape far away, perhaps to a foreign country. But when she met the child, who was born premature and weighed only 1 kg, her heart melted. Hoa, by then an experienced caregiver, decided to stay and help.
She also continued to trade at the market and got married at the age of 21. She had two children, but unfortunately, the marriage didn't work out. She became a single mom just like her own mother.
When Hoa was 27 years old, she met Toan, her current husband by chance at a restaurant she was working at. Hoa was very hesitant at first, since he was 20 years older, but his love and gentle heart persuaded her to marry him. The couple worked and saved hard, and finally managed to buy a house in Da Nang City Center.
For the first time, Hoa felt like she had finally settled down. However, trials and difficulties were around the corner, as the couple went bankrupt after a disastrous business decision. The family sold their house to pay off all the debts, and had to move to Hoa Khanh industrial zone due to the lower rent and living costs.
At the age of 40, Hoa had no job, no house, and felt like she had no hope. She was despondent, and at her lowest point, even considering taking her own life. However, looking at her children, she knew she needed to soldier on and continue for their sake. She started to look for jobs in cafes, restaurants and factories. But no one would hire her, due to her age, and the fact that she was illiterate. Her self-esteem was steadily eroding.
Then one day, her neighbor mentioned to her, "I see that you really like children, why don't you help me by looking after my children while you're job hunting? I'll pay you at the end of the month when I get my salary."
Caring for children was a job that Hoa had done since she was a small girl. She had worked very hard to change her life and do something different. But now it seemed to be the only option.
She started taking children into her own home, and her sister came to help out. The neighbors would leave their kids with her and pick them up in the evening after work. There was no paperwork or commitment. Although Hoa didn't think she wanted to go back to caregiving, she discovered that it was a natural fit and what she really enjoyed doing. Over time, the number of children at Hoa's care center increased. From just one or two children at first, now Hoa and her sister take care of 14 toddlers, all under 3 years old.
One day, Hoa received a letter from the Department of Education and Training, inviting her to a OneSky Home-based Care Training Course. When her husband read the letter to her, she couldn't hold back her tears. That was the first time she had ever had an opportunity to attend a class. When she was growing up, children were not required to attend school. At the time, though just a child, she was too busy earning a living.
At first, being so nervous and lacking confidence, she refused to attend the training. However, her husband held her hand and said: "Don't worry, I'll be with you in this new journey. I'll take you to the classroom and wait for you. I'll read for you when you can't read. When you learn, we'll learn together."
Ms. Chi, OneSky's Education Specialist, also visited Hoa at home and encouraged her, giving her confidence that she could do well in the classes, even without knowing how to read and write.
The first time Hoa sat in that classroom was the first time in her life she had ever taken learning seriously. At first, she was very worried, but when she met the OneSky trainers she gained confidence to continue. And soon her fellow classmates became her friends outside the classroom.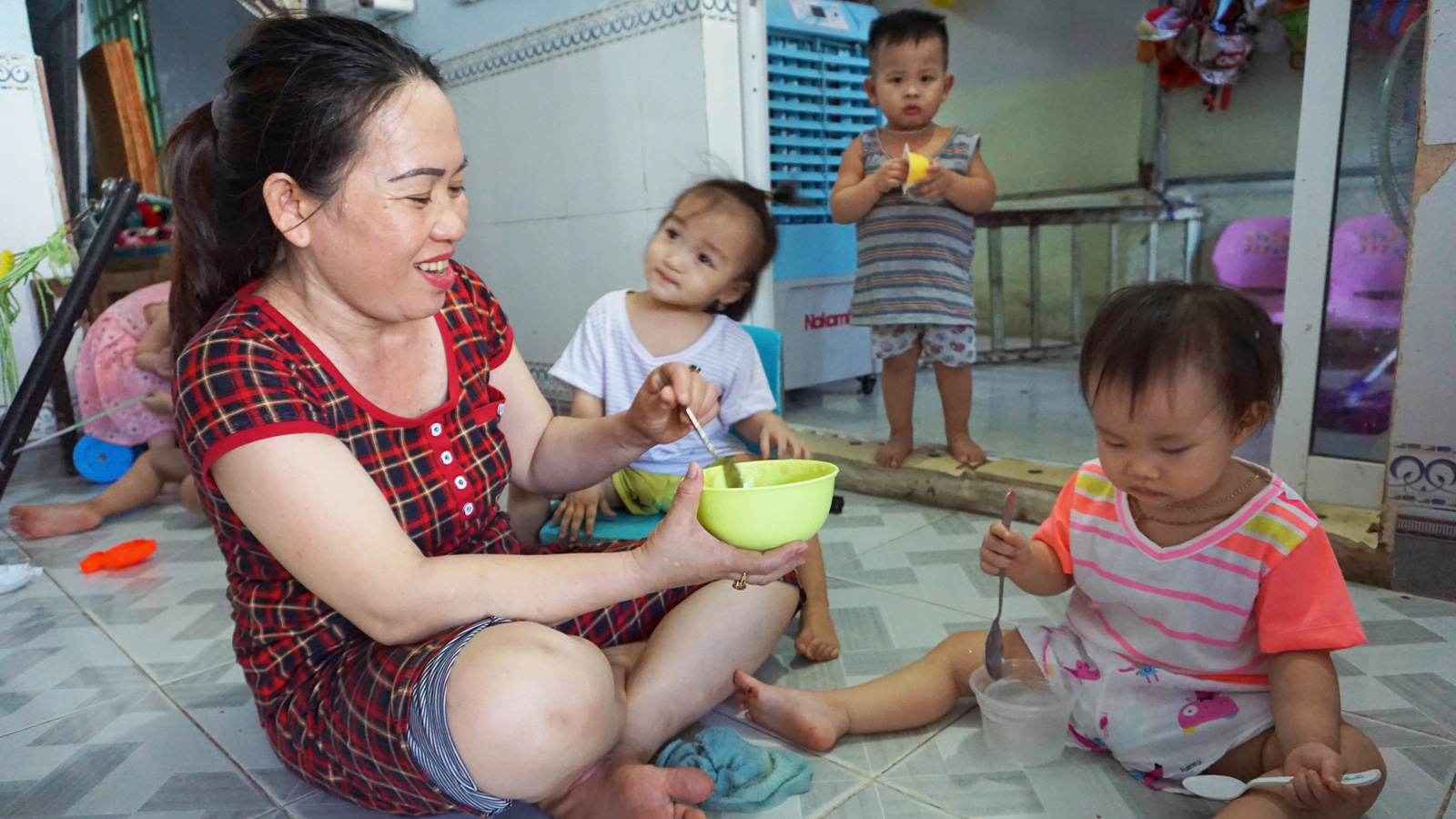 Throughout the course of 10 months, her husband took her to the Early Learning Center (ELC) in the evening and waited outside when she was attending the training. Hoa turned out to have an excellent memory, in spite of not being able to write. She memorized what the teachers said in the classroom, and as soon as she came home she would tell her husband what she had learned, and he would take notes for her.
Apart from bi-weekly classes, the training program also provided hands-on training in the OneSky Approach through visits to home-based care centers. Now Ms. Thi, OneSky trainer, pays regular visits to Hoa's home to review all the knowledge she learned and to give her guidance and advice. Furthermore, home-based caregivers also are able to review their knowledge and discuss their questions via 1BigFamily, an educational website run by OneSky, dedicated to home-based caregivers like Hoa. Every evening her husband Toan would sit next to Hoa and read the topics on the website to her. As she answered questions, he typed the answers for her on the website.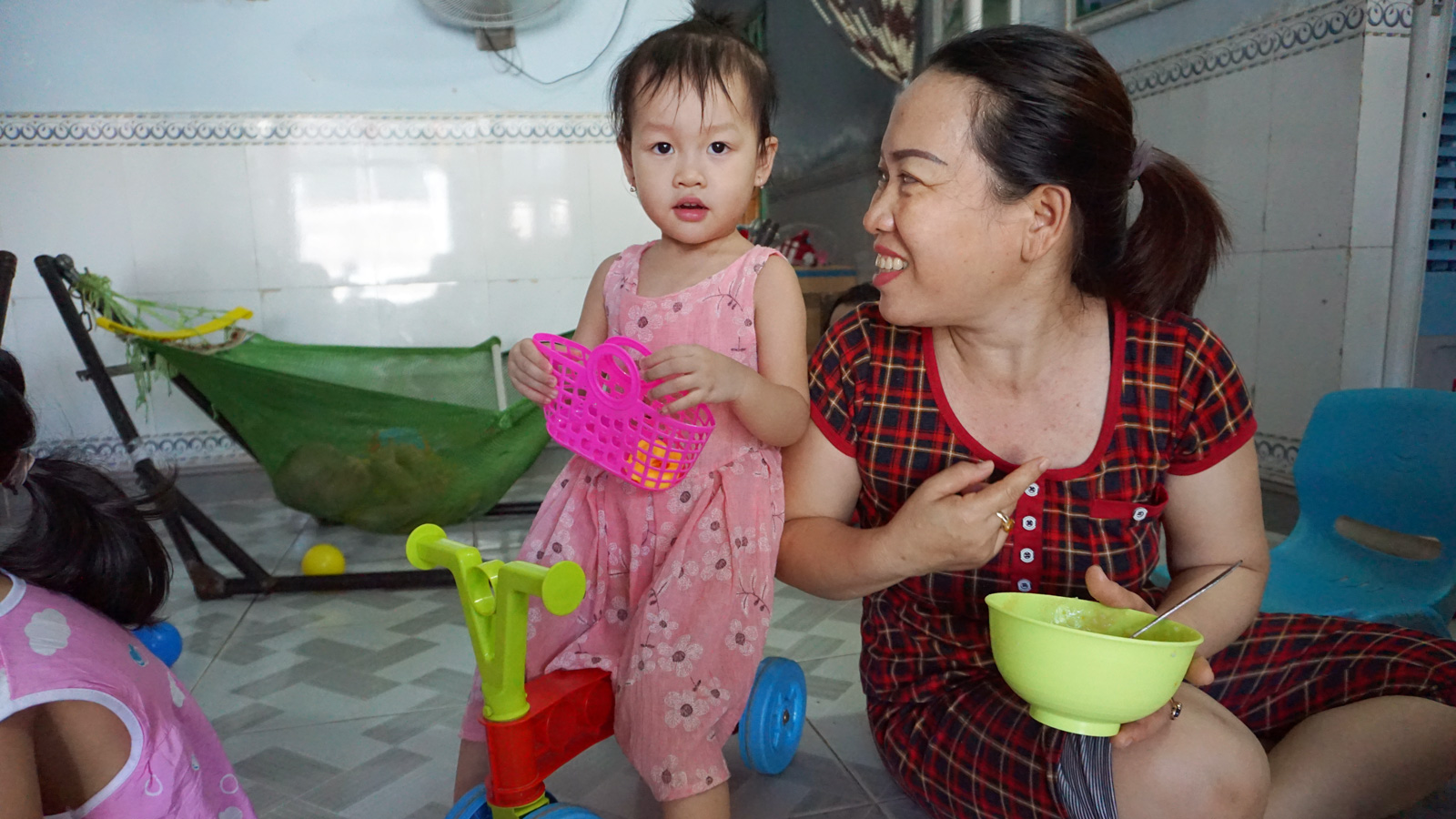 "I've been caring for children all my life, since I was 5 years old. But I just used my instinct to do everything," Hoa said. "I was glad to be in the OneSky training to learn about babies' brains, practice my skills, and find out how to deal with difficult behavior while keeping calm. I used to think that things like children's routines or arranging a classroom were time-consuming and unnecessary. But after applying what I've learned at OneSky, I've realized that it actually made my job much easier and helped the children to learn better."
The main thing Hoa said the course gave her was a new self-confidence. She became a home-based care provider because for her it was the only way out of poverty. But now, after learning how important early education is, she said: "I feel proud of myself, and the job I do, more than ever before. I want to give the children that I'm caring for a better start than I had. And I want to start learning to read, to show that it's never too late to learn something new. What matters is trying your best, whatever you do."
DONATE TODAY: Will you help caregivers like Hoa help children?
By Maggie Huyen Nguyen, Communications Manager, Vietnam
https://onesky.org/wp-content/uploads/2020/02/Hoa-feat-photo2-new.jpg
900
1600
Debbie Cohen
https://onesky.org/wp-content/uploads/2023/01/25th-logo-6.png
Debbie Cohen
2020-02-21 03:26:50
2020-03-10 03:42:42
For the Love of Children: Hoa's Caregiving Journey