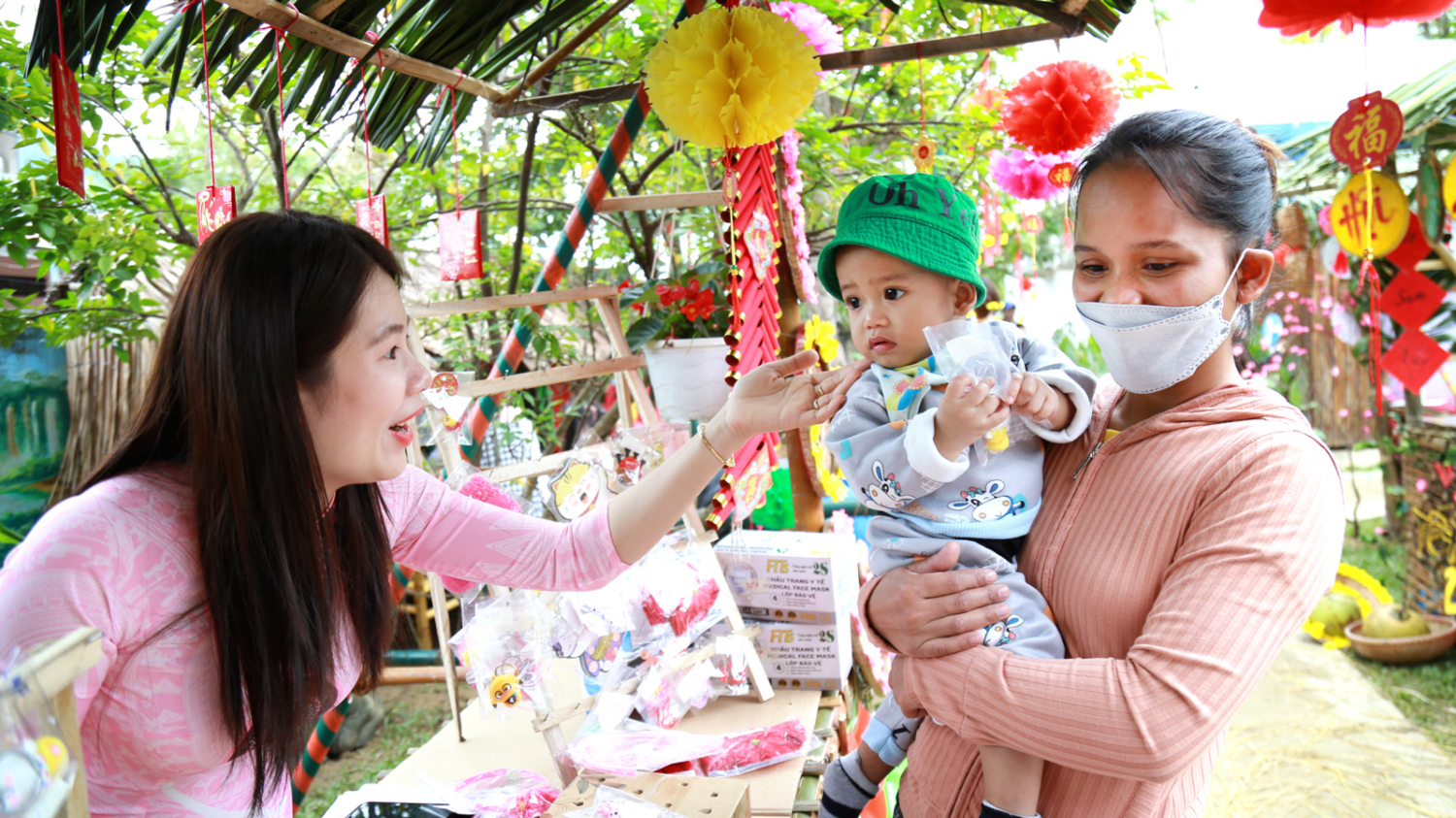 Children of Factory Workers Celebrate the Spring Festival
This story is translated from an article written and published by the national news site Tuoi Tre Online. (See the original article in Vietnamese).
Hundreds of children of factory workers recently enjoyed a fun-filled Spring Festival (Tet) at OneSky's Early Learning Center in Da Nang.
Taking advantage of a day off work, Arat Thi Vot, a 31-year-old native of the mountainous district of Nam Giang in Quang Nam province, took her 1-year-old son to the Spring Festival at OneSky's Early Learning Center, where he attends school while she works.
This was the first time Vot had been able to participate in the Tet holiday since leaving her hometown to work in the industrial park. She bought some "1-dong" coupons and then took her son to the stalls that offered pancakes, baked potatoes, rainbow sticky rice, soups, hamburgers, and Korean rice rolls. These were traditional dishes and new ones, all of which she and her son loved. She also bought a him a small toy.
At the Spring Festival, Vot was also given a gift with a bag of rice and necessities. "Now, this Tet, when I go back to my hometown, I have gifts to bring home. I work as a factory worker, but my son is often sick, so I must take leave from time to time. My monthly salary is about 2-3 million VND (85USD – 125USD), not enough to cover much. As a construction assistant, my husband's work is irregular. Now with this fun festival and the gifts, I'm very happy," Vot said.
Tran Quoc Toan, a 37-year-old from Hue, and his wife came to Da Nang for factory work. He said that when he took his children to the Spring Festival, he was as excited as them. This was truly the first time his children attended a festival where they were able to participate in all of the games and activities with their friends.
Toan shared: "My wife and I work all the time and rarely have the opportunity to enjoy family events like this. We're all so happy."
Vot and Toan are low-income factory workers who are living and working in the industrial park. They noted that while the Spring Festival was an unforgettable memory for their children, it also allowed adults to share with their families and the community the meaning around the Tet holiday.
At OneSky's campus, the Spring Festival revived the traditional Tet markets with stalls selling food, children's toys, and Lunar New Year treats. Multiple games were organized, including bamboo dancing, tug of war, bag jumping, banh chung and banh tet (traditional Vietnamese dishes) wrapping contest— all of which attracted both children and their parents.
Vo Thi Hien, Director of the Center, said the Spring Festival was organized to bring opportunities for parents and children to experience and celebrate traditional culinary culture, delicious food and fun activities.
"Through this event," said Hien, "the OneSky team hopes that children will better understand Vietnam's culture and love of family and community, while also bringing a full day of joy to workers' families."
https://onesky.org/wp-content/uploads/2023/02/VN_TET_2.jpg
900
1600
Debbie Cohen
https://onesky.org/wp-content/uploads/2023/01/25th-logo-6.png
Debbie Cohen
2023-02-16 15:38:49
2023-02-17 11:57:07
Children of Factory Workers Celebrate the Spring Festival