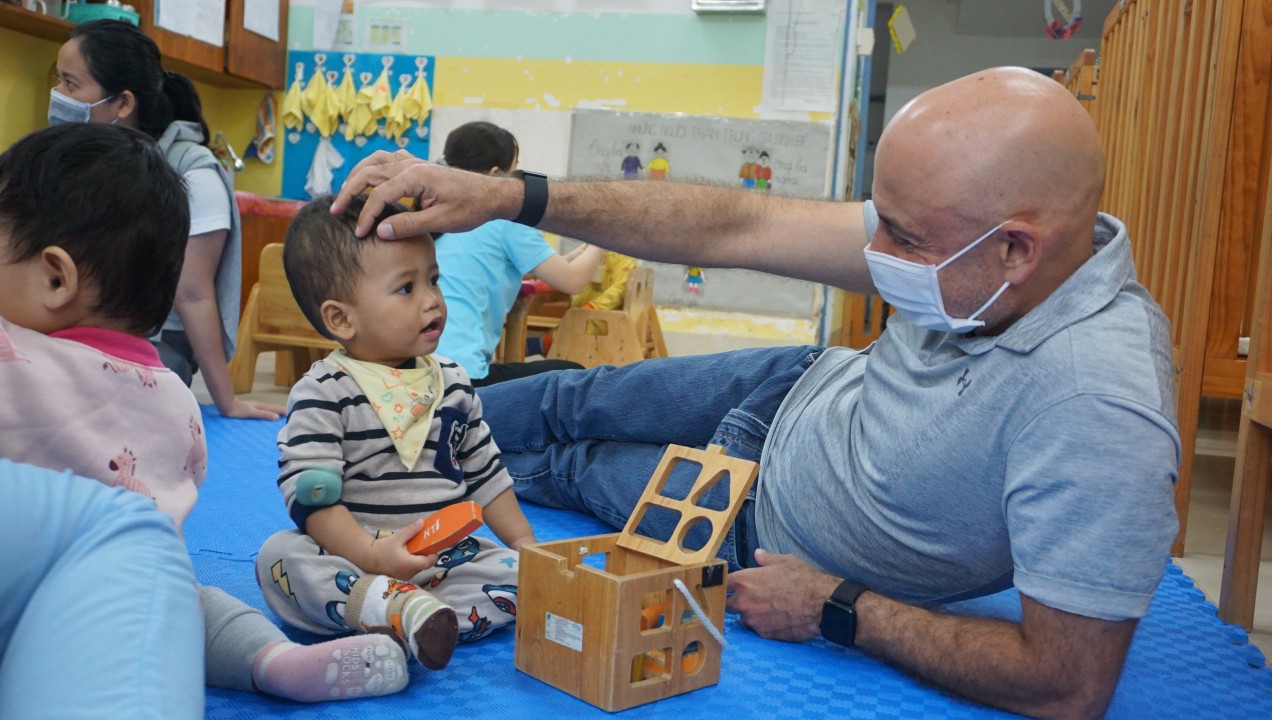 Business can learn a lot from the NGO sector!
Written by Rasheed Shroff
Founder & Owner – Dragonfly Asia-Pacific & Banyan Workspace | Board of Directors at OneSky
Originally published on LinkedIn.
Business can learn a lot from the #NGO sector!
Yesterday, we spent the most awesome morning in Da Nang!
Amy Nguyen, Country Manager for our Dragonfly Asia-Pacific Vietnam Team, and I visited a OneSky trained home based care provider and the Da Nang OneSky Early Learning Centre (ELC).
We spent time with loving trained caregivers, the wonderful OneSky team, delightful children of migrant factory workers in their care and we were given a first-hand look at the way these '6-month to 6-year-old' children are taught and cared for.
We both left massively impressed and inspired by what this fantastic team delivers every day to the children in their care and to the local community at large.
"Engage hearts and minds" is a catchphrase I have heard repeatedly in business and in relation to employees (I hate that word!), business partners and consumers. Well, yesterday's visit was the very definition of Engaged Hearts + Minds = Incredible Results and it was inspiring to see!
What we saw was an attention to detail and operational protocols that seamlessly came together and would make any Corporate #CEO beam with pride.
We saw a passionate, motivated, and skilled team working together to deliver results that certainly surpassed all our expectations.
And we saw the heart-warming results!
At the ELC, children of the most underprivileged migrant workers were interacting confidently and enthusiastically with each other, with their caregivers and with us. They were smiling, energetic, highly engaged, learning practical life skills, and getting the kind of early childhood care and development that I would be thrilled with if it was delivered to my own children.
To see this being delivered to underprivileged children, who would otherwise be in front of a TV 'all day every day' in what traditional day care in Vietnam's factory zones looks like, was incredible. But the fact that these children are here for up to 12 hours a day, provided with fresh food by an in-house kitchen team delivering over one thousand meals daily and are in the most wonderful school facility that operates both sustainably and with local culture very much at the forefront of the experience and all for the cost of US$35 per month/child was hard to comprehend.
The standard of education and the overall experience these young children are receiving is beyond what most children of privileged Vietnamese families receive in private kindergartens at over five times that price, and these amazing kids deserve nothing less.
The program OneSky is delivering provides an opportunity for them to kick-start their learning journeys and their lives. This is an opportunity they would otherwise almost certainly be denied and gives their hardworking, often single, parents everything they could want for their children, and what more can any parent ask for? This left a lasting impression on us.
The ELC (which was partially funded by the Da Nang Government) and the OneSky team have gone above and beyond in providing a place for parents to play and engage with their children after work and school and away from their meagre migrant worker accommodations. The team has provided refuge and much needed aid during the almost annual natural disasters that plague this stunning part of Vietnam, including in the aftermath of the tragic floods last year. On a voluntary basis, they also kicked into action during Vietnam's Covid lockdown and delivered food and other essentials at the height of the pandemic and took it upon themselves to go above and beyond what anyone could reasonably expect.
As a #business owner and a supporter of several incredible NGOs, I was left impressed, inspired, and grateful for what we saw and proud to be a supporter and contributor to the amazing work that OneSky does.
If you're looking for a cause to support or feel inclined to do so, then please consider OneSky. Two hundred and fifty Children are based out of the Da Nang ELC, thousands of Children are benefiting from the trained home-based care-providers and OneSky is quickly scaling their programs beyond Da Nang, looking north and south at the other key industrial areas of #Vietnam where migrant workers children need all the support they can get… and this is just one country where OneSky provides early childhood care and development support.
https://onesky.org/wp-content/uploads/2023/03/1678838219786.jpeg
720
1272
Ivy Yu
https://onesky.org/wp-content/uploads/2023/01/25th-logo-6.png
Ivy Yu
2023-03-19 14:53:46
2023-03-19 14:53:46
Business can learn a lot from the NGO sector!