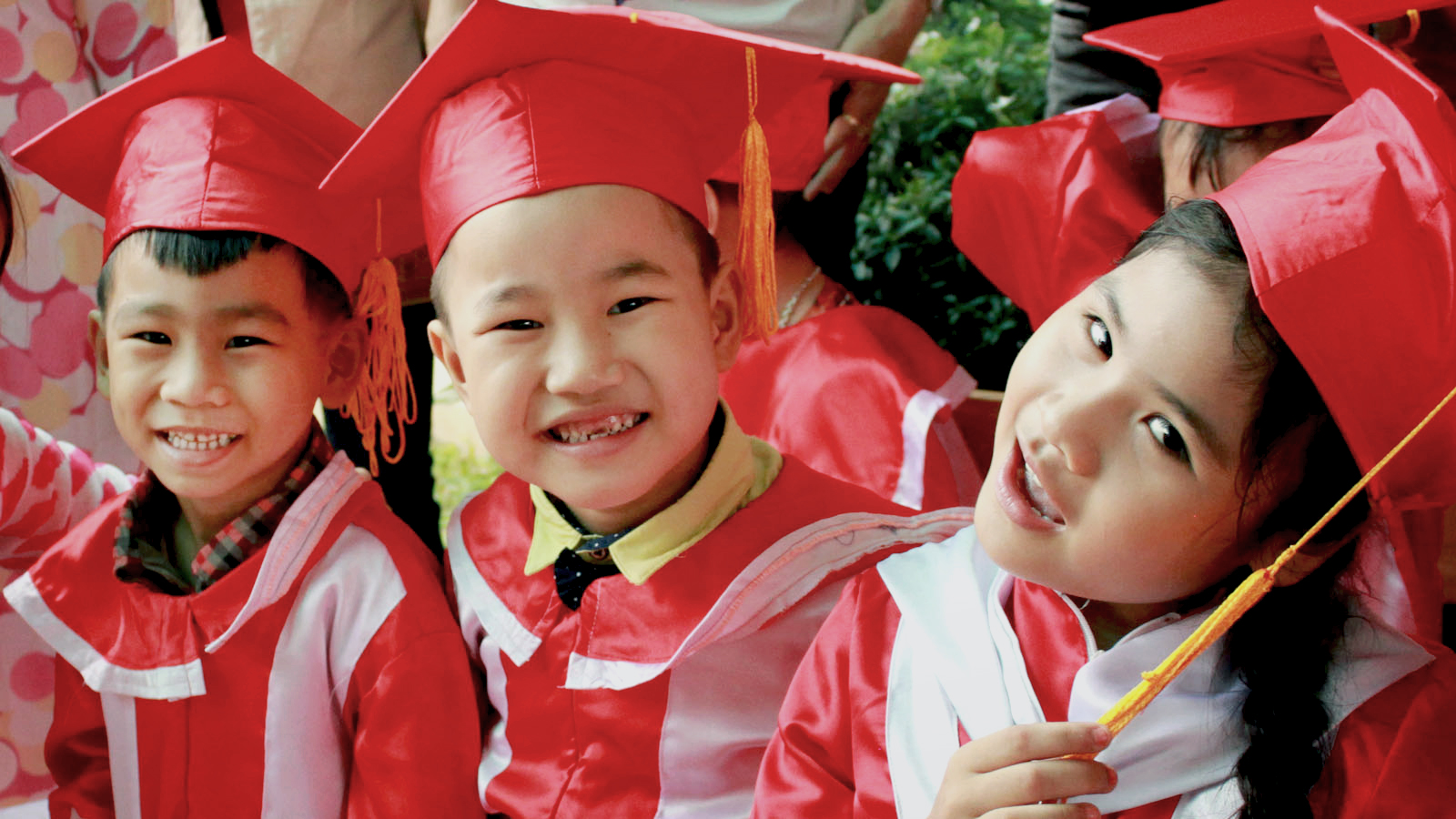 These children of Vietnam's factory workers just had the best year of their lives.
Their parents left countryside homes for a better life – now their amazing kids are first to graduate from a groundbreaking nursery.
As the gap between rich and poor in much of Asia widens, and traditional ways of life change – rural parents are frequently left with an impossible decision.
Earning money to feed families often means looking far beyond their villages for work. But once they find employment, what happens to their children? Millions of parents in Vietnam who head for the cities do so knowing that there will be little local support, particularly childcare.
Most workers resort to unlicensed daycare where children can be at risk from inadequate teaching, care or even abuse.
Luckier than most
However, children who attend OneSky's Early Learning Center (ELC) in Da Nang – for workers from the surrounding factory zone are luckier than most. They benefit from well-trained teachers, international standard facilities and a responsive care approach. They also enjoy five nutritious food breaks a day – all at price below what's charged by local homecare providers.
This pilot program benefits not just children but also their parents whose hard work helps grow Vietnam's economy. In addition, the ELC will be a base for training over 300 local home childcare providers as well as hundreds of local parents. 
The mother of graduate Phong Thai is happy that her son was able to attend the ELC over the past year and that OneSky provides much-needed summer care. She said:
"I'm glad he can continue going to a summer class here at OneSky until he goes to primary school in September. Since he's been here he has made a lot of progress physically and mentally. I'm expecting a new baby and I hope my baby will also be able to go here (OneSky ELC)."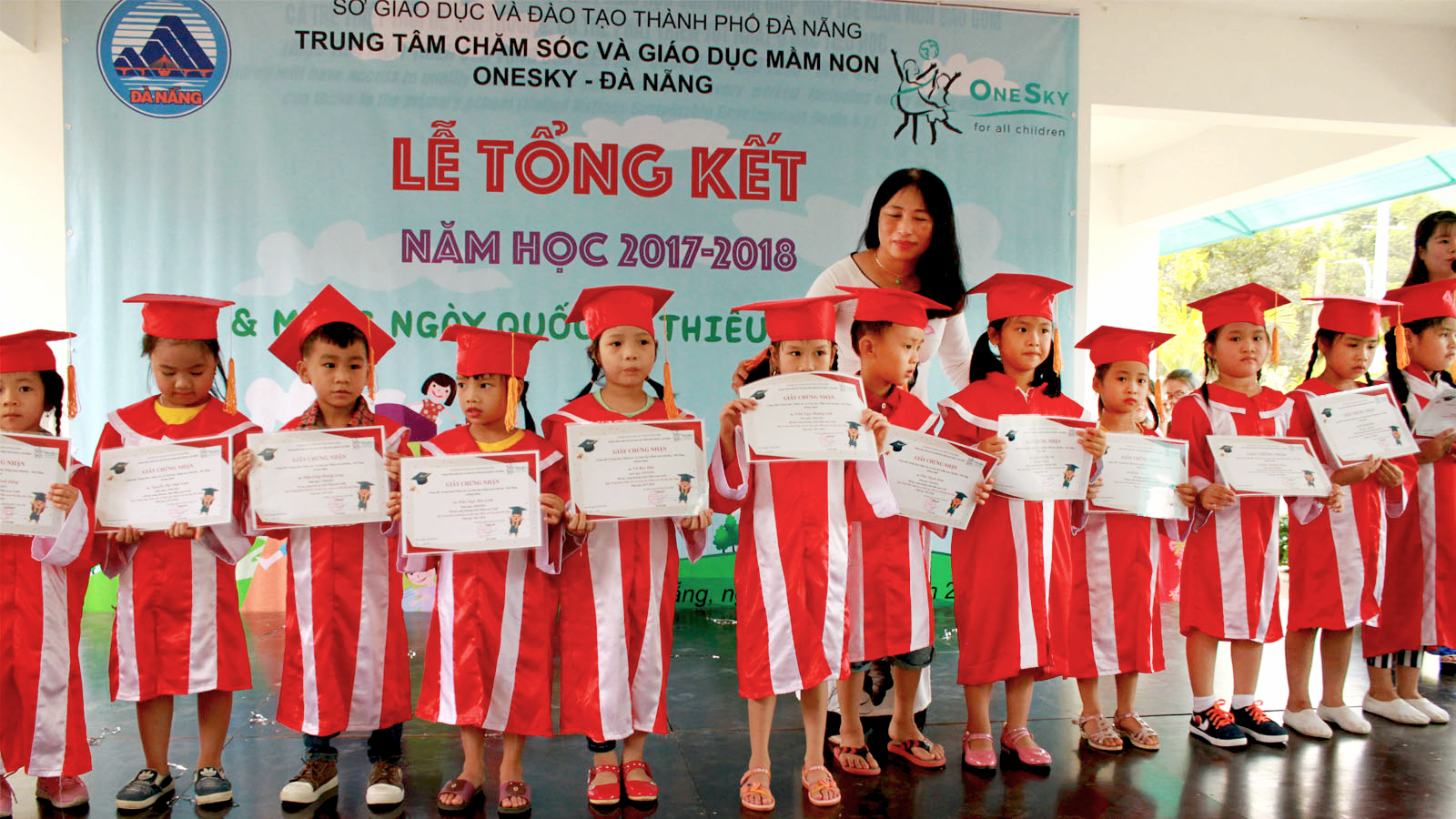 A new intake
A new intake in July 2018 will arrive keeping the number of children at over 250 across 17 classes. That's six age groups from six months to six years old.
Vietnam Program Director Vo Thi Hien (pictured below centre) said:
"The children joining us in the next intake at six months old will spend five years with us. The difference we can make to their lives in that time is almost incalculable. Instead of being left with ill-equipped carers or aging relatives they enjoy high-quality care and education and play, learn and develop daily. For their parents, working so hard to provide for them, it's hard to imagine the peace of mind this brings.
"We know how vital this period of these children's lives is. We know that enjoying being surrounded by love, care, friends, fun and the chance to learn, is a huge benefit. Even for these graduating children who were just with us for a year – this investment will last a lifetime. We will miss them all."
OneSky Chief Operations Officer Virginia Wilson said:
"We're helping to develop a model of care and education for vulnerable young children living in and around industrial zones. We're helping children engage and grow which sets them up to thrive for the rest of their lives. For industry in Vietnam and beyond we show that investment in families' welfare – specifically very young children – can be a win-win."
https://onesky.org/wp-content/uploads/2018/06/tonedkids.jpg
900
1600
Steve Jackson
https://onesky.org/wp-content/uploads/2023/01/25th-logo-6.png
Steve Jackson
2018-06-11 18:32:28
2019-06-26 18:28:15
These children of Vietnam's factory workers just had the best year of their lives.